Elevator pitch
Most OECD countries have recently introduced product market reforms with the objective of lowering barriers to entry and increasing competition in many sectors, such as telecommunications, utilities, and transport. The timing and extent of regulatory reform have varied significantly, starting in the US in the early 1980s and in the mid-1990s in many European countries. Will these developments improve economic performance in terms of creating jobs, fostering investment, and encouraging innovations—all of which are important factors for policymakers?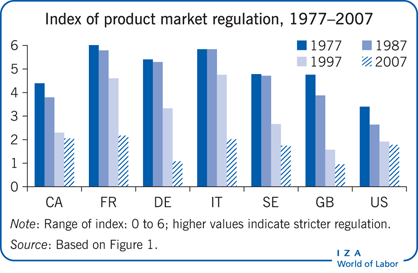 Key findings
Pros
Pro-competitive product market reforms generate significant employment in OECD countries when labor market policies are tight.
Product market reforms generally lead to labor market reforms, enhancing the overall positive effect on employment.
Reducing entry barriers significantly increases the investment rate, which is important because investment often incorporates technologies.
Product market reform is likely to positively affect sectors that are close to the technological frontier, where incumbents, by innovating, can escape the threat of entry of new firms.
Cons
It may take time for the positive effects of product market reform on employment to be felt and short-term employment losses can occur, generating opposition to the reform.
With deregulation there are winners, but also losers. The concentration of losses may make reforms more politically difficult to implement.
Evidence on the effect of product market reform on innovation is mixed; in sectors that are far from the technological frontier (i.e. not technologically advanced), the reduction of expected monopoly profits can hinder innovation.
Author's main message
Product market reform stimulates firms' demand for labor and their willingness to invest. While this creates jobs in the long term, short-term effects are debatable. Favorable long-term employment outcomes are more likely if labor markets are rigid and are enhanced by product market deregulations that encourage labor market reforms. While empirical results suggest that lower entry barriers stimulate investment, evidence on the impact on innovation is mixed. Lower monopoly profits decrease the incentive to innovate, whereas greater competitive pressure forces incumbents to innovate more. The effect on innovation is more likely to be beneficial the closer firms in an industry are to the technological frontier.
Motivation
In the last three decades numerous industrial sectors have undergone a significant shift toward less restrictive regulation. One important component of this deregulation has been a lowering of barriers to entry. For instance, OECD countries have seen substantial deregulation in services, particularly within telecommunication, utilities, and transport since the 1980s. The timing and extent of regulatory reform has, however, varied considerably, with the US beginning earlier than other countries, and starting from a lower level. As shown in Figure 1, the UK, Canada, New Zealand, and some Scandinavian countries began slightly later, in the mid/late 1980s. In much of the rest of Europe, as well as Australia, market reform occurred from the mid/late 1990s, and has been less decisive in nations such as France, Italy, and Greece. Moreover, regulatory reform has often been accompanied by privatization, leading to a situation in which the share of output produced by public enterprises tends to decrease. Finally, manufacturing and other sectors have witnessed reduced restrictions on foreign direct investment.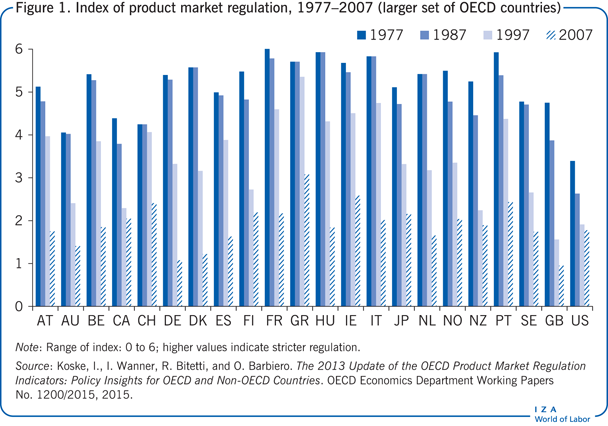 This paper investigates the extent to which product market reform has affected employment, investment in physical capital, and innovation by firms; additional detail can be found in [1]. We do not address a related question: what has been the effect of regulatory reform on aggregate and industry productivity? Notwithstanding its importance, we leave others to provide a detailed answer to that question.
Discussion of pros and cons
Limitations and gaps
In sum, although much is known about the effects of product market deregulation, several issues still deserve further investigation. Product market deregulation has been introduced with varying speeds in different countries, with distinctive institutional settings, and at different levels of development. Moreover, product market deregulation has sometimes been accompanied by other reforms, such as labor market deregulation and financial deregulation. Hence, more work is required to understand how the effect of product market deregulation depends upon the initial conditions in which it takes place, such as the level of development and the overall quality of governance in a given country. To do so, it will be necessary to enhance data collection and documentation of product market reform efforts, particularly for non-OECD countries. Furthermore, a better understanding of potential interactions with other elements of reform "packages" is needed to see whether or not the various elements can, and actually do, enhance each other.
Finally, the dynamic effects of product market deregulation should be investigated further to assess whether there are tradeoffs between the short term and the long term. The timing of any observed positive effect is important because it may affect the political feasibility of reforms, for instance when long-term employment gains are accompanied by short-term losses.
Summary and policy advice
Product market reforms introduced in the last decades in OECD countries have, on the whole, led to an expansion of investment and employment, as the evidence suggests. This is particularly true if reforms are given sufficient time for their effects to fully materialize. Evidence also indicates that employment effects are more pronounced when labor markets are rigid. Moreover, product market reform can act as a substitute for labor market deregulation, and can actually increase the probability that the latter may occur in the future.
The effect of product market reforms on innovation must be more finely qualified due to the different forces at work. Whether product market deregulation spurs innovation or not depends upon the initial level of profits, and upon how close the firms in an industry are to the technological frontier. In more neck-and-neck industries it is more likely that an increase in competition generated by product market reforms will stimulate innovation.
In sum, policymakers can view product market reform as an effective way of spurring investment, improving employment outcomes, and spurring innovation, so long as sufficient consideration is given to the short- versus long-term effects, and so long as existing institutional features of the labor market and industry structure are appropriately understood before any policy is implemented.
Acknowledgments
The author thanks an anonymous referee and the IZA World of Labor editors for many helpful suggestions on earlier drafts. Previous work of the author contains a larger number of background references for the material presented here and has been used extensively in all major parts of this article [1].
Competing interests
The IZA World of Labor project is committed to the IZA Guiding Principles of Research Integrity. The author declares to have observed these principles.
© Fabio Schiantarelli