Elevator pitch
In Europe, about one in eight people of working age report having a disability; that is, the presence of a long-term limiting health condition. Despite the introduction of a range of legislative and policy initiatives designed to eliminate discrimination and facilitate retention of and entry into work, disability is associated with substantial and enduring employment disadvantages. Identifying the reasons for this is complex, but critical to determine effective policy solutions that reduce the social and economic costs of disability disadvantage.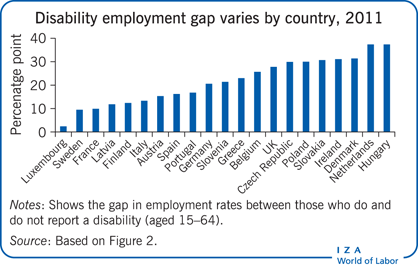 Key findings
Pros
There is growing international body of evidence regarding the labor market experience of disabled individuals.
Part of the raw gaps in labor market indicators by disability are explained by factors other than disability, including age and educational attainment.
Longitudinal evidence highlights that for many individuals who experience disability onset, it is not permanent.
Cons
There are limitations of using self-reported information on disability status from survey data.
There is consistent evidence that disability is associated with substantial labor market disadvantage, particularly in terms of employment.
Longitudinal analysis provides greater evidence of a causal influence of disability on labor market outcomes.
Disability may affect work productivity and preferences for work, making it particularly difficult to identify discrimination.
There is no consistent evidence that anti-discrimination legislation has improved the labor market outcomes of disabled individuals.
Author's main message
The prevalence of disability, combined with its substantial labor market disadvantage, makes the design of effective policy critical for reducing its negative social and economic consequences. However, this process is complicated by difficulties in measuring disability and in distinguishing its influence on productivity and preferences for work from employer discrimination. Recognizing that the experience of disability varies by type, severity, and duration may nevertheless facilitate a more flexible and tailored approach to policy, which provides the necessary incentives and support to work for those who are able.
Motivation
Across European countries, about one in eight working-age individuals (aged 15–64) report disability as defined by a long-term health problem (at least six months) and a basic activity limitation; in some countries, such as France and Finland, this proportion rises to one in five (see Figure 1).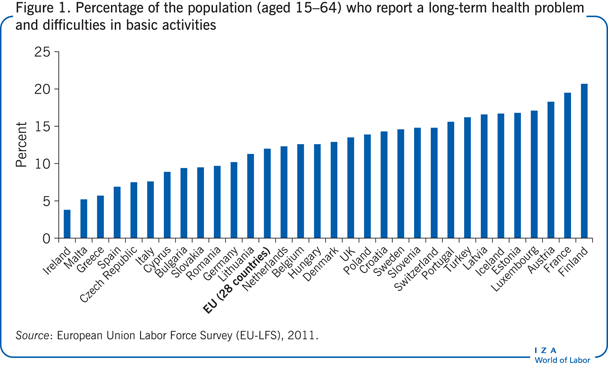 There is also widespread evidence of a substantial and enduring disability employment gap, which refers to the percentage-point difference in the employment rate between those who do and do not report disability. When disability is defined as limitations in basic activities, the average employment gap across Europe is about 20 percentage points, reflecting an employment rate among disabled individuals of 47% as compared to 67% among those not disabled. As shown in Figure 2, the gap varies from about ten percentage points in Sweden and France to nearly 40 percentage points in the Netherlands and Hungary. There is an important link between the prevalence rate (i.e. the number of people reporting disability) and the associated employment disadvantage experienced by disabled people; tighter definitions of disability, which typically exclude those with milder disabilities, are accompanied by more substantial estimates of disadvantage. Indeed, in Europe, the corresponding employment gap relating to disability when it is defined as limitations with work (as opposed to limitations in basic activities) is larger, at nearly 30 percentage points.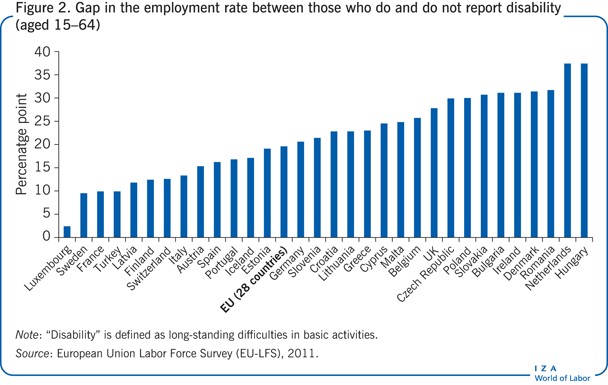 Discussion of pros and cons
Limitations and gaps
Relative to research on other minority groups such as ethnic minorities, evidence on disability is still scarce. One reason for this is that disability is difficult to define and measure, and these issues are exacerbated in comparisons across time or countries. Indeed, even within a country, relatively small changes in the order and nature of survey questions used to identify disability can have important consequences for the prevalence of disability in the resulting data. Future research could usefully explore the dynamic relationship between (1) self-reported disability and more objective measures of health, and (2) self-reported disability and receipt of disability benefits, possibly by linking survey information to administrative data. This may shed light on important issues such as for whom and at what point health conditions become disabling and lead to welfare support, and who is subsequently most likely to exit welfare support and/or disability. Doing so may provide information that would help develop proactive policy measures, which can prevent disability onset and support exit from disability.
Disability, and the disadvantage associated with disability, is typically considered at the level of the individual, but useful insights may be afforded by considering the household, both in terms of patterns of onset but also in terms of the wider impact of disability. Thus, it would be useful to consider the likelihood of disability passing from one generation to the next as well as the clustering of disability across households. In a similar vein, studies could consider the household implications of disability onset, such as the impact on spousal labor supply and/or workless households.
Future research should acknowledge that the influence of disability depends on both the characteristics of disability and the characteristics and circumstances of the individual. In this respect, there are gaps in knowledge with respect to the role of the age of onset and, in particular, the influence of disability on key events such as (1) retaining work, where there is a lack of evidence on the role of workplace adjustment and past labor market experience, and (2) the school-to-work transition. Indeed, the percentage of disabled people in Europe aged 15–24 who are not in employment, education, or training (24%) is twice that of non-disabled individuals (12%), suggesting an important role for early policy intervention. More detailed information on the nature of disability, including duration and severity, is often missing from the survey data that are typically used to analyze labor market outcomes. The simple binary measure of disability (i.e. disabled or not), while having the advantage of simplicity, ignores substantial intra-group heterogeneity. Indeed, there is a clear need for evidence to routinely distinguish between conditions, particularly with respect to physical and mental health problems, given that the latter is associated with more severe disadvantage [4] and has been linked to rising disability welfare claimants.
In the current context, perhaps the most important omission from the literature is a clear picture of what works in terms of policy. The lack of consensus in part reflects the fragmented nature of the evidence, which often focuses on individual schemes including quotas, sheltered employment, wage subsidies, welfare reform and employment support, which are features of particular institutional environments and where the results are not easily generalizable. Where there has been deeper investigation, such as the evaluation of legislation, the absence of a positive effect simply demonstrates how complex and difficult the challenge is for policy.
Summary and policy advice
Descriptive evidence provides insights into the prevalence of disability and the scale of associated labor market disadvantages. It is important to recognize, however, that since disabled individuals are often disadvantaged relative to non-disabled individuals pre-onset (for example, in terms of educational attainment), such comparisons may overstate the true influence of disability. Identifying the causal influence of disability is difficult, but the existing longitudinal evidence points to a negative onset effect, which, for those with severe and persistent disability, is exacerbated over time [10]. More positively, longitudinal analysis also identifies that disability onset is not necessarily permanent and that the disadvantage associated with temporary disability is less severe.
Typically, less than half of the raw cross-sectional gaps in employment or earnings associated with disability are explained by other observable factors, such as education. The reasons for the residual disadvantage, however, remain contested, with the (unobserved) influence of disability on productivity and preferences for work proving difficult to separate from discrimination, resulting in a risk of discrimination being overestimated. Nevertheless, despite the introduction of legislation that prohibits disability discrimination in countries such as the UK and the US, there is little evidence that this has led to a narrowing of the disability employment gap.
Given the lack of consensus about what works in terms of policy, it is worth noting that disability is heterogeneous, and that differences in the type, severity and chronicity of disability are fundamental to the pattern of disadvantage experienced, and are therefore also critical to the design of effective support mechanisms. Indeed, recent studies highlight the importance of a more tailored policy response and, in particular, matching individual job demands to functional limitations in order to mitigate negative productivity effects in work [13]. Consistent with this, there is increasing recognition of the importance of the employer and of effective occupational health in supporting flexibility and adjustments to work in order to enable employees to retain and/or reengage with work. The government also plays an important role in this regard, such as by providing incentives for employers to retain disabled workers and by designing welfare systems that support working disabled individuals. In contrast, many current welfare schemes provide permanent support conditional on not working. The broadening of permitted employment and/or the provision of temporary financial support to facilitate work-related adjustments would provide greater incentives for disabled individuals to remain in work, or return to work, when they are able.
Acknowledgments
The author thanks two anonymous referees and the IZA World of Labor editors for many helpful suggestions on earlier drafts. The author also thanks Peter Sloane.
Competing interests
The IZA World of Labor project is committed to the IZA Guiding Principles of Research Integrity. The author declares to have observed these principles.
© Melanie Jones