Elevator pitch
Governments regulate employment to protect workers and improve labor market efficiency. But, regulations, such as minimum wages and job security rules, can be controversial. Thus, decisions on setting employment regulations should be based on empirical evidence of their likely impacts. Research suggests that most countries set regulations in the appropriate range. But this is not always the case and it can be costly when countries over- or underregulate their labor markets. In developing countries, effective regulation also depends on enforcement and education policies that will increase compliance.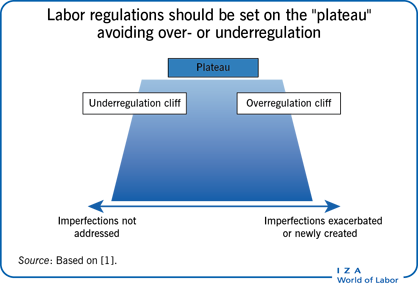 Key findings
Pros
Labor market regulations can improve the employment situation of vulnerable workers.
Concerns about large negative effects on employment and productivity are not substantiated in most countries.
Negative effects can be minimized if regulations are consistent with good practices in the specific country context and if compliance and interactions with other regulations and institutions are considered.
Labor regulations can provide incentives for employers to implement productivity enhancing actions like training and technological and organizational innovation.
Careful empirical monitoring and evaluation can identify positive and negative effects of regulations and thus improve the design of labor market rules.
Cons
Overly stringent regulations can impede job creation and reduce formal employment, especially for youth and unskilled workers.
Underregulation does not address problems of worker protection, uneven bargaining power, and inadequate information.
Compliance can be a challenge for developing countries with large informal sectors and low administrative capacity.
Monitoring the effects of regulations can be difficult if labor market information is inadequate.
Decisions on labor market regulations are often dictated by political concerns rather than evidence.
Author's main message
The challenge in establishing labor market rules is to avoid the extremes of over- and underregulation. Countries at these extremes pay in both economic and social terms. But in between is a zone where appropriately designed regulations can alleviate market failures and offer protection to workers without imposing major costs on firms or the economy. The appropriate level of regulation is country specific. Evidence from in-country and international analyses helps in setting optimal regulations. Enforcement capabilities and education are especially important for improving compliance in many developing countries.
Motivation
Labor markets require regulations for the same reasons that all markets do—to mitigate market failures, like imperfect information, and to protect buyers and sellers. However, because it is the services of people that are being bought and sold, regulating the labor market can be contentious. In Italy, an advisor redrawing labor market rules was even murdered in 2002.
Thankfully, disagreements rarely get that intemperate, but debates about reform are often heated, reflecting ideological differences about the role of government and the nature of the social contract between capital and labor. Setting labor market rules is further complicated by the fact that they are shaped by the country's social, cultural, historical, and legal traditions.
Rules defining the minimum wage and job security are important aspects of labor market regulation in all countries, regardless of the level of development. Divergent views are common. One perspective emphasizes that strong regulations can benefit workers, especially the most vulnerable, without heavy costs to employers. A more skeptical view sees more regulation as leading to lower employment and productivity, and hurting the very workers the regulations are intended to benefit.
Good policy should be defined by its effects, and this is especially important in politically contested contexts. Regulations such as the minimum wage and job security rules can potentially affect employment, earnings, productivity, and other outcomes (see Figure 1 for a comparison of selected labor regulations in several countries). So policymakers need to take into account international experience with the effects of these rules and also empirically assess the likely effects of reforms in their own countries. This can be challenging in developing countries, where labor market information is scarce and where large informal sectors and limited administrative capacity are complicating factors. However, researchers are learning more about the effects of these regulations in developing countries, and this knowledge can help policymakers in designing appropriate rules.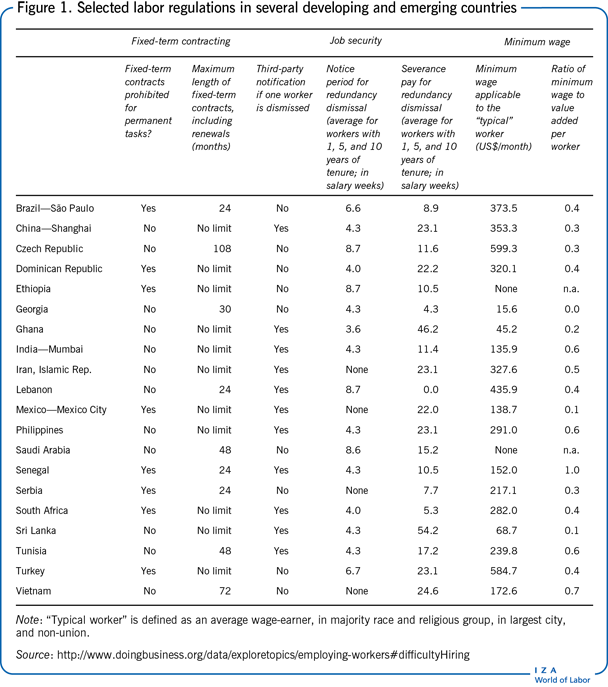 Discussion of pros and cons
When governments change the minimum wage or reform the rules affecting job security, this can have consequences for outcomes that policymakers care about, such as employment, earnings, and productivity. Regulatory changes may also affect different types of workers and firms in different ways. Over the past two decades or so, economists have conducted many quantitative studies of these effects. The original wave of research focused almost exclusively on industrialized countries, but there is now a growing body of literature on developing countries as well.
Limitations and gaps
The data and analytical requirements for assessing labor market regulations can be difficult for developing countries to meet. Basic statistical concepts such as "employment" and "unemployment," established in the context of formal, wage labor markets, might not accurately describe labor market conditions in developing countries. Collecting representative data is inherently difficult in developing countries because of the large informal sectors. Data that can be used to monitor more intangible outcomes, like economic insecurity and social cohesion, are particularly scarce. And many countries lack the administrative and technical capacity to implement high-quality surveys or to conduct sophisticated analyses, although technical assistance is often available from donors and international organizations.
It is also important for analysis of labor regulations in developing countries to include enforcement and compliance. Most research focuses on the rules as they exist on paper (de jure) but this can be misleading when the reality on the ground is very different because of incomplete coverage and non-compliance. In fact, there is an inverse relationship between the strength of regulations and the degree of enforcement. When compliance is taken into account, economic and employment effects of regulations often turn out to be insignificant [13]. In countries with poor enforcement, compliance can be improved by re-examining the regulations themselves to ensure they are appropriate and not too complicated; increasing the resources allocated to enforcement; raising penalties for non-compliance; and using education and information campaigns to improve awareness of the importance of labor market rules.
Even when good empirical analysis can be conducted, political dynamics too often influence decisions on regulatory reform. Minimum wages and job security are contentious issues, with strong—and usually opposing—positions taken by labor and social organizations, on the one hand, and business, on the other. Where political parties base their constituency on these groups, this dynamic can be transmitted directly into the political process. This can be a difficult environment in which to implement evidence-based policymaking.
Summary and policy advice
The challenge in establishing labor market rules is to avoid the extremes of over- and underregulation. The appropriate level of regulation, which depends on the country context, lies between these extremes and can alleviate market failures and offer some protection to workers without unduly burdening businesses or imposing major costs on the economy.
However, positions that are often lobbied for in the political process may be more extreme. If policymakers accede to these demands, the result can be various negative economic and social effects. This can be the case for proposals that advocate both very strong and very weak regulation. While these may serve the immediate interests of their sponsors, they are unlikely to be in the wider social interest.
Because of this political nature of rule-setting in the labor market, it is important for policymakers to base decisions on minimum wages, job security rules, and other regulations on empirical evidence to the furthest extent possible. The majority of the evidence on the effects of minimum wages and job security rules suggests that most countries have set these regulations in the appropriate range.
Acknowledgments
The author thanks an anonymous referee and the IZA World of Labor editors for many helpful suggestions on earlier drafts.
Competing interests
The IZA World of Labor project is committed to the IZA Code of Conduct. The author declares to have observed the principles outlined in the code.
© Gordon Betcherman