Elevator pitch
Often, economic policies are directed toward outcomes that are measured as counts. Examples of economic variables that use a basic counting scale are number of children as an indicator of fertility, number of doctor visits as an indicator of health care demand, and number of days absent from work as an indicator of employee shirking. Several econometric methods are available for analyzing such data, including the Poisson and negative binomial models. They can provide useful insights that cannot be obtained from standard linear regression models. Estimation and interpretation are illustrated in two empirical examples.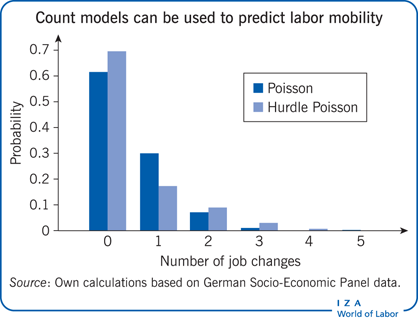 Key findings
Pros
Count data regressions provide an appropriate, rich, and flexible modeling environment for non-negative integers, 0, 1, 2, etc.
Poisson regression is the workhorse model for estimating constant relative policy effects.
Hurdle and related models allow distinguishing between extensive margin effects (outcome probability of a zero) and intensive margin effects (probability of one or more counts).
With count data, policy evaluations can move beyond the consideration of mean effects and determine the effect on the entire distribution of outcomes instead.
Cons
Count data models impose parametric assumptions that, if invalid, can lead to incorrect policy conclusions.
While many software packages implement standard count models, such as the Poisson and negative binomial models, more elaborate models may require some programming by the researcher.
A count data approach does not solve the fundamental evaluation problem: absent a randomized controlled experiment, identifying policy effects from observational data can be marred by selection bias, requiring plausibly exogenous variation in the form of a quasi-natural experiment.
Author's main message
Empirical analyses often encounter variables on a 0, 1, 2, etc., scale, such as hours of work or the annual number of doctor visits made by a person. Policymakers may be interested in the distributional effects of a reform on such outcomes, not just the mean effects. For example, does a policy affect heavy users of a service more than occasional users? Poisson and negative binomial models and their extensions can answer such a question, and they are no more complicated than a linear regression model. Hurdle models are useful for predicting the effect of a policy on the probability of a zero count as opposed to a count of one or more.
Motivation
Count data models allow for regression-type analyses when the dependent variable of interest is a numerical count. They can be used to estimate the effect of a policy intervention either on the average rate or on the probability of no event, a single event, or multiple events. The effect can, for example, be identified from a comparison of treatment and non-treatment units while adjusting for confounding variables, or from a difference-in-differences comparison, where the effect of the policy is deduced from comparing the pre-post change in the outcome distribution for a treatment group with the pre-post change for a control group.
Obtaining results from a Poisson regression model is no more complicated than running a linear regression model, and the interpretation of the results is equally straightforward. Indeed, while the Poisson model expresses the mean as an exponential function of the explanatory variables, and is thus a non-linear model, it preserves many features of the linear regression model. In fact, it is a member of the class of generalized linear models [1].
Discussion of pros and cons
Limitations and gaps
The reliability of conclusions on policy effects depends on the validity of the assumptions underpinning count data modeling. Several specification tests are discussed in [9], for example, for the Poisson assumption of equality between variance and mean against the alternative of overdispersion. In practice, it is hard to defend any count data model as being exactly true. Rather, such models should be regarded as approximations of the truth, the results being approximate effects. And for statistical inference, it is always good practice to report robust standard errors.
Similar to the linear regression model, identification and estimation of policy effects in count data models require exogenous, or "as if randomly assigned," policy variation. This requirement is violated if, for instance, participants self-select into the policy "treatment" group in a non-random manner. Sometimes this problem can be solved by using multiple regression and including in the count model all the variables that might determine whether a person gets "treated" and thus affected by the policy intervention. If one has information on a variable that affects treatment but does not affect the outcome itself, the problem can be solved by including the predicted rather than the actual level of the treatment variable in the model. Such an approach is powerful and frequently used in linear models. It sometimes also works for count data models, but these applications are exceptions [11].
A further limitation arises in modeling time series counts. To illustrate the problem, consider the workhorse linear first-order autocorrelation process. If the present value is a fraction ρ of the last period's value plus a stochastic error, it will not be a non-negative integer, or count, even if the last period's value and the error were. While some time series models can generate conditional and marginal distributions for the non-negative integer structure of the data, these models tend to be unwieldy. There is no equivalent yet to our understanding of linear Gaussian time series models and of how to deal with issues such as non-stationarity and co-integration. Regarding panel data, the Poisson model has well-developed and simple-to-estimate random and fixed effects extensions, but the other models, including the hurdle model discussed here, usually do not.
Summary and policy advice
As the saying goes, "Not everything that can be counted counts." True, but often it does. The number of children, the number of workdays lost due to absenteeism, or the number of doctor visits are important societal outcomes. Crime is another major public policy concern, and count data models have been used to show that there is no short-term deterrent effect of capital punishment on homicide rates [12] and that serious crime, including murder, does not seem to be "contagious" [13].
Policymakers often are interested in the distributional effects of a reform on count outcomes. For instance, does a policy have a disproportionate impact on heavy users of health care services compared with occasional users? With continuous outcomes, such a research question would typically be addressed using quantile regression. With counts, such asymmetric responses can be modeled directly. With confidence in the assumptions underlying the Poisson model, these effects depend on a single parameter, as depicted in Figure 1. Simple departures, such as zero-inflated models, hurdle models, two-inflated models, and finite mixture models, allow for more flexible effects at various values of the outcome, while remaining "theory consistent," in the sense that these models could have generated the data and are derived from a well-defined underlying data-generating process. Admittedly, these models, most of which were developed in the 1980s and 1990s, are not yet taught as part of a standard curriculum in empirical methods, but their application in applied economic research has become increasingly common. With the increasing awareness among policymakers of the benefits of count data models, such models will likely become more common in policy studies as well.
Acknowledgments
The author thanks an anonymous referee and the IZA World of Labor editors for many helpful suggestions on earlier drafts. Previous work of the author contains a larger number of background references for the material presented here and has been used intensively in all major parts of this article [6], [10].
Competing interests
The IZA World of Labor project is committed to the IZA Guiding Principles of Research Integrity. The author declares to have observed these principles.
© Rainer Winkelmann