Elevator pitch
Being beautiful gives a person an advantage in many settings. Attractive people earn more and have an easier time getting hired. People spend large amounts of money on goods and services to enhance their beauty. Is this enhancement worth pursuing? Research suggests that the expected improvement in beauty from these goods and services is limited. Therefore, despite the large returns from having an attractive appearance, the cost-effectiveness of investment in beauty enhancement is ambiguous. For the average person, the monetary benefits of plastic surgery, medical treatments to increase height, and expensive clothing are not worth the cost.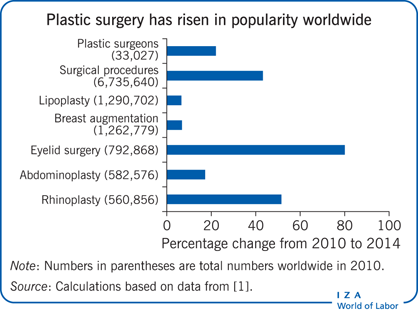 Key findings
Pros
Being beautiful gives a person an advantage in many settings, including at work and in choice of a spouse.
Plastic surgery and other beauty-related goods and services are commonly used and have been increasing in popularity around the world.
With proper measures, a person can change a wide variety of physical attributes.
Beauty-related goods and services have been found to be effective in enhancing a person's physical attractiveness.
Achieving greater equality in beauty may diminish discrimination based on physical attributes and improve economic efficiency.
Cons
Beauty-related goods and services yield limited improvement in beauty, on average.
Some beauty-related treatments, such as plastic surgery and medical procedures to increase height, are expensive and may involve pain or discomfort and risky side effects.
Additional money spent on beauty-related goods and services may yield smaller gains in income for low- and average-income earners than for high-income earners.
On average, spending on plastic surgery, medical treatments to increase height, and expensive clothing do not yield substantial monetary gains.
Author's main message
Achieving greater equality in beauty through beauty-related goods and services may lessen discrimination based on physical attributes and thereby improve economic efficiency. Numerous such goods and services have been developed to expand the options for enhancing physical attractiveness. However, at the current stage of technology, scope for improvements in beauty remains fairly limited, and the monetary costs generally outweigh the monetary benefits. Policy interventions to develop legal measures and encourage social practices that can directly address discrimination based on physical appearance may be warranted.
Motivation
The efficient allocation of human capital is crucial for a country's economic success. Discrimination based on characteristics irrelevant to a person's productivity may impose a sharp cost on the efficiency of an economy. Yet numerous economic studies report that discrimination based on physical attributes is as widespread as discrimination based on gender or race/ethnicity.
Compared with other personal characteristics that can lead to discrimination, such as gender and race/ethnicity, beauty is easy to change—up to a point. People can alter their face and body using surgical procedures (such as liposuction and eyelid surgery), enhance their youthful look using non-surgical treatments (such as grooming, cosmetics, Botox, fillers), and increase their height with growth hormone therapy or surgical limb extension. Given fairly widespread beauty-based discrimination, it is important to assess the extent to which a person can mitigate such discrimination through goods and services to enhance beauty. Having this knowledge is important not only from an individual's perspective but also from society's, given the implications for economic efficiency.
Discussion of pros and cons
Limitations and gaps
Although the discussion here assumes that beauty can be measured by an objective metric that receives universal agreement, it seems reasonable to believe that individuals may define beauty in different ways. However, economic studies on beauty commonly report that there is strong agreement within a society about who is beautiful. Therefore, beauty premiums and the analyses of the impact of investments in beauty are based on the average standard of beauty within a society.
The studies examined here take into account the monetary costs and benefits of investment in beauty-related goods and services. However, those are only some of the costs involved in acquiring goods and services to enhance appearance. Other costs may include the time to purchase the goods and receive the services, the cost associated with any discomfort or pain, and forgone opportunities that a person has to forfeit while acquiring the goods and services (for example, forgone wages while a person is in hospital for plastic surgery and recovery). For some beauty-enhancement measures, including plastic surgery, it is important to incorporate possible side effects or health risks—risks associated with anesthesia and neurological damage (in the case of bone reshaping, muscle removal, or liposuction, for example). Likewise, a person may gain substantial utility or self-esteem from looking more attractive, which is difficult to incorporate into cost–benefit analyses.
Using beauty-related goods and services may have long-term consequences, but there is little information on what these may be. It is possible, for example, that people with enhanced beauty may enjoy better self-esteem or attract more investment from others. If so, they may be able to accumulate human capital more quickly, suggesting that the long-term benefits can be greater than the short-term benefits.
The cost–benefit analysis does not take into account the ripple effect on employment. The large size as well as fast growth in beauty-related industries implies that they provide a sizable number of jobs and also create new jobs. For example, the clothing industry in the US employs 1.9 million people, and studies show that it has had a positive impact on regional economies across the country [13]. The plastic surgery industry is growing rapidly in both market value and number of plastic surgeons [1]. The number of plastic surgeons around the world increased from 33,000 in 2010 to 40,328 in 2014 (a 20% increase); during the same period, the growth rate was 6% in the US and 64% in South Korea. Therefore, a reduction in beauty-related investment may have negative implications for employment and local economies, at least in the short term until non-beauty industries absorb workers released from beauty-related industries.
Summary and policy advice
Having an attractive body and face can bestow various advantages on people, such as earning more or finding jobs more easily. Numerous economic studies report that the premiums associated with beauty are sizable and are found across countries. Discrimination based on physical attributes is an important factor that accounts for the reported beauty premiums. Therefore, improving beauty is a concern not only for individuals but also for policymakers, in that achieving greater equality in beauty may diminish discrimination based on physical attributes and improve economic efficiency.
Numerous goods and services have been developed and are increasing in popularity, and beauty-related industries are large and often fast-growing in both developed and developing countries. Research so far suggests that these goods and services have rather limited impact on an individual's beauty. When it comes to plastic surgery, medical procedures for increasing height, grooming, and clothing, the monetary costs often outweigh the additional earnings a person may enjoy as a result of enhanced appearance. In addition to the monetary cost, the time the person spent on beauty enhancement and the risk of side effects and discomfort may further reduce the net benefit of investment in beauty.
The findings reported here suggest that even with investments in beauty-related goods and services, people will have difficulty circumventing discrimination based on physical attributes. Therefore, to achieve more efficient use of human capital, it is important for society and policymakers to directly address such discrimination through legal and social measures. For example, hiring practices that require job applicants to submit photographs and report their height and weight may need to be re-examined because they can unfairly diminish the job opportunities open to individuals with certain less-attractive physical characteristics. By removing such information requirements at the job application stage, a society can increase equality of job opportunity, at least up to the interview stage, at which time job applicants are better able to demonstrate their qualities beyond their appearance.
Acknowledgments
The author thanks an anonymous referee and the IZA World of Labor editors for many helpful suggestions on earlier drafts. The author also thanks Dan Hamermesh for comments.
Competing interests
The IZA World of Labor project is committed to the IZA Guiding Principles of Research Integrity. The author declares to have observed these principles.
© Soohyung Lee