Elevator pitch
Alternative dispute resolution procedures such as arbitration and mediation are the most common methods for resolving wage, contract, and grievance disputes, but they lead to varying levels of success and acceptability of the outcome depending on their design. Some innovative procedures, not yet implemented in the real world, are predicted to improve on existing procedures in some ways. But controlled tests of several procedures show that the simple addition of a nonbinding stage prior to binding dispute resolution can produce the best results in terms of cost (monetary and "uncertainty" costs) and acceptability.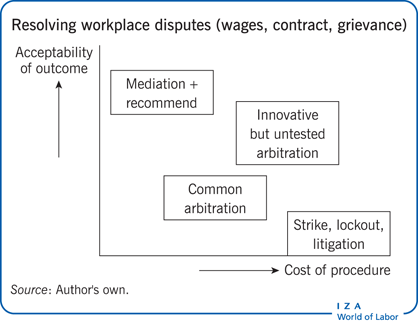 Key findings
Pros
Binding dispute resolution guarantees a settlement.
A well-designed procedure can promote voluntary settlements.
A nonbinding stage to a dispute resolution procedure can help limit disputes caused by incomplete information.
Any procedure promoting voluntary settlement is likely to be beneficial in the long term.
Cons
Common dispute resolution procedures increase dispute rates relative to such alternatives as strikes and lockouts.
Poorly designed dispute resolution procedures may limit good faith bargaining.
Settlements from a third party may be extreme and less acceptable than voluntary settlements.
Dispute resolution procedures may be addictive, as reliance on them can increase over time.
Author's main message
Dispute resolution procedures can be useful for workplace wage negotiations, contract disputes, or other grievances. The most helpful type uses a nonbinding stage (such as mediation) before any binding procedure (such as arbitration) to reduce unrealistic expectations and encourage voluntary settlement. Controlled laboratory tests show that adding a nonbinding stage is effective and easier to implement than complicated theoretical procedures. Policymakers should consider high-quality laboratory evidence, just as scientists do, so that conclusions or policy decisions are not based on misinterpretations of confounding factors typically present in naturally occurring field data.
Motivation
Alternative dispute resolution procedures are increasingly being used in many contexts, including contract disputes, civil and community disputes, and court-mandated alternative dispute resolution as part of tort reform in the US. Even high-profile salary disputes in US Major League Baseball are settled using final-offer arbitration. Mediation and arbitration also play a significant role in the workplace in such areas as labor–management disputes and grievance resolution. Alternative dispute resolution uses neutral and unbiased individuals to help determine a reasonable settlement, but this poses risks to the bargainers. The uncertainty over arbitrator decisions should promote voluntary settlement [1]. But that same uncertainty opens the door for unrealistic bargainer expectations, which may reduce settlement rates.
Discussion of pros and cons
Limitations and gaps
For all the benefits that laboratory studies of alternative dispute resolution may offer, they have the disadvantage of not being as "real world" as some would like. However, care has been taken in most laboratory experiment research to faithfully recreate the essential decision environment of interest; strip away any nonessential details that may serve only to confound results; and offer financial compensation in the experiment that varies with choices made. In the end, laboratory subjects are real people making real choices for real money. If an alternative dispute resolution procedure shows serious weaknesses in the lab, it can be assumed that it will not be a success in the real world.
The lab can help generate relatively low-cost data to test procedures prior to (premature) implementation. In this way, the laboratory research can be viewed as a useful first step in studying the effectiveness of arbitration and other dispute resolution mechanisms, but it should not be the only step to take.
Another gap in the literature, unfortunately, is the absence of field experiment research on alternative dispute resolution policy that would serve to build on laboratory insights. That is, the use of laboratory methods in the more realistic setting of the real world (or with a more natural subject pool) would help bridge the gap between naturally occurring but "messy" real world data, and clean but more artificial-feeling laboratory data. With the recent rise in field experiment research, this gap may be filled to some extent in the near future.
Summary and policy advice
Binding alternative dispute resolution procedures lower the cost of a bargaining impasse by guaranteeing a settlement, so it seems that all alternative dispute resolution mechanisms will likely increase dispute rates relative to high-cost alternatives, such as strikes or lockouts. The trade-off is that alternative dispute resolution implementation saves all stakeholders from the significant loss associated with these high-cost alternatives. So, the real issue is to find the alternative dispute resolution procedure that promotes the most voluntary settlement prior to the need to actually invoke the procedure.
Policymakers should seriously consider high-quality laboratory evidence to inform decisions much in the way a scientist studies a phenomenon first in the lab so that conclusions are not based on misinterpretations of confounding factors typically present in uncontrolled data generation.
While final-offer arbitration was suggested as a way to improve settlement rates over conventional arbitration by increasing the cost of dispute (the uncertainty costs), the empirical data from well-controlled and incentivized laboratory studies show the opposite. Dispute rates are typically higher in final-offer arbitration than in conventional arbitration. The reason seems to be that bargainers are typically overconfident about the likely outcome from arbitration, and final-offer arbitration leads to more overconfidence.
While the rules of arbitration have been creatively modified by several researchers in an attempt to improve on conventional or final-offer arbitration, the empirical evidence indicates that the simplest modification is to add a stage prior to arbitration that generates a nonbinding recommendation, which provides useful information on what an arbitrated settlement might look like. While this lowers uncertainty costs (possibly increasing dispute rates), it also reduces the opportunity for overconfidence. It would seem that removing unrealistic expectations in negotiations cannot help but improve the chance of settlement, whether or not there is the benefit of a dispute resolution mechanism at one's disposal.
A procedure that includes a recommendation is just a way to formalize this attempt at recalibrating expectations to reality. A recommendation stage in dispute resolution is not costless to implement, but there may be a significant payoff in increasing the rate of voluntary settlements and the acceptability of negotiated outcomes.
These laboratory findings may help explain the popularity of mediation as a nonbinding alternative dispute resolution procedure. However, the empirical research highlights the importance of an actual suggested or recommended outcome prior to binding dispute resolution. Thus, in terms of policy advice, mediation prior to arbitration seems a reasonable choice of alternative dispute resolution procedure, but workplaces should also be encouraged to empower mediators to offer an explicit suggested settlement that bargainers know will be shared with the binding arbitrator.
Acknowledgments
The author thanks an anonymous referee and the IZA World of Labor editors for many helpful suggestions on earlier drafts. The author also thanks Lynn Hunnicutt for collaboration on some of this research, and numerous seminar and conference attendees for helpful comments at different stages. Financial/other support for the author's research cited in this paper is gratefully acknowledged and includes: Utah State University, National Science Foundation awards SES-0133231 and SES-0316414.
Competing interests
The IZA World of Labor project is committed to the IZA Guiding Principles of Research Integrity. The author declares to have observed these principles.
© David Dickinson