Elevator pitch
Canada, the US, and most Western countries are looking to STEM (science, technology, engineering, and mathematics) immigrants to boost innovation and economic growth. Canada in particular has welcomed many STEM immigrants over the past quarter of a century. In the US, there is an ongoing debate about whether the H–1B visa program is being used effectively to attract more STEM immigrants. Interestingly, significant differences exist between the two countries in earnings and likely the innovation activity of highly educated immigrants, which highlights the likely role of immigration policy in determining such outcomes.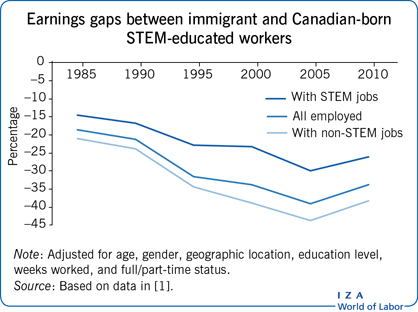 Key findings
Pros
Immigration leads to a large supply of highly educated STEM workers in some countries, such as Canada and the US.
Highly educated immigrants contribute disproportionately to patent filing activity in the US and perhaps other countries largely due to the high proportion educated in STEM fields.
In the US, highly educated immigrants working in STEM jobs have a relatively small entry earnings gap with the native born, and "catch up" to the native born very quickly.
Cons
The earnings gap between highly educated immigrants and native STEM employees is much larger in some countries, like Canada, than in others, namely the US.
STEM-educated immigrants who do not find STEM jobs can face very poor economic outcomes, as observed in Canada.
Economic and possibly innovation outcomes are much more positive for STEM immigrants educated in Western developed nations than in developing countries.
Author's main message
Simply attracting highly educated STEM immigrants does not necessarily result in technical innovation and productivity gains. The host country should be concerned with the immigrant selection process and how STEM immigrants respond to it, the supply (number) of STEM immigrants added to the labor force through immigration, where the immigrants are educated, and any potential barriers to their economic integration. Involving employers appears to improve the selection process. In some cases, smaller and better-targeted STEM immigrant selection programs may be more useful than large increases in the number of STEM immigrants, as in Canada.
Motivation
STEM skills are increasingly regarded as essential to innovation, productivity growth, and competitiveness [2]. Immigrants provide a significant proportion of many countries' STEM skills. In Canada, for example, in 2016 immigrants accounted for 47% of bachelor level STEM employment, and almost two-thirds (63%) of master's and doctorate level STEM jobs. In the US, in 2013 immigrants accounted for 17% of the US labor force, 15% of STEM employment at the bachelor's degree level, 18% at the master's level, and 29% of PhDs in STEM jobs [3].
Given immigrants' role in providing STEM skills, knowledge of their outcomes is essential. For example, is there evidence of a disproportionate contribution to innovation? After a short adjustment period, do STEM immigrants do as well economically as the native born, and are there differences between countries? And if so, why?
This article focuses on the outcomes of STEM immigrants in Canada and the US. Given the very different circumstances regarding STEM immigration in these two countries, general conclusions can be drawn that will be useful to other developed nations. The article begins with an examination of STEM immigrants' economic outcomes and then moves on to their contribution to innovation.
Discussion of pros and cons
Limitations and gaps
There are several limitations that must be considered in relation to this research. First, no studies have directly compared the earnings and innovation activities of STEM-educated immigrants in Canada and the US, nor have any tried to assess the determinants of the differences. Second, US research on STEM immigrants' economic outcomes is very limited. Finally, research on STEM immigrants' patent filing activity in Canada is limited and anything but definitive. More research from other developed countries on the outcomes of STEM immigrants would also contribute to policy development in this important area.
Summary and policy advice
Highly educated immigrants in countries like Canada and the US are disproportionately educated in STEM fields, compared with the native born. This sets up an opportunity for highly educated immigrants to disproportionately contribute to technical innovation, and therefore productivity gains and GDP growth. However, simply attracting STEM immigrants does not automatically deliver such benefits. The Canada–US comparison around this topic points to a number of factors that could potentially affect the success of STEM immigrants in a country, including how the STEM immigrants self-select into a country, how they are selected by the country, where they are educated, how well they integrate into the labor market, and possible barriers to such integration. The supply of STEM immigrants likely also plays a role in determining their success. For instance, over the past few decades, the relative supply of STEM immigrants was much smaller in the US than in Canada, while the respective labor demand may have been larger. This would have obvious implications for their outcomes in each respective country.
It would appear that involving employers (as is done in the H–1B visa selection in the US and with foreign students finding jobs) improves the selection process for STEM immigrants. Certainly, Canada and Australia have been moving in this direction for the past few years. Finally, in countries where STEM immigrants' economic and innovation outcomes are not particularly strong, simply increasing the number of STEM immigrants using the existing selection system is not likely to generate large benefits, as one risks simply getting more of the same. This has historically been the case in Canada, although it may be changing with increased employer involvement. Smaller and better targeted STEM immigrant selection programs may be more useful in such countries.
Acknowledgments
The authors thank an anonymous referee and the IZA World of Labor editors for many helpful suggestions on earlier drafts.
Competing interests
The IZA World of Labor project is committed to the IZA Code of Conduct. The author declares to have observed the principles outlined in the code.
© Garnett Picot and Feng Hou