Elevator pitch
The future growth of Central and Eastern Europe (CEE) depends on upgrading technology, exporting and coupling domestic technology efforts while improving their position in global value chains. Current policies in the region are not geared to these tasks, despite the availability of huge financial opportunities in the form of EU structural funds. Existing policies are overly focused on research and development (R&D) and neglect sources of productivity growth, such as management practices, skills, quality, and engineering. The challenge is how to design industrial and innovation policies so that they promote modernization and drive structural change.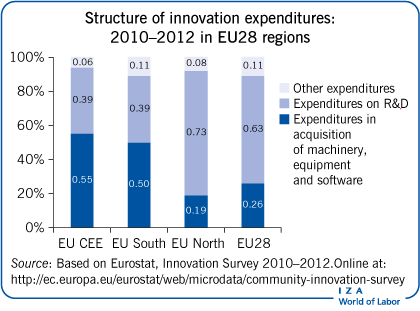 Key findings
Pros
Coupling domestic technology efforts with the import of new equipment and management practices could help promote technology upgrading in CEE.
Production capability and engineering, in addition to research, are important antecedents to development and innovation in CEE.
Production capability is the most significant driver of productivity growth in CEE.
CEE economies are specialized in the low value-added segments of the global production chain and benefit from vertical specialization with EU North firms.
Cons
In CEE, technology transfer activities are important but neglected drivers of innovation along with non-R&D-based innovation activities.
Innovation policy in CEE is based solely on R&D, imitating best practices in northern Europe, instead of addressing regionally specific challenges.
CEE economies over-prioritize attracting foreign direct investment and do not place enough emphasis on the quality of subsidiary developments.
Author's main message
CEE economies do not grow based on research-driven innovation whereby domestic research produces innovation that leads to growth; instead, they rely on the interaction of domestic R&D with more advanced technology from imported equipment and inputs. However, this situation is not reflected in policy, which is geared solely toward the traditional idea of research-driven growth. CEE countries would hence be better served by enacting policy that encourages improvements in production capability. This, in turn, would generate demand for local R&D and innovation, which is currently lacking.
Motivation
The economies of Central and Eastern Europe (CEE) grew rapidly from the beginning of the 21st century until the onset of the global financial crisis in 2008. The crisis hit this region extremely hard, with a few exceptions (e.g. Poland). Since 2008, growth has resumed, though at much lower levels. Furthermore, the process of convergence with the developed EU economies, which had previously been very strong, has slowed down substantially. This raises questions about the sustainability of the pre-2008 growth, as well as about the current, undoubtedly quite weak, recovery. There is an increasing realization that the region's growth model needs to change. Current policies are narrowly focused on research and development (R&D)-based growth and do not address the key drivers of technology accumulation and productivity growth. A more appropriate model would be based on productivity, export, and technology upgrading. However, this requires a deep understanding of the nature of technological change and innovation in CEE.
The essential drivers of innovation vary across economies based on their levels of development; as such, policy approaches in CEE should reflect regionally specific drivers of productivity and technology upgrading. Innovation activities in CEE are similar to other EU economies in terms of frequency and intensity, but differ in terms of the actual activities taking place. They are much less R&D-driven and much more focused on production capability or activities related to management practices, quality, and engineering improvements, which is why the region's policy focus on research-driven innovation does not match well with the reality of its innovation activities. In terms of technology upgrading, CEE can be categorized within the BRIC (Brazil, Russia, India, and China) range, which does not seem sufficient to catch up to advanced economies' levels. The region's policies should therefore shift toward drivers of technology upgrading, which are found in downstream activities (e.g. quality, management practices, engineering) and couple them with the upgrading of local and foreign suppliers.
Discussion of pros and cons
Growth in CEE before 2008 was driven by domestic consumption, growth in non-tradable sectors and, to a large extent, by total factor productivity or what is conventionally defined as "technological progress." However, evidence suggests that productivity was not driven by technological capabilities, but rather by production capability. R&D is important to the region, but that is largely due to its absorption function (i.e. as a means to facilitate the mastery of imported technologies and knowledge), rather than as a driver of innovation [1].
The post-2008 challenge for CEE countries is how to shift their economies toward a method of growth that is driven by investments and improvements in productivity. This coincides with the EU-level policy shift toward industrial upgrading and innovation-driven growth, encompassed by large-scale smart specialization investments in R&D and innovation activities [1]. Smart specialization strategies are large-scale investment activities in R&D, innovation, and information and communications technology areas funded by EU structural funds.
Limitations and gaps
Analysis of this topic in general is limited by poor monitoring of non-R&D activities and by the absence of research on paths of technology modernization that take place outside of the organized R&D sector. Furthermore, there is a knowledge gap with respect to comparative research focused on technology upgrading for other middle-income economies that share similar characteristics to CEE countries. As such, there are no comparative analyses of CEE economies in a broader international context. Research on these economies is firmly framed according to the EU context, within which their developmental and technological specificities are not sufficiently accounted for.
Because CEE countries are predominantly middle-income economies they are considered technology users (as opposed to innovators) and this is reflected in their patterns of technology upgrading. In order to measure progress along their specific technology path they need appropriate metrics. The current metric, the EU Innovation Union Scoreboard, is designed to measure the innovation capacity of the EU28 countries at a global level; however, due to its strong focus on science and technology frontier activities it is not suitable for the specific evaluation of technology upgrading in CEE economies. Appropriate metrics are needed, which are capable of reflecting a larger proportion of non-R&D and production related knowledge acquisition activities [2], [13].
Summary and policy advice
In order to encourage further growth and to promote enhanced technology upgrading in CEE, the region's policy focus needs to shift from a singular emphasis on R&D based policies toward non-R&D areas. Moreover, CEE firms should prioritize the upgrading of their technology and value-added positions within EU value chains. With this in mind, EU structural funds and smart specialization strategies represent a historical opportunity for industrial modernization and technology upgrading, which should not be missed.
R&D does play a role in technology upgrading within CEE, but it is not yet the major driver for this process. Instead, greater attention should be paid to helping innovative enterprises improve their productivity by tuning public support to their actual technology upgrading needs. The resulting improved technology capabilities would indirectly create greater demand for domestic R&D, which, in turn, would lead to an increased role for private R&D and encourage stronger cooperation with public R&D. This would require adding to the current portfolio of predominantly domestic R&D-oriented support measures; additional measures should focus on supplier development, promoting technology centers that can attract local and foreign firms, or promoting technical cooperation agreements between local and foreign firms.
Acknowledgments
The author thanks an anonymous referee and the IZA World of Labor editors for many helpful suggestions on earlier drafts. Previous work of the author contains a larger number of background references for the material presented here and has been used intensively in this article [9]. Financial support of the EC FP7 project GRINCOH, on which this research is based, is gratefully acknowledged.
Competing interests
The IZA World of Labor project is committed to the IZA Guiding Principles of Research Integrity. The author declares to have observed these principles.
© Slavo Radosevic