Elevator pitch
With university education continuing to expand worldwide, university dropouts will make up a large group in future labor markets. Dropping out is routinely viewed as a negative indicator. However, data on university dropouts does not generally provide information on their labor market outcomes, so empirical evidence is sparse. The studies that have examined the issue show that dropping out can be more of an advantage than not having enrolled in university at all. Many dropouts are more likely than upper secondary school graduates with no university education to progress in their careers. And many graduate later in their life.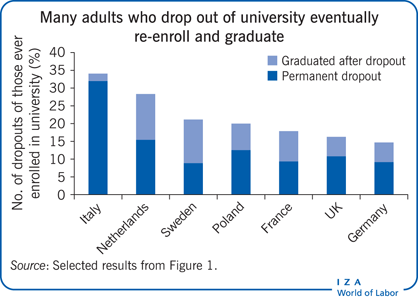 Key findings
Pros
Recent international surveys with information on university dropout experience provide comparable cross-country information on whether dropping out is permanent and how dropouts fare in the labor market.
Dropping out is often temporary: almost 40% of university dropouts graduate later in their life.
In about half the countries examined, university dropouts have better career progression than other upper secondary school graduates who are similar in many characteristics except university enrollment and dropout.
Dropouts fare best in countries with a low share of university graduates and a predominantly vocational orientation among upper secondary school graduates.
Cons
Most data focusing on university students do not include information on their labor market careers, so cross-national evidence on university dropouts' labor market success is scarce.
Some international surveys that do include information on dropout experience and labor market status focus on a country's entire population, and therefore small sample size makes in-depth research on sub-groups of dropouts impossible.
While theoretical frameworks can explain some of the country results, explaining dropouts' labor market outcomes requires further examination of both educational systems and labor markets.
Author's main message
Analysis of cross-national data with information on the labor market status of university dropouts calls into question the standard negative view of dropping out. First, dropout is often not permanent: on average, two of five adults who report dropping out re-enroll and graduate later in their lives. Second, in about half the countries examined, university dropouts fare better in their career progression than upper secondary school graduates who never enrolled, when differences in other personal characteristics are taken into account. Given these findings, it is better to enroll in university and drop out than not to enroll at all.
Motivation
Around the world, higher education has been expanding in recent decades [1]. Across OECD countries, enrollment rose 25 percentage points between 1995 and 2009 [2]. Because many university students never graduate, university dropouts constitute a growing group in the labor market.
Dropping out is generally discussed as a negative outcome for society and for individuals, wasting educational resources and making the higher education system less efficient [3]. But in some cases it could be an efficient, rational, and natural selection process for individuals [4]. Every year of higher education could increase the employability of university dropouts because of the additional knowledge acquired [5].
How can we best judge whether dropping out has a negative or positive impact? Most obvious would be to compare the labor market chances of upper secondary school graduates who are similar in characteristics that determine labor market success (such as socio-economic background) but who differ in whether they ever enrolled in university and dropped out.
Discussion of pros and cons
Not much is known about the labor market chances of university dropouts, but the evidence generally contradicts the common view that dropping out has only negative consequences. In the UK, university dropouts have lower chances of employment than graduates, but about half of them move into university graduate-track occupations and earn as much as graduates [5]. In the US, years since highest grade completed have a higher effect on wages for non-graduates than for university graduates net of other factors associated with wages [6]. In Serbia, dropping out is a better predictor of job entry than not starting higher education, and the time spent in higher education increases the employment choices for university dropouts [7].
Limitations and gaps
The use of comparable cross-national data on representative samples of adult populations to examine the labor market success of dropouts is not without shortcomings. If the data are representative of the entire population, the sample size of dropouts is necessarily small. This means that the percentage point differences between dropouts and matched upper secondary school graduates need to be very large to be significant. For example, in France, Italy, and Germany, university dropouts fare four percentage points better in career progression than matched upper secondary school graduates with no university experience. But this figure is not reported here because the small sample means that the standard errors, which determine significance, are too big, thus rendering the estimates non-significant.
In addition, while cross-national data focusing on the entire population can be rich in information on socio-economic backgrounds and cognitive skills, they are likely to miss important variables for examining dropouts' success, such as university discipline studied. This lack of variables that might be linked to dropping out and labor market chances is problematic, since the effect of being a university dropout might not have been isolated perfectly. The same is true for assuming that the quality of the upper secondary school credential is the same for adults who withdraw from university education and for those who never enrolled.
Future work would hugely benefit from having internationally comparable student cohort data that cover labor market outcomes several years after dropping out of university.
Summary and policy advice
In contrast to the negative connotation associated with university dropout, research results generally show that dropping out could very well be a positive indicator in the labor market. The dropout decision in many cases is not permanent: on average across 15 European countries almost 40% of students re-enter and complete university education after having dropped out, a fact largely ignored in existing research. On two measures of labor market success—and focusing only on upper secondary school graduates throughout—university dropouts are never significantly worse off in any country studied than upper secondary school graduates who never enrolled in university. On career progression, university dropouts have a better chance of acquiring professional and management positions than upper secondary school graduates who never enrolled in university in about half the countries examined. Dropping out is not associated with either better or worse employment chances in 14 of the 15 countries, with Belgium a notable exception.
University dropouts indeed fare best in countries with a low share of university-educated individuals, a vocational rather than general orientation of upper secondary school graduates, a weak link between vocational education and work, and a flexible labor market (Czech Republic, Slovakia, and Poland). But other combinations of these characteristics can only partly explain the country patterns, indicating the need to develop and investigate the theoretical framework further.
In sum, results indicate that individuals are likely to fare better if they enroll in university and drop out than if they do not enroll at all. In the case of individuals who rationally make this choice, policymakers need to revise the notion that dropping out is bad for the individual and society and a sign of inefficiency in university education.
Acknowledgments
The author thanks an anonymous referee and the IZA World of Labor editors for many helpful suggestions on earlier drafts. This paper has drawn extensively on previous work of the author [8].
Competing interests
The IZA World of Labor project is committed to the IZA Guiding Principles of Research Integrity. The author declares to have observed these principles.
© Sylke V. Schnepf