Elevator pitch
Retirement offers the opportunity to give up potentially risky, unhealthy, and/or stressful work, which is expected to foster improvements in retirees' health. However, retirement also bears the risk that retirees suffer from the loss of daily routines, physical and/or mental activity, a sense of identity and purpose, and social interactions, which may lead them to adopt unhealthy behaviors. Depending on the relative importance of the different mechanisms, retirement may either improve or cause a deterioration of retirees' health, or eventually have no effect on it at all.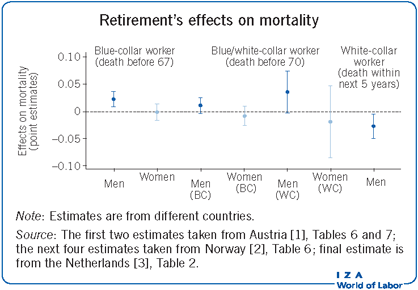 Key findings
Pros
Retirement is one of the most fundamental and potentially most disruptive events in an individual's life.
Methodological innovations and access to large administrative data sets have advanced the credibility of empirical estimates.
Retirement may either be beneficial (e.g. if it is voluntary) or detrimental (e.g. if it cuts all social contacts) to retirees' health.
The effects of retirement on health work primarily through changes in retirees' health-related behavior.
Cons
Reverse causality makes it very difficult to establish causality.
The outcome measured and time horizon under consideration are important methodological issues.
The most credible empirical evidence available remains ambiguous.
Due to its ambiguity, it is not possible to derive uniform policy implications from the available evidence.
Individuals react differently to becoming a retiree, depending on both personal and contextual factors.
Author's main message
Knowing the health effects of retirement is important for an optimal design of pension policies. Empirical research suggests that retirement may either improve retirees' health, reduce it, or eventually have no effects at all. This variation may best be rationalized by the existence of heterogeneous effects across groups of individuals who respond differently to becoming a retiree. This point of view not only acknowledges the startling complexity of adjustments eventually triggered by retirement, it also offers the opportunity to focus on those factors or contexts that lead to either positive or negative health effects of retirement. Importantly, it also implies that there are no uniform policy recommendations.
Motivation
According to projections by the OECD, illustrated in Figure 1, the expected remaining life expectancy at age 65 in its member countries will further increase from 17.4 to 21.9 years for men (corresponding to a relative increase of about 26%) and from 20.8 to 25.8 years for women (a relative increase of about 24%) by the year 2060.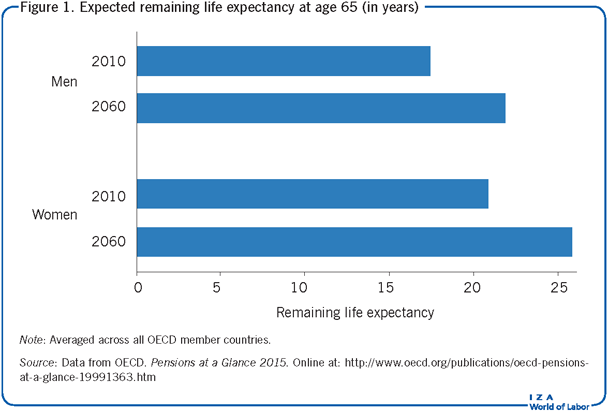 This increase in average life expectancy will put significant pressure on the financing of public social security systems in the years to come. In turn, this will likely necessitate pension system reforms to counterbalance the rise in aggregate pension income, including increasing the statutory retirement age and/or reducing replacement rates in the pension system.
An overall assessment of the welfare effects of such policies, however, should also take into account their potential health effects on retirees. For example, if an increase in the retirement age was associated with an improvement in retirees' health, this would obviously make the case for such policies even stronger. On the other hand, if an increase in the retirement age would result in a deterioration of retirees' health by, for example, triggering bad health behavior among retirees, then this might counteract the beneficial effects of an increase in the retirement age as part of the savings in spending will potentially be offset by additional health care costs.
However, the calculation of welfare effects is complicated by the fact that retirement may affect both a retiree's health status (by influencing morbidity) as well as his/her remaining life expectancy. For example, if morbidity would increase following retirement, this would generate additional health care costs. From a welfare point of view, this would also deteriorate the quality of life of the affected individuals (i.e. by distinguishing between healthy and unhealthy years or by calculating so-called quality-adjusted life years). While such calculations are possible in practice, there are many delicate implementation and ethical issues involved. Ultimately, it is not obvious—from a policy perspective—whether one can (or should) trade off financial benefits and/or costs with longevity and morbidity.
Discussion of pros and cons
Limitations and gaps
The empirical literature on the health effects of retirement has made significant advances in the past few years, due to both methodological innovations as well as to (easier) access to large administrative data sets that often cover detailed and objective information on individuals' health status. Thus, the more recent empirical evidence on the health effects of retirement has clearly become much more credible than earlier studies on the same subject. Nonetheless, there remain a couple of limitations and gaps.
A first limitation is that there are still some methodological caveats to several of the studies discussed above. For example, many of them use policy discontinuities in age to estimate the health effects of retirement. While these discontinuities are usually set arbitrarily (from the retirees' point of view), which makes them a priori suitable from a methodological point of view, it is nonetheless the case that individuals usually have considerable leeway over the effective timing of their entry into retirement (i.e. such policies may change the earliest age at which workers can retire, but not necessarily the effective retirement age because an individual may still decide to retire later). This limits the analytical value of the policies' arbitrary age cutoffs.
A more subtle issue is that the empirical evidence regarding the health effects of retirement rests exclusively on estimates of policy experiments that allowed for earlier (than regular) retirement. In this regard, it is important to keep in mind that there does not necessarily exist a symmetry in the effects on health from preponing and postponing the retirement age. That is, even the best estimates available might not be informative about the effects of policies that increase the regular retirement age (the kind of policies most likely implemented in the future).
A further issue that needs clarification is how the estimates on the health effects of retirement square with the (empirically well-established) finding that involuntary job loss leads to a deterioration in health and even an increase in mortality. This contrasts strongly with the huge variation in estimates (particularly positive ones) of the causal health effects of retirement.
A final gap in the literature is that most studies (still) try to estimate "the" causal health effect of retirement, in the hope that their estimates will generalize to very different contexts. However, given the theoretical ambiguities as well as the specificities of retirement regulations at the country level, it appears much more reasonable to accept that the quest for uniform health effects of retirement is most likely elusive. A more modest, but also more realistic, perspective acknowledges that retirement can have either (as well as both) positive or negative effects on retirees' health. Such a perspective would also help to shift the focus toward finding those factors that determine whether retirement ultimately leads to an improvement or an impoverishment of health. A systematic review of the available empirical literature and a meta-analysis on the basis of such a review have the potential to yield significant insight into the factors that trigger either negative or positive health effects of retirement.
Summary and policy advice
Understanding the health effects of retirement is important for conducting an overall assessment of policies that aim at changing key parameters of the retirement system; however, several distinct methodological issues make it very difficult to precisely pinpoint these effects in practice. In addition, there are good theoretical reasons to expect that the health effects of retirement are not uniform but rather heterogeneous across different contexts and/or different subpopulations of workers.
For these reasons, it is not surprising that the available empirical evidence on the causal health effects of retirement remains somewhat inconclusive. While some studies find that retirees suffer from health deterioration, others report that the health status among retirees improves. While even those studies that apply the best available research designs suffer from methodological issues, it is perhaps more likely that a significant part of the observed heterogeneity in the available estimates is simply due to the fact that most studies identify effects that are tied to specific institutional contexts and/or subpopulations of retirees. This suggests that there is considerable variation in the health effects of retirement across different contexts and/or subpopulations.
Unfortunately, this heterogeneity in the empirical estimates makes it difficult, or even impossible, to derive any firm and uniform policy conclusions. Nonetheless, the available evidence does suggest a couple of tentative policy recommendations. First, it appears that some groups of workers (e.g. men compared to women) are more prone to, and that some institutional factors (e.g. being involuntarily pushed into retirement) promote, unhealthy behavior after retirement. This begs the question of whether it would make sense to apply different retirement ages to different parts of the working population. Second, given that retirees' health behavior is the primary causal mechanism, it might be worthwhile to think about instruments to encourage good health behavior among retirees (e.g. by providing subsidies for services promoting good health).
Acknowledgments
The author thanks an anonymous referee and the IZA World of Labor editors for many helpful suggestions on earlier drafts. Previous work of the author contains a larger number of background references for the material presented here [1].
Competing interests
The IZA World of Labor project is committed to the IZA Guiding Principles of Research Integrity. The author declares to have observed these principles.
© Andreas Kuhn