Elevator pitch
Turning unemployment into self-employment is a suitable alternative to traditional active labor market policies in many developed countries. Start-up subsidies can assist unemployed workers in setting up their own business. This option can be especially interesting for people whose work is undervalued in paid employment or in situations where job offers are limited because of group-specific labor market constraints or structural changes. Furthermore, start-up subsidies are potentially associated with a "double dividend" if the subsidized businesses prosper, strengthen the economy, and create additional jobs in the future.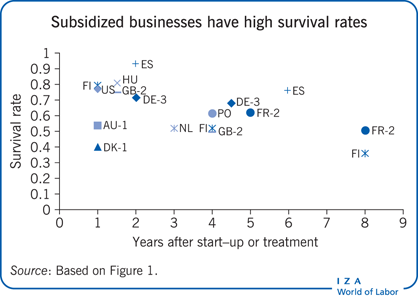 Key findings
Pros
Subsidized start-ups have high survival rates.
Subsidized start-ups may have large positive employment effects for participants and modest effects on income.
The positive effects of subsidized start-ups may be even higher for disadvantaged groups, such as women, youth, and low-educated workers.
Subsidized start-ups can induce some additional job creation.
Potential deadweight effects (if the same outcome could be achieved without the subsidy) are probably smaller than feared.
Cons
Subsidized start-ups lag behind regular start-ups in business growth and employment creation.
Subsidized start-ups are less innovative than regular start-ups.
By crowding out other, more efficient businesses, subsidized start-ups may have displacement effects, which can be hard to evaluate.
Subsidized start-ups require more commitment from participants in order to be fully successful.
Additional non-monetary support, such as coaching and mentoring, is required for subsidized start-ups in many circumstances.
Author's main message
Start-up subsidies are an effective policy for helping participants move out of unemployment and improve their prospects in the labor market. Subsidized start-ups can also increase human capital and expand labor market networks, making it easier to find paid employment if a business fails. Because the potential for successful start-ups from unemployment is limited, expansion of these schemes is not easy and requires voluntary participation. To succeed, programs should be of appropriate duration and require a business plan and other screening. Business growth should also be an objective, to increase returns for business owners and the economy.
Motivation
OECD countries spend considerable sums on active labor market policies (0.6% of GDP in 2011), mainly on such traditional measures as job creation schemes, training programs, and wage subsidies. The goal is to remove disadvantages in education, work experience, or productivity and re-integrate unemployed workers into the labor market. Although these traditional programs have had some positive impacts on income and employment prospects, the overall effects have been disappointing [1].
Start-up subsidies are a promising alternative. Instead of helping unemployed workers find paid employment, they provide financial assistance in setting up a business. This option may be especially attractive for people whose work is undervalued in paid employment (for example, if they have low formal skills) or who face discrimination. Start-up subsidies are also a way around the limited number of job offers arising from labor market constraints facing specific groups (such as a limited number of part-time jobs for women) or structural changes in specific regions or industries. Self-employment can help formerly unemployed workers increase their employability, human capital, and labor market networks, making it easier to find paid employment if their business fails. Start-up subsidies may also offer a "double dividend" if the subsidized businesses create new jobs or have a positive impact on structural change, innovation, and technology diffusion [2], [3], [4]. Empirical evidence on the effectiveness of such programs is scarce, in part because they are a relatively small component of active labor market policies but also because of the lack of data needed to test for long-term effects and differences in effects. One exception is Germany, which has used start-up subsidies on a large scale and evaluated them comprehensively. This paper summarizes the knowledge on the effectiveness of start-up subsidies in industrialized countries and highlights consequences for policy design.
Discussion of pros and cons
Limitations and gaps
In contrast to the case for many other active labor market programs, the empirical evidence is still scarce for the effectiveness of start-up subsidies. More causal evaluation studies are needed, especially comparing start-ups by unemployed workers with regular start-ups (to assess the business component of the programs). Better data are also required to assess effects across subgroups and under different economic conditions as well as to analyze long-term effects. Policy-oriented research should examine the optimal design of start-up subsidies (amount of money, duration, entry requirements, and so on). Deadweight and displacement effects are hard to assess but clearly important determinants for policy decisions.
Summary and policy advice
Start-up subsidies are an effective active labor market policy that can help participants move out of unemployment and to improve their labor market prospects compared with other unemployed workers. However, subsidies also induce (some) negative biases, resulting in weaker business performance because they spur less business growth and innovation than other start-ups. Whether the weaker business performance is cause for concern depends on the objective. If the main aim is to reintegrate unemployed workers back into the labor market, then the weaker performance is less important. From that perspective, unemployed workers who start a subsidized business should be compared with unemployed workers who do not rather than with other business start-ups. In that case, the causal evidence indicates that the overall performance is better for unemployed workers who start a business. In contrast, if the primary goal is to establish strong new businesses with good growth and job-creation potential, policymakers should be concerned if subsidized businesses are proven to persistently lag behind.
Policy is also constrained by the fact that the potential for unemployed workers to establish successful start-ups is limited. So, program expansion is difficult. To succeed, the program must be voluntary. Requiring unemployed workers with weaker job prospects in paid employment to start their own business is not a sensible strategy. Research identifies several program elements that contribute to success: The time horizon of the subsidy should be neither too short, in order to allow time to overcome initial problems, nor too long, to avoid moral hazard. To help participants survive the initial stage of self-employment, when the business might not yield an adequate income, the financial component should cover basic living costs and social security contributions.
Not everyone is cut out to be an entrepreneur. Initial screening, including preparing a credible business plan that is approved by an objective third party, has to be sufficiently stringent to prevent windfall gains and to ensure selection only of people who are truly interested in starting a business. Participants need to commit to the program. One way to ensure this is to require that participants give up ordinary unemployment benefits. Training unemployed individuals with no initial interest in becoming an entrepreneur (as in the US) does not seem promising. Finally, business growth should also be an objective, since a business that is too small and underperforms will have fewer returns for the business owner and for the economy. To spur growth and to support ambitious entrepreneurs who want to create a larger business, subsidies may be accompanied by support services, such as coaching and mentoring.
Acknowledgments
The author thanks two anonymous referees and the IZA World of Labor editors for many helpful suggestions on earlier drafts. The author is indebted to co-authors on previous joint research projects on the topic, especially Alexander Kritikos and Steffen Künn, and also Stefan Tübbicke for his research assistance. Previous work of the author contains a large number of background references for the material presented here and has been used intensively in all major parts of this article [5], [9], [13].
Competing interests
The IZA World of Labor project is committed to the IZA Guiding Principles of Research Integrity. The author declares to have observed these principles.
© Marco Caliendo