Elevator pitch
Outsourcing public provision of services tends to lower labor intensity and increase its efficiency. Costs are usually lower, but quality problems can affect services like health care and residential youth care. Consumer choice has stimulated innovation in education, but the picture is ambiguous for health care. Natural monopolies are unsuitable for outsourcing. Network services (public transportation) may be outsourced through public tenders. While some jobs may be lost in the short run, the long-term effects are generally positive for a wide variety of activities.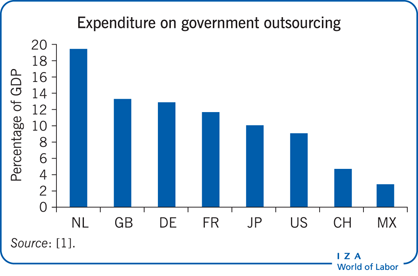 Key findings
Pros
The competition effects of privatization make private provision more efficient than public provision.
Outsourcing public services can lower costs (for example, in the UK with urban public transportation) and increase consumer choice (Sweden's school vouchers).
Competition in service provision stimulates innovation, for example in the quality of education and more efficient use of resources.
Cons
Private-sector cost minimization efforts risk worsening the quality of public services, depending on the type of service outsourced.
Some public-sector employees may lose their jobs.
Natural monopolies (water supply, the electricity grid) cannot be privatized without risking a hold-up problem or corruption.
Author's main message
It is impossible to give uniform policy advice on outsourcing the provision of public services to the private sector. Whether that is desirable depends on the characteristics of the service and on market conditions. Voucher systems can increase service quality and decrease costs. Natural monopolies are not suitable for outsourcing. Municipalities should be allowed to make their own decisions based on their needs and the degree of political support.
Motivation
A growing number of governments are outsourcing the provision of public goods and services, whether through procurement contracts or voucher systems (see Outsourcing and privatization). Outsourcing has repercussions for consumers and for employees in affected sectors, and for the labor unions representing them. Not all activities are suitable for outsourcing.
In Germany, Japan, the Netherlands, and the UK outsourced production accounts for more than 50% of the total costs of publicly provided goods and services, and the average share in Organisation for Economic Co-operation and Development (OECD) countries was slightly above 40% in 2007. There is great variety across OECD countries in the share of gross domestic product (GDP) of in-kind social transfers purchased from private providers; these shares have not decreased for any of these countries since 1995 and have grown strongly for several countries (see Figure 1). While there have been only moderate increases in the outsourcing of health care and public transport, there have been larger increases in outsourcing electricity distribution and postal services.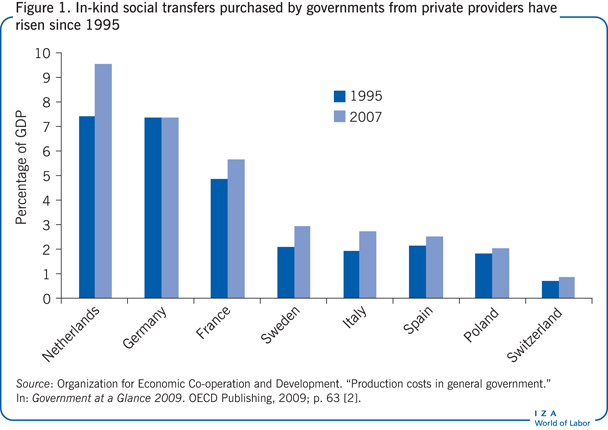 Discussion of pros and cons
The general argument is that outsourcing and opening public sectors like health care and education to competition boost economic efficiency and output. There is a concern, however, that outsourcing could lower service quality. A survey of the literature concludes that the effects of public-sector outsourcing on service quality depend on the type of service outsourced [3].
Outsourcing generally reduces costs without hurting quality for services that are easy to standardize, like garbage collection. The same appears to hold, for the most part, for fire protection and prisons, although the picture is mixed. In contrast, public-sector outsourcing can result in quality deterioration for goods such as residential youth care and other credence goods, because their utility is difficult or impossible for consumers to ascertain. Empirical evidence suggests that not only does quality decline but also that the costs of the service increase with outsourcing.
The modeling of local government choice between public provision and outsourcing indicates that private provision is unambiguously better than public provision when the cost reduction results in moderate to no quality deterioration, as in garbage collection [4]. The model predicts that outsourcing unambiguously leads to lower costs, while the effect on quality is ambiguous. If the negative impact of cost reduction on quality is fairly large, public provision is preferable. When used with data from the US, this model indicates that services that are more difficult to contract out are more likely to be kept within the public sector. Where large transfers of power are involved, as with the army and police force, provision should remain in-house. Sectors like health care, where information asymmetries are important, cannot be treated with the simple model, but require a more complex framework.
Limitations and gaps
While studies tend to find that outsourcing and privatization have an overall ambiguous or positive effect on job creation in the medium to long run, as excess public-sector labor is freed for more productive uses, research has focused more on developing and transition economies. Less work has been done on developed countries, although the research that has been done finds similar results.
Another gap is in the sectoral analysis of the effects of outsourcing public services to private entities. It is unclear whether the privatization of government enterprises and the outsourcing of public services to private entities have the same employment effects in all affected sectors. Thus, it is too soon to say with certainty that public outsourcing will in general lead to positive employment effects. Another area needing research is whether the employment effects differ between the outsourcing of public services and the privatization of public enterprises.
Summary and policy advice
As this examination of the possibilities for public-sector outsourcing for different market and competitive settings shows, it is not possible to give uniform policy advice on the outsourcing choice. Whether outsourcing an activity is optimal depends on whether it is a natural monopoly, how much scope there is for a hold-up problem to arise, whether cost reduction can be expected to result in a deterioration in service quality, and whether quality can be increased through competitive pressure. Political motivations and employment effects will also influence the decision on outsourcing. Outsourcing may reduce employment in the short run, but it also frees resources that can be reallocated to other activities over the longer run.
Some public goods and services can be successfully subjected to competition that improves quality and lowers costs. For example, introducing a voucher system can improve education outcomes. However, in the case of a natural monopoly, there is considerable risk that quality will deteriorate after outsourcing or privatization.
Networks like the public transportation system can be separated into components that are suitable for exposing to competition through auctions among private suppliers. The outcomes, however, depend on the design of the auction.
While most examinations of the decision on whether public or private provision of services is preferable have looked at the economic arguments, political economy considerations are also important. How much are politicians' decisions influenced by the effect on a politician's chances of being elected or re-elected?
In all discussion of the outsourcing of public production, it is essential to keep in mind the differing effects of outsourcing on the quality and costs of public goods and services. Realizing the potential benefits of outsourcing requires careful analysis to determine which activities would benefit from outsourcing, and how outsourcing should be implemented to provide the proper incentives for cost saving while maintaining or improving quality. In some cases, public competition can serve as an effective alternative or complement to outsourcing.
Acknowledgments
The author thanks an anonymous referee and the IZA World of Labor editors for many helpful suggestions on earlier drafts. He also gratefully acknowledges excellent research assistance from Amrita Kulka.
Competing interests
The IZA World of Labor project is committed to the IZA Guiding Principles of Research Integrity. The author declares to have observed these principles.
© Panu Poutvaara