Elevator pitch
Public schemes for sickness benefits and disability insurance are often criticized for the lack of incentive they provide for preventive and reintegration activities by employers. To stimulate the interest of employers in engaging with these schemes, several modes of privatization could be considered, including the provision of sickness benefits by employers, "experience rating" of disability insurance costs, employer self-insurance, or insurance by private insurance providers. These types of employer incentives seem to lower sickness rates, but they also come at the risk of increased under-reporting and less employment opportunities for workers with disabilities or bad health conditions. Policymakers should be aware of this trade-off.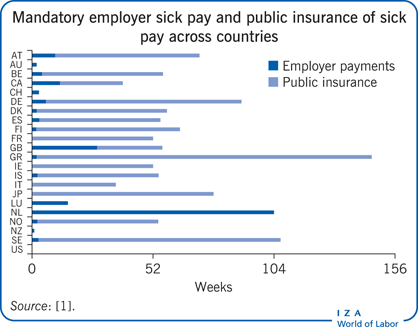 Key findings
Pros
Financial incentives may contribute to preventive activities of employers, causing less worker absence and, subsequently, less disability enrollment.
Financial incentives may trigger employers to increase reintegration activities for sick-listed workers and workers with disability insurance benefits, particularly at the start of benefit receipt.
Workers with bad health conditions can be better protected against layoffs if subsequent disability benefit costs are paid for by employers.
Cons
Employer incentives to curb sickness and disability enrollment may cause under-reporting of disability cases, particularly if employers decide to discourage claims by lawsuits.
Employer incentives of sick pay and disability benefits costs may decrease the number of hirings of new workers, particularly for vulnerable workers with health or disability issues.
The consequences of incentive systems such as "experience rating" may be difficult to grasp, particularly for smaller employers, while they are facing potentially large financial risks.
Author's main message
Employer incentives in disability insurance are limited in most countries, yet they can contribute positively to the prevention and reintegration of sick-listed workers and workers with disabilities. Employers do have opportunities to reduce the consequences of impairments, as they have the discretion to implement work adaptations such as flexible working hours, assistive technologies, or vocational rehabilitation. A key question for policymakers is how incentives to curb sickness and disability insurance enrollment should be targeted to decrease the risk of sickness and disability without transferring large financial risks to the employer. Employers should also be kept accurately informed, so as to increase their awareness and effectiveness of the incentives.
Motivation
Many countries currently face persistent increases in public disability insurance (DI) enrollment. The US, in particular, is a prime example of a country in which the Great Recession has resulted in the earnings capacity of workers with health impairments falling below the threshold of what is considered to be "substantial and gainful activity," rendering them eligible for social security disability insurance (SSDI). At the same time, employers in the US have been inclined to use DI schemes as a substitute pathway into unemployment insurance (UI) schemes for their redundant workers [2]. However, unlike UI, where the costs of layoffs are typically imposed on employers, SSDI benefit costs are not transferred to individual employers. This makes the SSDI susceptible to "moral hazard" problems, whereby employers have an interest in diverting low-productivity workers from UI to DI.
This article focuses primarily on the benefits and disadvantages of the different modes of employer incentives. With DI risks that are transferred from public insurance to individual employers, consideration is given to the effects of a partial or full privatization of sickness pay and DI schemes. In this context, it should be stressed that evidence is not provided on the effects of a (full) privatization of DI schemes where public regulation—such as the setting of benefit conditions—is absent and benefit conditions are set by private insurers. The reason for this is that experiences with such reforms are scarce and, not surprisingly, empirical evidence from private insurers is virtually absent.
Discussion of pros and cons
Limitations and gaps
Experiences with employer incentives are typically scarce and contextual. This underlines the general need for more analyses in this field of research, which takes into account the specifics of countries and states where private sick pay, experience rating, and private insurance are implemented. However, there are still some gaps in the literature that are more pressing than others. First, many of the unintended side effects of employer incentives have not been touched upon empirically. There are, for instance, no studies on changes in hiring policies of employers stemming from financial incentives, particularly with respect to workers with health conditions. This is important from a policy perspective, as adverse hiring policies are often put forward as a major argument against employer incentives. Related to this issue, it would be interesting to consider the impact of financial risks on employer bankruptcies—which may also be seen by some people as an unintended effect of employer incentives.
Second, a better understanding of the optimal design of incentive systems is needed. To target employer incentives in the right way, the specific injury risks that can be influenced by employers and the length of time interventions are effective for must be known. Thus far, however, the empirical literature does not provide much guidance on these decisions; rather, it provides effect estimates of crude measures of experience rating that include all injury types. In addition, the appropriate design of sick-pay incentives requires more knowledge on sick-pay traps: are these important, and do they justify the use of employer incentives for long-term absence?
Third, the most imminent limitation is the unavailability of data from private insurers. To study the determinants of private insurance would ideally require access to all relevant aspects of the insurance policies that are offered by private insurance providers, including premium rates, deductibles, or experience rating specifics. In practice, however, sick pay and DI insurance contracts with employers are often considered to be private information and thus out of reach for researchers.
Summary and policy advice
The experiences in various developed countries and various contexts show that employer incentives can make a difference in curbing sickness absenteeism and DI enrollment. It seems that employers have room to implement work adaptations and vocational rehabilitation and that they are more likely to make use of this room if they have financial incentives to do so. Thus, the privatization of (a part of) the sick pay and DI benefit costs may contribute toward slowing down, or even reversing, the rise of expenditures on sick pay and DI enrollment, which has been observed in many countries.
That said, however, the key question that remains for policymakers is how employer incentives can be targeted to generate a substantial effort to decrease the risk of sickness and disability, but without transferring large financial risks that are exogenous to the employer. The available evidence suggests that employers' incentives should, in principle, be directed to the starting period of sickness, but probably stretch out over a period that is longer than some weeks or a few months—as is the case in most countries with mandatory private sick-pay systems.
Acknowledgments
The author thanks two anonymous referees and the IZA World of Labor editors for many helpful suggestions on earlier drafts. Also, Nynke de Groot and Wolter Hassink are gratefully acknowledged for suggestions and comments on earlier drafts of this paper. Previous work of the author contains a larger number of background references for the material presented here and has been used intensively in all major parts of this article [10], [13].
Competing interests
The IZA World of Labor project is committed to the IZA Guiding Principles of Research Integrity. The author declares to have observed these principles.
© Pierre Koning