Elevator pitch
Many firms offer employees a remuneration package that links pay to performance as a means of motivation. It also improves efficiency and reduces turnover and absenteeism. The effects on productivity depend on the type of scheme employed (individual or group performance) and its design (commissions, piece-rate or sharing schemes). Individual incentives demonstrate the largest effect, while group or team incentives are smaller in magnitude. The case for government intervention through tax breaks and other financial incentives is highly debated due to differences across firms and the potential for economic inefficiencies.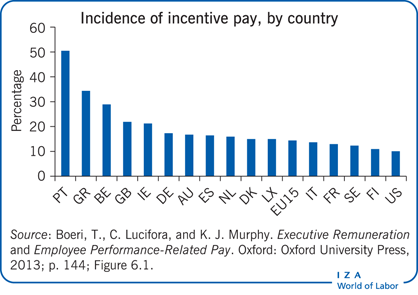 Key findings
Pros
Linking pay to performance increases workers' motivation, effort, and loyalty to the company.
Incentive schemes work as a screening mechanism by encouraging only more productive workers to apply.
Performance-related pay can improve macroeconomic performance and the resilience of employment to economic shocks.
Incentive schemes support the allocation of high-quality workers to high-productivity firms.
Share-ownership schemes are associated with better firm performance in the longer-term.
Cons
Risk-averse workers may prefer flat-rate schemes to performance-related pay.
Explicit incentives may displace workers' intrinsic motivation.
When rewards are paid for profits, but no penalty is incurred if losses are made, pay incentives may have perverse and counterproductive effects.
Performance-related pay may generate excessive work intensification and psychological stress.
Government intervention through tax breaks and financial incentives are not necessarily efficient.
Author's main message
Performance-related pay (PRP) schemes increase firm productivity. Individual schemes are associated with large increases in productivity, while group incentives and profit-sharing exhibit smaller effects. Empirical evidence suggests that policy intervention that facilitates PRP can be successful in terms of productivity gain for some young and small firms. However, government intervention "across the board" should be cautious, as fiscal incentives may benefit firms that already have PRP schemes, or induce firms to introduce them simply to gain tax advantages, with resultant economic inefficiencies.
Motivation
Many firms offer employees a remuneration package that links pay to performance as a means of incentive and motivation. Indeed, remunerating workers "by the piece," or via a "piece rate," has been the norm for a very long time in the manufacturing industry. There are many different types of pay incentives, including individual performance pay, group performance pay, as well as financial participation (e.g. profit-sharing and employee stock ownership). Every employer is concerned about finding ways of improving the efficiency and productivity of workers in the firm. Providing an appropriate compensation package that combines a fixed-pay component with a variable-pay element, linked to a measure of a firm's performance, has proved to be a popular instrument for stimulating labor productivity within firms.
The variable part of compensation is often structured in different types of schemes: individual or group performance pay is provided when individual or team performance meets a given target. Alternatively, there are also financial participation schemes, which benefit the worker and are linked to a firm's profits, sales, share price, or other measures of performance. At the level of the firm, the effects of PRP on productivity are expected to work through different channels. First, PRP schemes are used to motivate workers and to elicit higher effort. Second, incentive schemes work as a screening mechanism when new workers are hired, as they encourage only the most productive workers to apply. Finally, pay incentives also increase the attachment, or loyalty, of incumbent workers to the firm, thereby reducing turnover and absenteeism. At a national level, policymakers also encourage the introduction of PRP schemes as a means of improving aggregate productivity, wage flexibility, and resilience of employment to economic shocks without putting pressure on wage levels.
Given this, it is necessarily important to know what the main effects of the introduction of different incentive pay schemes are on productivity, as well as on other economic outcomes.
Discussion of pros and cons
PRP schemes, or performance incentives, have become more widespread in recent decades, both in Europe and the US [1]. This is partly explained by the spread of "high-involvement management" practices, in which workers are provided with more decision-making power, information, and, very often, incentive compensation schemes. It can also be explained by advances in information and communication technologies which, by reducing the costs of measuring employees' performance, make incentive schemes easier to implement.
When a firm introduces an incentive scheme it does so because it hopes to improve its performance, in terms of productivity, sales, and profits, etc. The effect on performance is the result of a "direct" effect of pay incentives on employees' effort and motivation, as well as an "indirect" effect on the composition of the workforce. The latter being a result of the "sorting" that occurs in new hires, whereby only the most productive workers will apply for the position.
An important question for both firms and policymakers, therefore, is whether linking some elements of the pay scheme of employees to their individual performance, or to the performance of the company, will have a direct and beneficial effect on productivity. Available empirical evidence supports the view that PRP schemes are indeed associated with higher employee productivity and better worker–firm match. The literature has investigated the effect of both individual incentive schemes and group incentive schemes. Individual incentive schemes might involve piece-rate payment and are often referred to as "high-power incentives" [2], [3]. Group incentive schemes can involve teamwork incentives, profit-sharing, and share ownership, and are often referred to as "low-power incentives," due to the presence of "free-riding," where less-productive workers will take advantage of being in a larger group and are therefore less easily monitored [4], [5].
Earlier studies from the 1990s tend to show a positive association between PRP schemes and productivity [6]. However, much of this research ignored the fact that firms often change pay schemes along with other changes in work organization practices, which may also affect performance. Additionally, firms that adopt PRP schemes may do so because they are doing well, or because they have "good management" in place that might improve performance with any innovation.
Limitations and gaps
A major drawback of the existing empirical studies is the uncertainty regarding the external validity of the findings with respect to other firms, industries, or to other countries. The empirical strategy adopted to overcome some of the estimation bias typically relies on information drawn from case studies and field experiments that are not easily generalizable. In most of the studies reviewed in this contribution, the effect of the introduction of an incentive scheme in one branch of a company, or in the whole company itself, is compared to that of other branches or companies that are unaffected by the change. While results are important in shedding light on the mechanisms through which pay incentives influence employees' behavior and firms' performance, some care should be used in drawing general conclusions or expecting the same effects to occur across time, place, and environment. Moreover, firms that change their mode of pay generally do so because the firm is not efficient in terms of performance or profitability, such that other changes in work organization or management style are often introduced along with incentive pay, which makes it difficult to identify a causal effect on output.
Also, it should be remembered that explicit incentives, such as PRP schemes, are just one aspect of the overall system of incentives that firms can use to select, retain, and motivate employees. Other incentive mechanisms include implicit long-term incentives, such as competition processes for promotion, which is determined by the corporate structure and hiring policy.
Another limitation is related to firm heterogeneity, or differences across firms. In general, what works in one firm may or may not work in another firm depending on managerial ability, implementation of incentive schemes, and other features of the firm's environment. The evidence presented here highlights some general findings that are common to a number of studies in different countries, allowing policymakers to draw a general view about the sign and magnitude of the expected impact of the introduction of PRP schemes on firms' performance. However, it does not suggest that a specific policy will certainly work in a given firm or in a given industry.
Summary and policy advice
PRP schemes are an effective way of increasing performance both at the level of the company or firm, as well as at the macro level, provided that the type and design of the schemes are appropriate. Compensation packages with a PRP component are associated, at the company level, with higher worker effort, a better matching between workers and firms, and lower turnover for the more productive workers in the firm. At the macro level the diffusion of incentive pay schemes is associated with higher productivity, more wage flexibility, and better resilience to economic shocks.
In particular, individual pay schemes generally exhibit larger increases in productivity, due to the combined effects of higher individual effort, as well as a more favorable composition of high-productive workers.
The effects of group incentive schemes and financial participation are also positive but smaller, due to free-riding and the low power of group incentives. This has been reported to be more relevant in larger-sized firms.
Overall, a general finding, common to most studies, is that companies with well-designed PRP schemes have better (or no worse) economic outcomes than other firms.
While it is true that an increasing proportion of firms has adopted PRP schemes in recent decades, on the basis of the empirical evidence, it is somewhat puzzling that incentive pay is not more widely diffused across firms in most countries. Part of the explanation may lie in the uncertainty that is associated with changes in work organization practices and pay regimes: what works in one setting may not work in another, due to the difference of the effects across firms and work environments. Also, there might be resistance of (risk-averse) workers in accepting variations in income, such that workers (and their unions) prefer to negotiate compensation packages that are not linked to performance.
The institutional context also contributes to the differences in the effects on performance: in some countries PRP, or financial participation, is mandatory (e.g. in large firms). In other countries there are no specific measures adopted for firms with PRP schemes in place. Thus the question of whether a government should, or should not, intervene in private-sector firms' pay setting is necessarily related to the existence of market failures or inefficient outcomes.
The evidence reviewed in this contribution suggests that a case for policy intervention might be that of facilitating the introduction of PRP schemes in some (young and small) firms where the implementation of such schemes may be too difficult and costly, so even if productivity gains are there, the effect on profitability might be uncertain. Then moving them in a more productive direction can justify a policy to encourage greater incentive pay or financial participation, ranging from programs to educate firms about best-practice techniques and how to implement them, to using tax breaks or subsidies to induce firms to undertake these initiatives or, even, to making such programs mandatory.
However, particular care should be used in government intervention "across the board" to support the introduction and diffusion of PRP schemes with subsidies or tax breaks, since this may benefit firms that already have them or will have introduced them anyhow. Also, the existence of government incentives for the introduction of PRP schemes may induce firms to change their pay policies simply in order to gain tax advantages without changing how they actually operate and without any productivity gain.
This variance suggests that the case for government intervention, in terms of what type of measures should be envisaged to induce firms to adopt incentive pay schemes and whether such schemes should be subsidized, is to be evaluated with care, as there can be potential "deadweight" losses, or economic inefficiencies, involved.
Acknowledgments
The author thanks an anonymous referee and the IZA World of Labor editors for helpful suggestions on earlier drafts. Previous work jointly authored with A. Bryson, R. Freeman, M. Pellizzari, and V. Pérotin contains a larger number of background references for the material presented here and has been used intensively in all major parts of this article [1].
Competing interests
The IZA World of Labor project is committed to the IZA Guiding Principles of Research Integrity. The author declares to have observed these principles.
© Claudio Lucifora