Elevator pitch
The occupational choice of return migrants is important to their home country. Return migrants are likely to have acquired human capital while abroad, either through formal training or by working in a more efficient labor market. The employment of these newly acquired skills in the home country can have important economic implications. Examining the choice of return migrants to engage in wage employment, self-employment, entrepreneurial activity, or to remain out of the labor market makes it possible to ascertain whether the initial migration decision benefited the home country as well as the migrants and their families.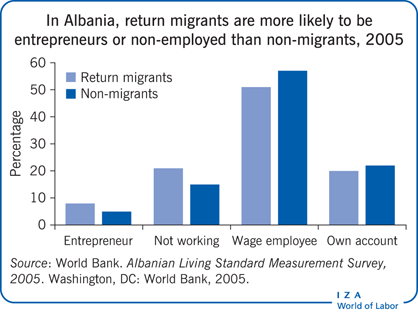 Key findings
Pros
Migrants who return to their home country are likely to benefit from higher wages than they would have earned had they not migrated.
Return migrants are more likely than non-migrants to invest in entrepreneurial activities.
The survival rates of businesses established by return migrants are likely to be high.
Optimal migration duration and occupation-specific labor market experience for higher-skilled return migrants are likely to result in higher wages upon return and help in their transition to formal employment.
Cons
If migrants choose not to work when they return home and consume their savings instead, potential gains from migration will be lost.
Depending on the duration of the migration experience, return migrants may lose their social network in the home country.
For return migrants who stay abroad too long, the reservation wage in the home country is likely to be higher than for those who return after a shorter period; this can result in long spells of non-employment after return.
Author's main message
The occupational choice of return migrants is important for them, their families, and for the home country, which can benefit economically from the reintegration of return migrants. To capture these benefits the home country needs efficiently functioning institutions to encourage return migrants to engage in formal work or entrepreneurial activity. Thus, governments should help return migrants reintegrate in the home country labor market by facilitating contacts with established entrepreneurs and employment agencies and by encouraging them to rejoin social networks. Governments should deal with impediments related to corruption, business regulation, and financial constraints.
Motivation
Migration as a means of accelerating development and reducing poverty has been an important area of research, especially because of concerns about potential brain drain from the migrant-sending developing countries. Within this framework, it is important to analyze the impact of return migration on the home country economy, especially where there is a high level of temporary and circular migration.
A key element to consider is the economic adjustment mechanism after return, as it is crucial in understanding how return migrants can contribute to economic development through their occupational choices in the labor markets of their home countries. One key contribution to the home country economy could occur if return migrants become entrepreneurs, something which can have a positive effect on job creation and economic growth.
Migration impact can be captured in several ways, ranging from analysis of the labor force participation of return migrants to differentiating the effect of the three main forms of migration: long-term, temporary, and circular movements.
Discussion of pros and cons
Limitations and gaps
Several factors affect the occupational choice of return migrants. Fully assessing the contribution of migration to the occupational choice of return migrants requires detailed and precise data that capture the characteristics and return behavior of migrants and also provide information on the initial migration decision and occupational choice in the destination country. Only a few data sets capture all this information, so there is a danger of over- or under-estimating how return migrants fare compared with non-migrants and migrants who did not return to their home country. Recently, some relevant data sets have become available, but more information is needed to analyze migration and its impact in geographical and economic dimensions.
Summary and policy advice
The impact of return migration on the home economy needs to be differentiated by many factors: by type of self-employment (own-account work or entrepreneur), by form of migration (long-term, temporary, or circular), by migrant profile, by type of skills acquired in the destination country, by achievement of savings targets, and by duration of migration, among other factors. Each has a different impact on the return migrant's occupational choice. Target savers make the strongest direct contribution to employment generation and growth because they have the highest odds of becoming entrepreneurs when they return. This finding suggests that reducing financial constraints in the home country could have positive effects for the economy. The provision of micro-finance can help those who have accumulated some savings abroad but might still need further financial assistance. In addition, because migrants are likely to lose their social capital while they are abroad, schemes that could help return migrants reintegrate could ease the transition to a productive economic adjustment in the home country. These could include holding employment fairs to help return migrants form networks with established entrepreneurs and employers and establishing employment agencies to help return migrants find jobs.
Staying abroad longer raises the reservation wage of return migrants, which could result in their remaining non-employed, at least in the short term. However, those who do find jobs in their home country are better paid than those who spent less time abroad. The relatively better skilled, especially those who acquire occupation-specific work experience while abroad, gain the highest returns from return migration. Those who are better-skilled are also more likely to engage in job-creating entrepreneurial activities when they return. Therefore, removing or at least minimizing other constraints such as political instability, corruption, lack of business regulation, poor access to and the high cost of finance, and lack of good infrastructure would greatly facilitate the returns to returning. In a number of developing countries it can take months to start up a company, so a policy recommendation would be to remove obstacles to starting a business, such as stringent business regulations and procedures that can take months to complete before a new company can open for business. Removing obstacles can help the process go more smoothly and can encourage greater entrepreneurship.
Also, the legal status of migrants can affect their occupational choice when they return. Migrants with legal status in their destination countries are more likely to get a job that matches their skills. Hence migration policies that favor temporary work permits that are not tied to a particular employer are likely to increase the chances of migrants obtaining occupation-specific experience that can help them gain better-paid employment in their home country and reduce the time they remain non-employed.
Acknowledgments
The author thanks an anonymous referee and the IZA World of Labor editors for many helpful suggestions on earlier drafts. Previous work of the author and F. Vadean contains a large number of background references for the material presented here and has been used intensively in all major parts of this paper [1], [9].
Competing interests
The IZA World of Labor project is committed to the IZA Guiding Principles of Research Integrity. The author declares to have observed these principles.
© Matloob Piracha