Elevator pitch
Labor market institutions that may weaken workers' bargaining leverage have received increased scrutiny in recent years. One example is noncompete agreements, which prevent workers from freely moving across employers, potentially weakening earnings growth. New data sources and empirical evidence have led policymakers to consider sharp restrictions on their use, especially among lower-income workers. These restrictions take many different forms, each of which has unique tradeoffs between the desire to protect workers while allowing firms to use noncompetes in cases where they may create social value.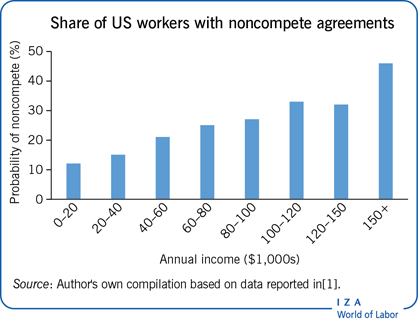 Key findings
Pros
Noncompete agreements can promote investments in intangible assets, such as research or worker training, that potentially benefit both employers and workers.
Empirical evidence supports the theory that noncompetes increase worker training and overall rates of corporate investment.
Noncompete agreements can help employers screen out job applicants who are more inclined to job-hop, reducing turnover and overall hiring costs.
Cons
By restricting workers' ability to change employers, noncompete agreements can shift bargaining power away from workers and hinder wage growth.
Most empirical studies show that the use and enforceability of noncompetes decrease wages, on average, with exceptions in some occupations.
Noncompete agreements can create spillover effects on workers and firms that do not sign them, and potentially reduce the overall competitiveness of labor markets.
Evidence suggests the negative wage impacts of noncompete agreements are disproportionately concentrated on more vulnerable and lower-income workers, including minorities and women.
Author's main message
Economic theory suggests noncompete agreements have the potential to increase productive investments, but can also harm workers. Empirical evidence is similarly dichotomous, consistent with greater worker training and rates of corporate investment, but lower wages and job mobility on average. Though the harmful effects are often most salient, policymakers should aim to balance regulation that protects workers while still allowing the benefits of noncompetes in some contexts. Regulatory options include noncompete wage floors, transparent information requirements, and matching the timing of payments for noncompetes with the work restriction period.
Motivation
Noncompete agreements (NCAs) are clauses of employment contracts that prevent workers from exiting a job and moving to a rival firm. Traditionally, they have been used to prevent high-skilled workers from transferring trade secrets or research and development (R&D) knowledge to competitors. NCAs have been used and legally enforced for centuries, and exist broadly in many labor markets internationally. Only recently have systematic data been collected on the use and enforceability of NCAs, which has allowed researchers to begin to understand how pervasive they are in labor markets, to empirically assess their effects on wages and other labor market outcomes, and to understand the breadth of firms' motivations for using them.
The growing body of empirical evidence on NCAs has led to a sharp increase in regulatory activity, particularly in the US, designed to mitigate the harmful effects of NCAs on workers and consumers. This protective regulation may impose tradeoffs that are difficult to observe and assess. Policymakers can protect the most vulnerable workers through regulation, while still permitting NCAs in some segments of labor markets, as empirical evidence on the effects of NCAs continues to develop.
In the US there is no federal law governing the enforceability of NCAs among employees, so states set their own laws, which differ dramatically. Figure 1 shows a map of an NCA enforceability index in 2018 [2], [3]. California and North Dakota (light blue) do not allow NCAs to be enforced, while states like Florida (dark blue) permit them to be used and enforced in a broad set of contexts.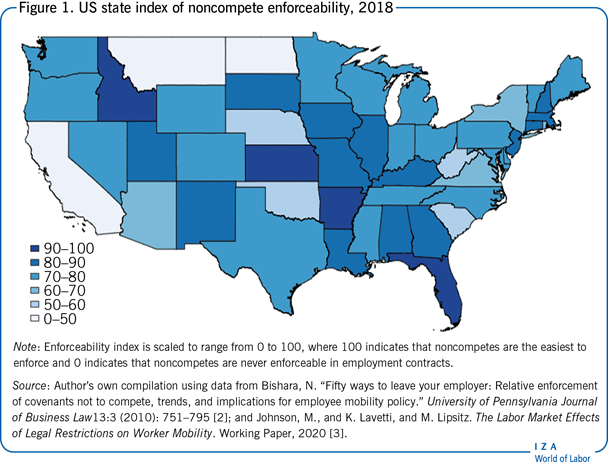 Discussion of pros and cons
Limitations and gaps
Despite substantial recent interest by labor economists, there remain important gaps in the empirical understanding of the effects of NCAs. Datasets documenting the incidence of NCAs are still very new, limited to the US context, and typically record cross-sectional information that can make it difficult to directly observe the effects of NCAs over a worker's career. With a lack of geographic breadth in studies outside the US, it is not yet known how other institutions or policies aimed at protecting workers may interact with NCAs.
The scope of research on NCAs has also largely focused on workers and firms, while less is known about impacts on consumers. Moreover, the majority of research on this topic has taken a microeconomic perspective, and few studies have investigated macroeconomic implications for aggregate growth. Understanding the comprehensive impacts of NCA regulations on welfare depends upon integrating knowledge from a broader set of applications and contexts than is currently available.
Summary and policy advice
There is strong consensus that NCAs, on average, tend to reduce earnings of low-income workers, and may have disproportionate impacts on the most vulnerable segments of the workforce. For this reason, regulating the use and scope of NCAs may be warranted even though empirical research is still developing.
Regulations can be designed in ways that balance the need to protect vulnerable workers, while still allowing NCAs in other segments of the labor market. Specifically, regulators can impose minimum wages for jobs with NCAs, regulate information disclosure requirements, and potentially mandate that firms compensate workers during the period in which NCAs are likely to harm workers.
Given the potential value of NCAs in some settings, the standard of evidence to support a broader ban, or occupational bans (other than those initiated by professional organizations), should be quite high. Policymakers should await clarity from research specific to occupations or industries in the absence of very compelling motivations that may not require evidence. Subsequent regulations may then consider the new empirical findings that become available as data on NCAs continues to expand.
Acknowledgments
Previous work of the author (together with Matthew Johnson, Michael Lipsitz, William D. White, and Carol Simon) contains a larger number of background references for the material presented here and has been used intensively in parts of this article [3], [6]. This work is based in part upon prior research that was financially supported by: the Russell Sage Foundation, the W.K. Kellogg Foundation, the Robert Wood Johnson Foundation, the Agency for Healthcare Research and Quality, and The California Endowment.
Competing interests
The IZA World of Labor project is committed to the IZA Code of Conduct. The author declares to have observed the principles outlined in the code.
© Kurt Lavetti