Elevator pitch
About a billion people worldwide live and work outside their country of birth or outside their region of birth within their own country. Labor migration is conventionally viewed as economically benefiting the family members who are left behind through remittances. However, splitting up families in this way may also have multiple adverse effects on education, health, labor supply response, and social status for family members who do not migrate. Identifying the causal impact of migration on those who are left behind remains a challenging empirical question with inconclusive evidence.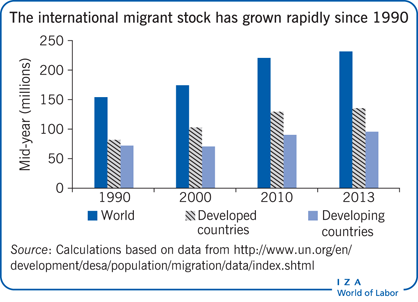 Key findings
Pros
The migration of a family member brings additional income through remittances, which can support household consumption and investment.
This income effect can reduce the need for child labor and increase children's schooling, notably for girls in developing countries.
Remittances can improve families' sanitation, health care, and nutrition and fill in for missing formal health insurance in the short term.
Remittances can enable remaining family members to engage in higher-risk, higher-return productive activities.
Where most migrants are men, the bargaining power of women who stay behind may be strengthened.
Cons
The migration of an economically active family member places a heavier burden on those who stay behind, who must make up for the lost employment and spend more time on household chores.
The absence of the main caregiver can increase children's probability of dropping out of school and delay school progression.
Disrupted family life can lead to poor diets and increased psychological problems.
Migration may reduce incentives for education when perceived future returns to education are low because of expectations of migration.
Migration can reduce labor force participation for family members left behind, especially for women.
Author's main message
The effect of a family member's migration on those who stay behind can be either positive or negative, depending on individual circumstances. Although remittances are a potentially important means of easing family budget constraints and alleviating poverty, the most vulnerable populations may be hurt by a family member's migration. Policymakers need to consider the specific circumstances behind the migration and of the family members in the home country. Support systems for these families may need to be bolstered to help them cope with any detrimental impacts of migration, especially its effect on education and human capital accumulation.
Motivation
The number of people migrating from their country of origin or from one region to another within it has been growing dramatically in recent decades. The UN estimates that about 232 million people live and work outside their country of birth and that 763 million people live and work outside their region of birth within their home country. Since 2000, the international migrant stock has been growing faster than the total world population, and it now accounts for 3.2% of the world population (Figure 1).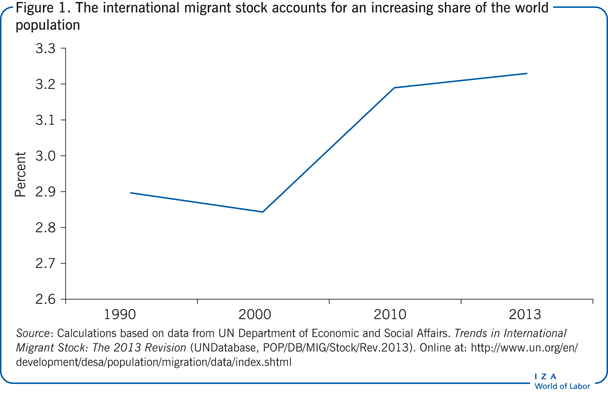 International migrants and internal migrants together account for one in seven people worldwide. These migrants do not always move with their entire family. More often, they leave the rest of their family behind: their spouse, children, and parents. Rigid migration policies, uncertain living conditions in the destination country or region, and the high cost of migration are among the reasons why many people migrate alone. In China, individuals who have migrated from rural areas to cities have left behind an estimated 61 million children, 47 million wives, and 45 million elderly relatives [1]. In the Philippines, one of the largest sources of migrant laborers worldwide, around nine million children are growing up without at least one of their parents because of migration.
The impact of migration on sending communities, especially on family members left behind, has long been debated. On the one hand, labor migration is viewed as economically benefiting the family in the home country through financial transfers. Remittances can ease liquidity and budget constraints and thereby improve households' long-term welfare through investments in health care and education. On the other hand, many studies have pointed out the social cost that migration imposes on families left behind. In particular, the physical absence of the migrant may have multiple adverse effects on family members' education, health, labor supply response, and social status. Thus, identifying the impact of migration on family members who remain is an open empirical question with inconclusive evidence.
Discussion of pros and cons
Limitations and gaps
The literature on migration and the family left behind recognizes the difficulty of measuring a causal impact. This is both a clear limitation and a major challenge to researchers. Most studies rely on data from home-country household surveys, making it difficult to overcome the problem of the non-random selection of individuals into migration. Unresolved endogeneity problems are among the reasons why studies report mixed results of the impact of migration on the education, health, and labor supply of family members who stay behind. The recent use of experimental approaches, through policy experiments such as visa lotteries and natural experiments, is leading the way to promising solutions to these difficulties. Collecting such data is particularly challenging, however, and often depends on the willingness of policymakers to share the data with researchers.
There is also a need for better survey data, notably for richer longitudinal data sets that simultaneously survey migrants abroad and sending households. Although studies using such data sets would still not be as good as randomized controlled studies, they would help researchers and policymakers learn more about the mechanisms through which migration affects family members who do not migrate.
Another limitation is that most studies have investigated specific settings, so the results may not be generalizable. In particular, the impact of migration may vary considerably depending on the type of migration and on the source and destination countries analyzed. For instance, the loss of parental supervision and interaction might be much more detrimental for international migration, with long-distance travel and infrequent returns, than for short-distance internal migration.
Another source of cross-study variability may be the family's income level before migration, which can influence whether the net effects are positive or negative. In particular, for poor households in poor countries the income effect of remittances would be expected to be stronger and more likely to counteract the negative effects associated with the absence of the migrant.
Summary and policy advice
With about one billion international and internal migrants worldwide, the relationship between migration and the family left behind is an important policy question. Labor migration is conventionally viewed as economically benefiting the family left behind. Remittance transfers can ease budget constraints and thereby increase spending on health care and education, improving households' long-term welfare in the source country. However, the migrant's absence might also have negative consequences for non-migrants, be they children, the elderly, or a spouse.
Policymakers need to account for differences in the situations of migrants and their families who stay behind and bolster support systems in education and health care to help families cope with the detrimental effects of migration on the accumulation of human capital. If migration implies lower education or health status or more child labor, the potentially long-term costs of migration need to be mitigated through appropriate home country policies. Population aging is another issue to consider.
Many migrant-sending developing countries have inadequate social safety nets, especially in rural areas. Countries may need to establish supportive institutions that can help families who stay behind adapt to the loss of an economically active member or caregiver through migration. Policy options for developing countries include improving the functioning of labor markets (notably in rural areas, to facilitate the hiring of local labor when a family member migrates), strengthening formal insurance and credit markets, facilitating the transmission of remittances by lowering remitting costs, and increasing access to education and health care. More specifically, ways to mitigate the impact of migration on human capital include offering access to better education locally at primary and secondary school levels, including providing additional tutoring for children left behind, and building social safety nets to provide pensions and affordable health care for the elderly.
Acknowledgments
The author thanks two anonymous referees and the IZA World of Labor editors for many helpful suggestions on earlier drafts.
Competing interests
The IZA World of Labor project is committed to the IZA Guiding Principles of Research Integrity. The author declares to have observed these principles.
© Sylvie Démurger