Elevator pitch
Risk aversion is an important factor in many settings, including individual decisions about investment or occupational choice, and government choices about policies affecting environmental, industrial, or health risks. Risk preferences are measured using surveys or incentivized games with real consequences. Reviewing the different approaches to measuring individual risk aversion shows that the best approach will depend on the question being asked and the study's target population. In particular, economists' gold standard of incentivized games may not be superior to surveys in all settings.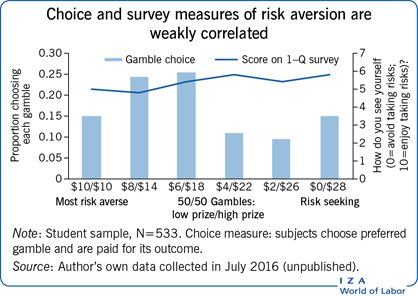 Key findings
Pros
Incentivized tasks are designed so that subjects have an incentive to truthfully report their preferences, while it is costless for subjects to misrepresent their preferences in surveys.
Incentivized games can be structured to provide a precise measure of preferences that can be used to discriminate between different theories of decision making and to statistically estimate a subject's underlying value function (utility function).
Survey measures lack a clear connection to theory, and therefore cannot be structured in the same way as incentivized games.
Cons
Subjects may find incentivized games to be difficult or confusing, while surveys tend to be simpler to understand; this is particularly true for less-educated subjects.
Incentivized games are costly to administer in terms of time (instructions can be complex) and money (incentives must be provided).
It is difficult to adapt incentivized games to represent different decision contexts, while surveys are easier to adapt.
Author's main message
In measuring risk aversion, it is important to consider carefully the purpose of the measure, the costs of alternative measures, and the abilities and experiences of the target respondents. Incentivized tasks provide a more precise measure, but are costly to implement and may be difficult for some subjects to comprehend. Survey measures are easier and less costly to implement and may be better for nonfinancial domains, but may not be sufficiently precise. Overall, the evidence does not support the general belief that incentivized tasks are superior in all (or most) cases, implying that surveys may warrant increased usage in certain contexts.
Motivation
Measuring risk aversion is important. Assumptions about the risk preferences of individuals (risk aversion or risk tolerance) provide the underpinnings for theoretical models of decision-making behavior in areas as diverse as investment, savings, trust, worker compensation, or choice of profession, and for policy recommendations in areas such as environmental regulation, occupational safety, health policy, or the social safety net. Differences in risk preferences across individuals and between groups have been implicated for behaviors such as inadequate retirement savings, poor credit scores, the gender gap in earnings, patterns of wage differences across occupations, use of recreational drugs, and reluctance to invest in new technologies. Reducing the risk of danger or harm is a primary focus of many, even most, regulatory policies, and estimates of aggregate risk aversion play an important role in determining the appropriate level of risk reduction.
Theoretical models of these behaviors rely on empirical estimates of preferences for policy-relevant calibration. Methods for measuring preferences have been developed in two main categories: (i) self-reported survey measures, where subjects report their perceptions of their own risk tolerance or report the likelihood of engaging in specific behaviors; and (ii) incentivized tasks or games, where subjects evaluate or make choices among risky alternatives. Surveys rely on self-perceptions, and their accuracy depends on self-awareness as well as honest reporting. It seems intuitively plausible, then, that incentivized choices are superior to surveys, because the decisions that participants make have real consequences. But surprisingly little evidence supports the superiority of incentivized measures in terms of the consistency and stability of such measures or their correlation with actual risky behavior. Furthermore, little is known about whether preferences are inherent, stable attributes of an individual, like personality, or whether they evolve over the life cycle or in response to specific types of events. If preferences are malleable, the factors affecting preferences are only beginning to be explored.
Discussion of pros and cons
Limitations and gaps
If preferences are stable behavioral traits, then they should be stable not only over domains, but over time. However, evidence from a number of studies indicates that risk preferences can change over time, in two ways. First, exposure to a different environment can gradually alter preferences. Second, a change in risk preferences may occur in the wake of a major life event, such as a natural disaster or a financial crash, and, further, that short-term and long-term consequences may also differ. Evidence further suggests that, immediately following a negative event, people appear to be risk-seeking, as they attempt to regain their pre-disaster reference point. After the dust settles and outcomes are resolved, however, people become more risk averse in the wake of a major negative event. Further theoretical development and testing is needed to understand the evolution of preferences.
The external validity of incentivized risk measures in particular settings has also received some attention, focusing on specific domains such as health and personal finance. The main shortcoming of these studies is that they tend to take a piecemeal approach, testing only one measure against a related life activity, and thereby lack general relevance.
External validity of survey measures has also been the target of considerable research. Two recent surveys incorporate a battery of risk aversion items and tasks into nationally representative surveys and relate these measures to self-reported risky behavior across a variety of domains. The first is part of the preference module of the GSOEP. An evaluation of this survey concludes by advocating the use of simple, survey-based methods for preference elicitation in large-scale surveys, arguing that the incentivized MPL measures are not worth the time and cost to implement [4]. Another study reports a similar exercise for the UK Household Longitudinal Survey [5]. It directly compares HL and B/EG elicitations along with the domain-general and domain-specific survey items. These are compared with each other, and with a one-year later elicitation. All of the measures show strong test-retest reliability a year later, and all are significantly correlated with each other at a point in time. However, tests of external validity across a variety of domains are decidedly mixed. No measure dominates the others, and the survey questions do no worse than the incentivized measures in most settings. This is not particularly good news for economists who advocate the use of incentivized measures, but it does suggest that low-cost alternatives may have reasonable usefulness as measures of preferences.
In sum, despite many studies, the jury is still out on whether and when incentivized measures are worth the additional time and effort required to use them.
Summary and policy advice
The question naturally arises as to which is the "best" way to elicit risk preferences. Is there a superior method? Does it depend on the characteristics of the study's population [2] or on the domain under consideration [6]? Does the level of incentives matter for the accuracy of the measure? Are surveys as good as incentivized tasks?
Notable in the present discussion is a lack of strong support for the notion that incentivized measures are always superior. Indeed, there is considerable evidence supporting the cost-effectiveness and efficacy of survey measures. While it seems plausible that incentivized measures should be superior for measuring risk aversion, it is not clear from the evidence that this is true.
One important factor producing these results could be the measures themselves. Economists tend to design measures that are appealing from a theoretical perspective, but that do not necessarily take into account the ability of individuals without PhDs to fully comprehend the decisions they have to make. It may be the case that measures designed with human limitations as well as theoretical considerations in mind can do a better job of accurately eliciting preferences.
Another issue worth mentioning is that the concept of risk arising from expected utility theory is quite different from a layperson's idea of the meaning of risk. Economists' concept of risk is closer to "variance-aversion," and is far afield from the dictionary definition, which focuses on the danger or the possibility of a significant loss. It may be that study respondents naturally think of the lay version of the concept in answering survey questions, and fail to equate risk-taking with the kind of risk that occurs with choices among gambles that differ in expected value and variance. If this were true, then it would be no surprise that the survey questions do a better job of predicting risky behavior in a variety of domains. Variance-aversion may not play a large role in the types of risky choices that individuals face in their everyday lives.
That said, some attention should be paid to the notion of using the right tool for the right job. It seems pretty clear that the assessment of risk-as-variance-aversion at the individual level is likely to be relevant for decision environments that involve financial decisions and investing. Adapting and using incentivized tasks for this purpose makes a lot of sense. Assessing willingness of voters to pay to reduce risks of various types in the policy arena may also be a good venue for the application of incentivized elicitation methods. But for many other applications, low-cost, practical alternatives should be given serious consideration. Carefully designed survey measures of individual preferences can be at least as effective, and much less costly to implement, than their theoretically elegant, incentivized counterparts.
Acknowledgments
The author thanks an anonymous referee and the IZA World of Labor editors for many helpful suggestions on earlier drafts. Previous work of the author contains a larger number of background references for the material presented here and has been used intensively in all major parts of this article (see [2], [9], and the Additional references online).
Competing interests
The IZA World of Labor project is committed to the IZA Code of Conduct. The author declares to have observed the principles outlined in the code.
© Catherine C. Eckel