Elevator pitch
Economists use various metrics for measuring income inequality. Here, the most commonly used measures—the Lorenz curve, the Gini coefficient, decile ratios, the Palma ratio, and the Theil index—are discussed in relation to their benefits and limitations. Equally important is the choice of what to measure: pre-tax and after-tax income, consumption, and wealth are useful indicators; and different sources of income such as wages, capital gains, taxes, and benefits can be examined. Understanding the dimensions of economic inequality is a key first step toward choosing the right policies to address it.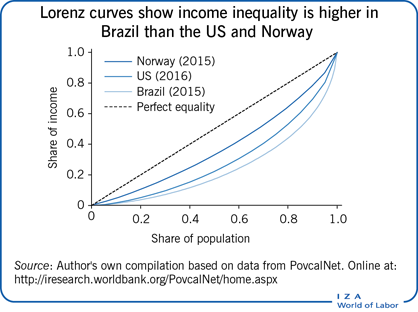 Key findings
Pros
The Lorenz curve is a commonly used metric that allows for the quick and visual comparison of inequality across countries.
The Gini coefficient uses information from the entire income distribution and is independent of the size of a country's economy and population.
Percentile ratios are easy to calculate and focus on a specific region of the distribution.
The Theil index can decompose inequality into within- and between-group inequality.
These commonly used measures are generally in agreement when comparing inequality across countries.
Cons
If Lorenz curves cross they cannot provide a conclusive ranking between distributions.
The Gini coefficient values change depending on what is measured—wages, before-or after-tax income, wealth, or consumption.
Percentile ratios fail to use all information since they ignore incomes between percentiles.
The Theil index is less intuitive and not directly comparable across populations with different sizes or group structures.
The evolution of inequality within a country can appear different depending on the metric used.
Author's main message
Despite the relative strengths and weaknesses of the available measures, empirical studies show that they are mainly in agreement when comparing inequality differences across countries. However, the evolution of inequality within a country or the effectiveness of a specific policy can be perceived differently depending on the specific metric under consideration, as well as what variable is being measured. For instance, if policymakers care more about what happens to the poor they should use the Palma ratio instead of the Gini coefficient as their inequality measure and focus on consumption instead of income data.
Motivation
There are many reasons why policymakers and researchers alike are concerned with a country's degree of economic inequality. Recent studies show that persistent income disparities among individuals are associated with poverty and deprivation, mental illness, social unrest, and crime, as well as lower levels of education, employment, and life expectancy [1]. Many public policies such as taxes, welfare benefits, provision of education and health services, price, and competition regulations have distributional implications for income.
How equally is income distributed across individuals in countries with different social institutions, education systems, capital, and labor markets? How has inequality evolved over time? How have income distributions changed after tax reforms or financial crises? To be able to answer these important questions, a consistent measure of inequality is needed.
Discussion of pros and cons
Limitations and gaps
To compare inequality measures across countries, researchers need to be mindful of cross-country differences in data sources and definitions. The data used to measure economic inequality typically come from household surveys and are particularly ill-suited for studying inequality at the very top end of the income distribution. The ultra-rich are less likely to answer questions about their income and its composition, and their responses might be top-coded to preserve anonymity. Instead, the recent literature uses administrative data obtained from tax records that is not censored from the top [10], [13]. Moreover, the source of income matters, as the measures derived from self-employment activities tend to be of much worse quality than wages and salaries. This is especially true for developing economies, which warrants the use of consumption expenditures data instead.
Another caveat of inequality research is the time frame. Most measures of inequality are static in nature, focusing on monthly or annual income. In that way, temporary shocks to income might lead to an overestimation of the degree of inequality compared to longer time horizon measures. Similarly, some cross-sectional income disparities reflect differences among individuals due to their age since these metrics are typically pooling together young inexperienced workers with workers at the top of their careers. These differences would disappear if individuals' life-time incomes were compared instead. The issue of a time horizon is related to a bigger question of social mobility and inequality of opportunity in general. Being born to a less well-off family or growing up in a poor neighborhood have long-lasting effects on individuals and may trap them in poverty and persistent deprivation.
Summary and policy advice
Measuring inequality involves comparing income distributions across countries or over time. General ranking criteria applied to income distributions often result in indecisive conclusions; therefore, policymakers prefer a summary index of inequality that can be expressed in a single number. The most commonly used inequality measures are the Gini coefficient (based on the Lorenz curve) and the percentile or share ratios. These measures try to capture the overall dispersion of income; however, they tend to place different levels of importance on the bottom, middle and top end of the distribution.
When making international comparisons, most inequality measures generally agree on the overall ranking across countries. In this case, it is necessary to ensure consistency in the definition of income (whether it is household or individual, pre-tax or after-tax, income or consumption expenditures). On the other hand, if a policymaker's goal is to evaluate the effects of a specific policy or to examine the evolution of inequality over time then the choice of metric depends on the nature of the exercise at hand. For example, to analyze the effectiveness of government redistribution policies inequality in pre-tax and after-tax income should be compared. Moreover, it is more appropriate to use the Palma ratio or the interdecile ratios instead of the Gini coefficient as these measures are more sensitive to changes in income at the bottom part of the distribution.
Acknowledgments
The author thanks an anonymous referee and the IZA World of Labor editors for many helpful suggestions on earlier drafts.
Competing interests
The IZA World of Labor project is committed to the IZA Code of Conduct. The author declares to have observed the principles outlined in the code.
© Ija Trapeznikova