Elevator pitch
Measuring employment and unemployment is essential for economic policy. Internationally agreed measures (e.g. headcount employment and unemployment rates based on standard definitions) enhance comparability across time and space, but changes in real labor markets and policy agendas challenge these traditional conventions. Boundaries between different labor market states are blurred, complicating identification. Individual experiences in each state may vary considerably, highlighting the importance of how each employed or unemployed person is weighted in statistical indices.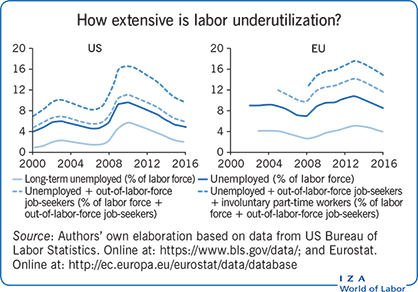 Key findings
Pros
The definitions of employment and unemployment are simple and enhance comparability across time and space.
The unemployment rate is a very useful tool for macro analysis.
Experience-weighted measures can account for variation in work characteristics (e.g. working time) and job search behavior (e.g. duration of unemployment) across countries and years.
Alternative indices broaden information for policy making and may account for diverse value judgments.
Cons
Boundaries between labor market states are blurred.
The definition of employment ignores differences in work arrangements (e.g. part-time, discontinuous working time) that influence total work potential and well-being.
The definition of unemployment overlooks differences in search intensity and unemployment duration, despite their relevance for welfare losses and probability of finding a job.
Alternative indices require the development of appropriate statistical sources and their underlying methodology can be difficult for the general public to understand.
Author's main message
As life-long, permanent, full-time work is increasingly replaced by multiple job spells, often intertwined with periods of non-employment and engagement in non-market activities, it is worth revisiting the notions of employment and unemployment and broadening the set of labor force statistics. Headcount indices could be usefully supplemented by experience-weighted indices that account for people's experience in labor market states (e.g. work intensity for the employed and search intensity or unemployment duration for the unemployed). This task likely implies collecting new statistical data, but would improve policy design and understanding of the labor market.
Motivation
Since the Keynesian revolution in economics and policy making, the policy objective of full employment has meant minimizing the share of workers unable to find a job, the involuntarily unemployed. The unemployment rate has also been the prime indicator of labor market slackness and inflation risk (through the Phillips curve). New policy concerns, such as gender equality or social security sustainability in the face of population aging, have gradually shifted the focus from lack of opportunities for the unemployed to low employment levels.
Undoubtedly, the criteria used to measure employment and unemployment have significant, if unnoticed, implications for policy making. More attention should be paid to their normative bases and to whether they stand up to the changes experienced by labor markets since they were set.
Discussion of pros and cons
In 1976, the US Commissioner on Labor Statistics questioned if economists should measure the doughnut (employment) or the hole (unemployment) [1]. Significantly, the US Full Employment and Balanced Growth Act of 1978 translated "the right to full opportunities for useful paid employment at fair rates of compensation of all individuals able, willing, and seeking to work" into achieving, in the medium term, a maximum unemployment rate of 3% for people aged 20 or over. This is but one example that unemployment was the main post-war worry for policymakers. As populations aged and growth slowed, attention gradually shifted toward monitoring employment as well. This is especially the case in Europe, at least since the 1993 European Commission white paper Growth, Competitiveness and Employment. Currently, the Europe 2020 strategy sets an employment rate target of 75% for the EU population aged 20–64.
This shift toward a focus on employment has had little effect on official statistics. Ascertaining one's employment status is traditionally seen as relatively straightforward, while the difficulty lies in identifying who is actually seeking work among the entire group of jobless people—the truly involuntary unemployed. This has led statisticians to concentrate on the hole in order to separate the unemployed from inactive people who are outside the labor force.
Yet, the doughnut deserves attention too. Is one hour of paid work in the reference week sufficient to classify someone as employed, as set out in the ILO's guidelines? This simple rule underscores the importance of having a paid job in a market economy, but overlooks how much time is spent at work. However, in evaluating living standards and actual labor potential, it matters a great deal whether people work 48 hours or only one hour per week, or whether they work on a permanent or temporary basis. New employment practices such as zero hours contracts and the gig economy challenge the simplicity of this rule [2].
Borrowing a distinction typically used in poverty measurement [3], there is both an "identification" issue—how someone should be classified—and an "aggregation" issue—how each unit should be weighted. Traditionally, in labor market statistics much effort is devoted to solving the first problem, whereas the second is set by constructing headcount measures (e.g. weighting people equally irrespective of whether they work for one hour or 48 hours). With these measures, the only way to account for the diversity in work arrangements, non-employment conditions, or unemployment spells is to enlarge the set of available indicators (e.g. considering average hours worked per employee)—the "dashboard approach." Alternatively, it is possible to estimate experience-weighted indices, which weight individuals proportionally to the intensity of their labor market condition (e.g. hours worked, degree of labor market attachment).
Limitations and gaps
Neatly defined indicators such as unemployment and employment rates have the great advantage that they can be clearly and simply communicated. This is achieved, however, at the cost of ignoring multiple facets of labor markets. A richer statistical representation can be attained by either adopting a dashboard of indicators or by elaborating a synthetic index that condenses alternative situations into a single number through appropriate weighting. The first solution makes no attempt to reduce diversity: it is less demanding in terms of conceptual structure and measurement requirements, but it is difficult to draw a well-defined unitary picture. The second solution has the advantage of summarizing a multifaceted reality into a single value, which is simpler to communicate and more easily captures the attention of policymakers and the general public; the downsides are the computational complexity and the arbitrariness of the weighting structure.
Despite their potential relevance for monitoring labor markets, the development of experience-weighted measures is hampered by data availability, as LFSs typically collect information on current conditions along with some recall information about past events. This problem is well-known in studies of unemployment duration, which rely on statistical techniques to derive the length of completed spells from the available data on ongoing unemployment spells [12]. The information on all employment spells during a period (e.g. a year) is equally missing in LFSs. To estimate work intensity, the above-mentioned 2016 study relies on the EU-SILC. These problems could be overcome by using administrative archives, provided that they cover the whole working-age population.
Finally, this article focuses on stock measures but the reference to transition probabilities among labor market states underlines the importance of also considering flow measures (see, e.g. [13]).
Summary and policy advice
The work of statistical agencies, international organizations, and academic researchers has led to the consolidation of a set of standardized labor statistics. These statistics serve multiple analytical purposes, as they are used to measure labor slackness, aggregate labor potential, social exclusion, or discrimination. At the same time, societies change. Aging means that the bounds of the working-age population may need to be shifted upwards, following increases in schooling years and life expectancy. The "unbundling" of productive tasks and the development of the gig economy mean that people may engage in multiple paid activities (e.g. renting out their apartments, driving their cars as taxis) while they search for a traditional job, confounding the traditional classification of employment and unemployment.
All this suggests re-examining the existing set of labor statistics. This article has stressed three issues. First, a broadening of the battery of indicators may overcome the limits of the strict tripartite classification of labor market states, allowing for a more nuanced description. Second, experience-weighted measures could summarize into a single number the diversity of labor market conditions that people experience (e.g. the duration of joblessness for the unemployed or working hours for the employed). Third, it must be borne in mind that well-defined, if unnoticed, normative judgments underlie employment and unemployment measures; this awareness is especially relevant when these statistics become policy targets.
Acknowledgments
The authors thank two anonymous referees and the IZA World of Labor editors for many helpful suggestions on earlier drafts. They also thank Alfonso Rosolia. Previous work of the authors contains a larger number of background references for the material presented here and has been used intensively in all major parts of this article [4], [9]. The analysis and conclusions expressed in this article are those of the authors and not necessarily those of the Bank of Italy or the Eurosystem.
Competing interests
The IZA World of Labor project is committed to the IZA Guiding Principles of Research Integrity. The author declares to have observed these principles.
© Andrea Brandolini and Eliana Viviano