Elevator pitch
Standard economic theory suggests that individuals know best how to make themselves happy. Thus, policies designed to encourage "better" behaviors will only reduce people's happiness. Recently, however, economists have explored the role of impatience, especially difficulties with delaying gratification, in several important economic choices. There is strong evidence that some people have trouble following through on investments that best serve their long-term interests. These findings open the door to policies encouraging or requiring better behaviors, which would allow people to commit to the choices they truly want to make.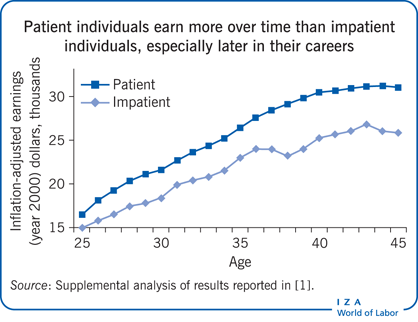 Key findings
Pros
Impatient people behave differently than patient people when making choices with implications for the labor market, including investments in education and job search.
Impatient people end up earning substantially less than their patient counterparts, and the earnings gap grows larger over time.
Much of this behavior reflects "time-inconsistent" preferences, wherein people's investment preferences change according to how soon they need to pay the costs.
Time-inconsistency makes it easier to justify policy interventions designed to increase individuals' investment.
Cons
Policies designed to increase investment are hard to justify if people's choices are "rational."
Time-inconsistency is difficult to measure directly, so policies are difficult to target appropriately.
The relationship between what economists call "preferences" and what psychologists call "personality" is still incompletely understood.
It can be hard to separate the direct effects of ongoing time-inconsistent choices from the effects of lower levels of investment earlier in life, especially in education.
Author's main message
Economists tend to think that individuals know best how to spend their own resources. As a result, they view policies that are designed to change people's investment choices as paternalistic and are reluctant to propose them. Yet the empirical evidence strongly supports the idea that a minority of individuals would be happier if they were incentivized or required to invest more for the future. Thus, policies intended to encourage additional schooling or greater job search effort can actually make people happier when the targets of the policies have difficulty with commitment or self-control.
Motivation
When economists model choices that people make over time, a key component is the individual's level of "patience," or the discount rate. This personal characteristic determines how much happiness (utility) a person is willing to give up today in order to increase future happiness. Many important economic decisions involve these kinds of intertemporal tradeoffs, including saving for retirement, obtaining additional schooling, and searching diligently for a new job while unemployed. A key question that has emerged in recent research is whether individuals make these decisions in a "dynamically inconsistent" way: people acting in a time-inconsistent way repeatedly intend to make the patient choice in the future, only to succumb to temptation when faced with the immediacy of the costs. This paper discusses recent evidence on the role of impatience in important investment choices affecting the labor market, with a particular focus on patterns that suggest dynamic inconsistency.
Discussion of pros and cons
Limitations and gaps
On the whole, there is substantial evidence that dynamically inconsistent impatience affects a variety of important investments relevant for the labor market. There are, however, some important limitations in the literature. First, it is quite difficult to measure dynamic inconsistency directly, so nearly all of the empirical evidence relies on indirect ways of uncovering the importance of impatience. As a result, many of the results discussed above remain open to alternative interpretation. For example, individuals rated as impatient in an interview may lack other non-cognitive skills, and these deficiencies rather than impatience per se may lead to a lower likelihood of making internally consistent investment choices.
Relatedly, there are several strands of the economics and psychology literature investigating the importance of personality in general and the ability to delay gratification in particular to success in life. The empirical facts are common across these literatures: individuals who are able to exercise self-control and give up current pleasure for a long-term payoff are more successful. The theoretical frameworks across these disciplines, however, remain somewhat disconnected [13]. Additional work will be needed to more closely tie together the constructs of dynamically inconsistent impatience, non-cognitive skills, and conscientiousness.
Finally, one of the challenges in this line of research is that investments, especially in human capital, compound over time. As a result, impatient individuals have lower levels of cognitive ability as they approach future decisions. Especially with complex decisions, this lower cognitive ability may lead to behavior that looks like time-inconsistent choices. In fact, the observed effects of impatience on investment choices typically get smaller after controlling for a measure of cognitive skills [1], [9]. Again, this pattern is fully consistent with impatience being the ultimate cause of the difference in choices. Nevertheless, teasing apart the importance of continuing impatient preferences from that of lower cognitive ability as a result of earlier differences in investment remains a potentially fruitful area for additional research.
Summary and policy advice
On the whole, there is considerable evidence that a minority of individuals make important mistakes as they invest in education and in their careers. Studies suggest that impatient individuals fail to stick with their original plan, whether that plan was to finish a degree, to search hard for a new job, or to invest the needed time and effort to gain a promotion. As a result, impatient individuals earn less than their patient counterparts over their lifetimes.
These results suggest a greater potential role for policies designed to encourage people to do the "right" thing—to stay in school or to find a job when unemployed. In the absence of self-control problems, people would make the choices that make them happiest. In that case, government policy with the goal of changing these choices would rightly be viewed as paternalistic. Further, those affected by the policies would likely resent the additional constraints and end up less happy. The empirical results reported above, however, open the door to a number of potential policy interventions that might otherwise be difficult to justify.
Perhaps the least controversial policy prescription is to support early childhood education programs that have been shown to improve non-cognitive skills, including the ability to delay gratification. By addressing the root cause of impatience, investing in these types of programs could yield very large returns.
For older cohorts, however, evidence shows that it is difficult to change people's ability to delay gratification. For these cohorts, alternative policy interventions that support additional investment directly are likely to be the most effective. For example, immediate monetary incentives for continued study or lowering the financial costs to complete a degree for students close to the finish line may be especially effective. Programs that pay unemployed workers to engage in consistent job search effort may also reduce time unemployed and improve workers' satisfaction with their job search results. In fact, stricter constraints, such as raising the minimum age of compulsory schooling may even end up making the affected students happier if the share with self-control problems is larger than the share who would otherwise rationally choose to leave school. Of course, identifying impatient individuals can be difficult, and any financial incentive will likely also benefit individuals who would have completed these investments anyway. Nevertheless, the weight of the evidence suggests that these types of policies would help a substantial number of people achieve the investment goals that they desire but have trouble committing to.
Acknowledgments
The author thanks an anonymous referee and the IZA World of Labor editors for many helpful suggestions on earlier drafts. Greg Madonia provided excellent research assistance. The author graciously acknowledges that many of the ideas presented in this article draw heavily on previous collaborative work with Ben Keys, including [1].
Competing interests
The IZA World of Labor project is committed to the IZA Guiding Principles of Research Integrity. The author declares to have observed these principles.
© Brian C. Cadena