Elevator pitch
Whether or not international trade exposes workers to economic insecurity depends on the nature of the trade exposure of the firm, or industry, in which the worker is employed. Import-competing industries experience higher levels of risk to workers' incomes and employment, while firms that import intermediate production stages ("offshoring") display bigger employment responses to small changes in workers' wages, and are more likely to shut down home factories. But offshoring also helps firms weather economic shocks. Offshoring firms are more likely to survive and provide greater employment stability to their workers.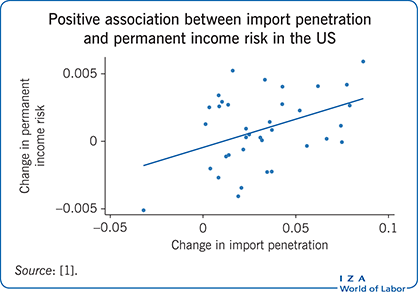 Key findings
Pros
Employment is more stable in firms that export goods to other countries.
Shifting some production from home factories to factories located in other countries (offshoring) may protect firms against temporary economic shocks and ensure greater employment stability for their workers.
Firms that engage in international trade, either by importing or exporting, have a higher probability of long-term survival.
Cons
Offshoring makes firms more responsive to changes in cross-country economic conditions, which could lead to larger swings in employment and wages at home.
The higher the level of net imports at the sector level, the higher the rate of job turnover among workers in that sector.
Offshoring intermediate production stages makes employment more responsive to wage changes and can lead to shutdowns of home factories.
Income risk (measured as the variance of unpredictable changes in income) is higher for workers employed in import-competing sectors.
Author's main message
Although free trade results in gains in aggregate (economy-wide) welfare, the process of job creation and job destruction that it involves is not orderly or costless. The distribution of these gains is uneven across segments of the population and associated with a high level of uncertainty. This can result in higher levels of economic insecurity, with even similar types of workers experiencing very different economic outcomes. Extending the size of the social safety net necessary to insure workers against this risk, and introducing policies that ease the adjustment costs, would help address this problem and mitigate the risk.
Motivation
Evidence supports the idea that aggregate welfare improves when countries trade with one another. The increase in welfare arises from having access to a greater variety of goods and services, lower prices, and productivity gains due to the reallocation of factors of production. Despite these aggregate benefits, however, there is a widespread public apprehension that economic insecurity will increase because of trade. The intuition behind this is that an increase in competition from foreign firms can drive domestic firms out of business and destroy jobs. The firms that do not go out of business are often left in precarious situations, with razor-thin profit margins, with the possibility that they could go out of business at any time. In addition, some firms might respond to the increase in foreign competition by shifting production stages abroad (offshoring) and substituting domestic workers with cheaper foreign workers. These changes imply an increase in employment and income volatility for workers employed in these firms.
What is not so often acknowledged, however, is that by offshoring production, firms can increase their productivity and their chances of survival, which would lead to higher demand for their goods and to potentially both higher incomes and greater stability for the domestic workers who remain employed. Similarly, international trade results in an expansion of employment in exporting sectors, especially in exporting firms. Employment in these firms is more secure, since these firms are in a better position to diversify and withstand fluctuations in the domestic market.
This article provides a brief background and summary of the key empirical findings on the association between international trade and economic insecurity faced by domestic workers. Economic insecurity is discussed along four dimensions: (i) the responsiveness of labor demand to changes in wages (i.e. the "elasticity of labor demand"); (ii) employment volatility; (iii) firm survival; and (iv) wage volatility and income risk.
Discussion of pros and cons
Limitations and gaps
The literature that explores the link between trade and economic insecurity by studying volatility and risk fills an important gap in the empirical literature which, for the most part, has studied the "mean" effects of trade on labor markets. Although this literature has uncovered nuanced ways in which international trade can impact the displacement and income risk, the picture is still incomplete.
First, most of the existing evidence is based only on a small number of countries, which makes it difficult to generalize. Part of the problem is lack of appropriate data for such analysis. The estimation of firm-level volatility or individual income risk requires longitudinal data over a long duration. Moreover, such information is needed for a large enough sample of firms or workers to allow for variation across industries or occupations that differ in terms of their exposure to international trade. Such data are available for only a small set of, mostly developed, countries.
Second, there is a disconnect between papers that study the link between economic insecurity and trade using firm-level data and those using worker-level data. These studies differ in terms of the variation in trade exposure they exploit and the measures of economic insecurity they use. Future work should take advantage of the increasing availability of worker–firm matched data sets, which will allow a more unified approach in attempting to answer this important question.
Given the empirical evidence on the positive association between trade and economic insecurity for certain segments of the population, an important next step is to both theoretically and empirically assess various policy options in reducing the welfare costs associated with increases in economic insecurity.
Summary and policy advice
Heightened public concern regarding globalization exposing workers to increased economic insecurity—both in the form of displacement risk and income risk—is not without justification. An increase in international trade may induce a reallocation of workers across industries and firms and, in the process, expose workers to a greater possibility of income losses and unemployment. But the argument is more nuanced and the empirical evidence in most cases is mixed. The evidence consistently points to higher income and displacement risks in import-competing industries, and lower levels of employment instability in exporting firms and industries. But while offshoring firms are more likely to close factories, and are more responsive to changes in wages, overall employment in these firms appears to be more stable, on average.
Quantifying the magnitude of the relationship between trade and job insecurity for different segments of the population is important for evaluating the impact of trade reform, and for generating further support for mutually beneficial trade through addressing a broadly expressed public concern.
It should be emphasized that the policy response to measured and perceived increases in economic insecurity due to openness is not protectionism—such a response would decrease welfare by restricting access to greater variety of goods and inputs, raising prices, and result in an inefficient allocation of resources. Moreover, it opens the door for retaliatory protection from other trading nations, which will negatively impact world economic growth. Rather, the policy recommendation would be to extend the size of the social safety net necessary to insure workers against this risk and introduce policies that ease the adjustment costs on affected workers. One such policy is re-training programs (e.g. subsidized community colleges, short skill-training classes) that allow workers to move away from shrinking industries or occupations that are no longer in high demand to new industries and occupations that are expanding.
Trade adjustment assistance should also be revived and expanded to provide a buffer for workers while they are unemployed and searching for a job or are back at school to get re-training. This additional insurance will allow displaced workers to afford being off the market as they search for a job that matches their existing skills, or as they get re-trained for skills that are in high demand. Without such insurance these workers are forced to take the first job they find; such jobs are often in the service sector with low wages and unstable employment.
In addition, programs that facilitate matching of workers with firms, and increased mobility of workers, would reduce the aforementioned costs by speeding up the trade-induced reallocation.
Acknowledgments
The author thanks an anonymous referee and the IZA World of Labor editors for many helpful suggestions on earlier drafts.
Competing interests
The IZA World of Labor project is committed to the IZA Guiding Principles of Research Integrity. The author declares to have observed these principles.
© Mine Z. Senses