Elevator pitch
Conventional wisdom and prevailing economic theory hold that the new owners of a privatized firm will cut jobs and wages. But this ignores the possibility that new owners will expand the firm's scale, with potentially positive effects on employment, wages, and productivity. Evidence generally shows these forces to be offsetting, usually resulting in small employment and earnings effects and sometimes in large, positive effects on productivity and scale. Foreign ownership usually has positive effects, and the effects of domestic privatization tend to be larger in countries with a more competitive business environment.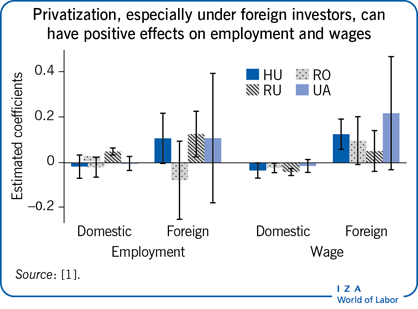 Key findings
Pros
State ownership and central planning are generally thought to be associated with excess employment.
Soft budget constraints and lack of competition under state ownership may lead to rents for incumbent employees.
Private owners are likely to aim for profit maximization rather than political objectives; they may have access to skills, markets, and technologies that increase output, employment, and productivity.
Productivity increases may lead to wage increases.
Positive effects are more likely the larger the scale and productivity effects, which may be greater under experienced, skilled investors in better business climates.
Cons
Budget constraints are not infinitely soft, so state-owned firms have some incentives to economize.
Negative consequences for employment and earnings are larger where state-owned firms are most protected, regulated, and subject to planning.
The business environment and intensity of competition matter regardless of ownership.
Limited evidence suggests that wage and employment losses are greatest for low-skilled workers.
Author's main message
Until recently, employment and wage effects of privatization received little attention in empirical research. None of the conducted studies show large negative effects on either employment or wages. Recent research in transition economies using much larger panel data that enable use of more appropriate evaluation methods confirms this finding and also reports systematically better outcomes for workers under foreign than domestic privatization. The policy implications are potentially profound. Despite the likely performance benefits, policymakers may be reluctant to privatize because of fears of job losses and wage cuts. The findings that average employment and wage losses tend to be low and that effects are sometimes positive should alleviate those fears.
Motivation
Although economic analyses of the effects of privatizing state-owned enterprises have focused largely on firm performance, the greatest political and social controversies have usually concerned the consequences for a privatized firm's employees. Most observers and participants assume that the employment and wage effects of privatization are negative. Workers around the world react with protests and strikes to the prospect of privatization, especially when foreign owners may be involved. Theoretical models of privatization arrive at the same conclusion, with efficiency-minded new owners predicted to restructure at the expense of employees. Yet until recently there has been little systematic empirical evidence on the relationship between privatization and outcomes for a firm's workers, and research has been hampered by small sample sizes, short time series, and little ability to control for selection bias. Thus, it has been unclear whether workers' and policymakers' fears of privatization are in fact warranted.
Discussion of pros and cons
Limitations and gaps
Much more limited than the research on average employment and wage effects is the evidence on other aspects of worker welfare, such as fringe benefits and other work conditions that could well change with ownership. The available data contain little information on these noncash aspects of work, and although it seems likely that they would be positively correlated with wage effects, the possibility that privatization affects the cash-noncash compensation mix cannot be excluded.
While worker turnover has received some attention, there is essentially no evidence on the fate of displaced workers from privatized firms—for instance, on how quickly and at what wages they become re-employed. A study of displaced workers in Russia was unable to distinguish privatized state enterprises from new private firms, which is necessary to draw inferences about the effects of privatization. Nor is there evidence on whether newly hired workers at privatized firms are new labor force entrants or workers pulled from state enterprises or other privatized firms. Particularly relevant would be estimates of the degree to which newly hired workers at privatized firms experience wage gains relative to what would have happened had the firms not been privatized. Again, evidence is lacking.
The focus here on direct effects has also omitted any spillover effects (general equilibrium effects) that could be relevant to a welfare evaluation of privatization. For example, if privatization improves firm performance, it might reduce employment and wages at competitor firms or raise them at upstream supplier firms. Privatization may also have spillover effects through the general business environment. None of these questions has received systematic analysis.
Another limitation of current knowledge concerns the effects of different privatization methods and resulting ownership structures. The fairly uniform results across countries, at least in the sense that no country shows evidence of large negative employment or wage effects, is suggestive. But the data do exhibit some variation, with clear positive effects in some countries and essentially zero effects in others.
Even for the average effects of privatization on employment and wages, the evidence is limited to a small number of countries and largely to firms in the manufacturing sector. A broader understanding of the consequences of privatization requires more analyses of high-quality data sets in multiple countries with more outcome variables and particularly with longitudinal employer-employee information.
Summary and policy advice
Although economic analyses of privatization have focused largely on firm performance, the more controversial question has often concerned the effects on firms' employees. Both policymakers and scholars seem to assume that the employment and wage effects are negative, and workers around the world react to the prospect of privatization with protests and strikes, especially when foreign owners may become involved [1]. Until recently, these assumptions had not been subject to thorough examination. Early research was hampered by small sample size, short time series, and limited ability to control for selection bias. It was therefore unclear whether workers' and policymakers' fears of privatization were in fact warranted.
Recent research using much larger data sets over longer periods of time in Hungary, Romania, Russia, and Ukraine provides a better basis for assessing the employment and wage impacts of privatization. The results provide no evidence for strong negative effects of any form of privatization on either employment or wages [1]. Estimated employment effects are never both negative and statistically significant, while the estimated wage effects are sometimes significantly negative only for domestic privatization in Hungary and Russia, but the effects are small in both countries (–3% to –5%). The estimated coefficients on foreign ownership contrast sharply, with effects that are nearly always positive in all countries for both employment and wages [1].
There is also some evidence on three channels through which privatization may affect outcomes for workers: productivity-improvement, cost-reduction, and scale-expansion effects. Decomposing employment effects into scale and labor productivity effects shows that domestic privatization has tended to yield gains in both scale and productivity that have offset each other in their consequences for workers [1]. Similarly, a decomposition of wages into unit labor cost and productivity shows domestic privatization bringing about cost reductions and productivity improvements that have offsetting effects on wages [1]. In Hungary and Romania, the scale, cost, and productivity effects of domestic ownership have all been large, while in Russia and Ukraine they have all been small. Foreign privatization has resulted in much larger scale, productivity, and cost effects in all four countries, but the scale effects dominate the productivity effects, which in turn dominate the cost effects. The consequences are the increased employment and wages that are observed after privatization in foreign firms but not in domestic firms.
These cross-country and domestic versus foreign patterns are inconsistent with the simple tradeoff in privatization between efficiency and worker welfare that many observers have assumed. Efficiency-enhancing owners frequently appear to be good for workers, at least in regard to average employment and wage effects. Greater efficiency helps firms expand sales, reducing the likelihood of severe distress and raising labor demand. The evidence suggests that despite workers' expectations, employment and wages are not systematically reduced by privatization, and in some cases—particularly with foreign ownership—their prospects may actually improve [1].
The main policy implications concern the cost side of a benefit-cost analysis of privatization policies. However, the cost side has received much less attention than the benefit side. The implications of the empirical research discussed here are that some alleged costs of privatization—employment and wage cuts—are likely to be small. The research has much less to say about other potential costs, including the effects of privatization on individual workers or on other types of compensation and work conditions. These are important caveats to bear in mind, but the effects on average employment and wage levels are important questions for policymakers considering privatization.
Acknowledgments
The authors thank an anonymous referee and the IZA World of Labor editors for many helpful suggestions on earlier drafts. The authors draw heavily on previous work for this article, especially [1], [12]. Version 2 of the article includes an additional "Con," discusses the differences in the effects of privatization for different types of workers, and reviews new research [7], [8], [9], [13], [14].
Competing interests
The IZA World of Labor project is committed to the IZA Code of Conduct. The author declares to have observed the principles outlined in the code.
© John S. Earle and Solomiya Shpak