Elevator pitch
Gross domestic product (GDP) is the key indicator of the health of an economy and can be easily compared across countries. But it has limitations. GDP tells what is going on today, but does not inform about sustainability of growth. It does not measure happiness, so residents can be dissatisfied even when GDP is rising. GDP does not consider environmental factors or reflect what individuals do outside paid employment. It might increase in times of military conflicts and after natural disasters or terrorist acts, as the loss of property is not counted. Hence, complementary measures may help to show a more comprehensive picture of an economy.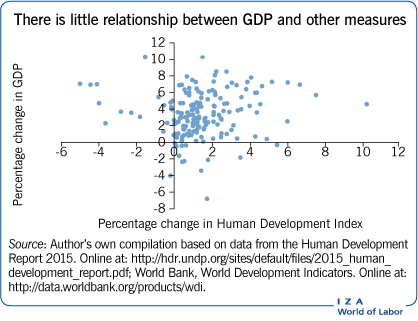 Key findings
Pros
GDP provides a headline number to focus on the economic condition of a country.
GDP is the mainstay of modern macroeconomic analysis and essential to policy creation.
Because GDP conforms to international measures of production, it is an objective indicator that is not subject to national political pressures.
In most cases, GDP uses well-established international accounting principles.
GDP concepts are modified as the economy changes.
Cons
GDP does not capture welfare or human well-being.
GDP may not be a strong basis to predict economic growth in times of high uncertainity.
As international accounting standards are slow to change and require international consensus, GDP is slow to reflect changes in the world.
GDP excludes non-market activity, notably human capital creation in that sector.
Important indicators such as ecosystems accounts, measures of happiness, sustainability, or inequality are not included in GDP, other than through satellite accounts.
Author's main message
GDP is the single most important indicator of the overall state of an economy and should be retained. It is a standardized measure across countries, and is relied upon by policymakers to determine whether action is needed to reduce inflation, or to stabilize or grow the economy. However, GDP should be one of a suite of measures. It is unlikely that accounts and measures supplementary to core GDP accounts will give a good sense of a country's future, in part because national income accountants try to avoid making risky, assumption-laden, or normative choices.
Motivation
Gross domestic product (GDP) measures a country's economic activity, or total output. As such, it is a "neutral" measurement, in that it makes no judgments about what is good or bad economic activity—it is simply the market value of whatever is currently produced in a country. Thus, according to GDP, even natural disasters, military conflict, and acts of terrorism can increase growth. For example, following the May 2008 earthquake that struck Sichuan Province in China, in which at least 80,000 people died and which left the area in ruin, Chinese authorities maintained that, "on net," this led to economic growth [1]. Property destruction resulting from natural disasters is not deducted from GDP, although reduced expenditures, and personal and business income are subtracted. Weapon manufacture is also counted as part of GDP. In addition, the military may attract some individuals as it has better employment prospects than some of the alternatives, thereby raising GDP by increasing income and buying power.
So, given the above, why is GDP considered to be the key indicator of the health of the economy? GDP does well in capturing what it intends to measure. It focuses mainly on the more easily measured and tangible elements of the economy: what is bought (consumption and investment) and spent (government). But as a comprehensive measurement of a country's overall state of economic and environmental health and social well-being, it leaves something to be desired.
Discussion of pros and cons
Limitations and gaps
An advantage of GDP is the extent to which it is based on tangible measures, such as the quantity of goods produced. Other measures, such as happiness, depend to a greater extent on components that are more difficult to conceptualize and assess. However, this dichotomy is becoming less clear, as GDP itself depends more and more on the quantity of services produced and intangible elements that are estimated using more subjective methodologies than the quantity of goods produced. Additionally, even the "quantity" part of the quantity of goods produced is a less certain measure, as it is quality-adjusted to a significant degree, particularly for technology-intensive products, such as semi-conductors. Continuing and intensive research by both government and private researchers is therefore needed to maintain GDP's accuracy as a measure of economic activity in a rapidly changing world.
Summary and policy advice
In spite of the existence of some alternative measures, there is comparatively little press coverage or attention by policymakers on any measure other than GDP and labor market measures, such as the unemployment rate. One of the press coverage exceptions is the Gross National Happiness Measure of Bhutan. Its four pillars include good governance, sustainable socio-economic development, preservation and promotion of culture, and environmental conservation [10]. Also, in recent years, much attention has been paid to the construction of well-being measures, with happiness being one component of well-being.
An important question to ask is whether the fact that GDP attracts so much attention means that it is the "right" measure? The answer to that is "no." However, it does highlight the difficulty in replacing it with another measure, or a suite of measures. A second question is whether GDP should be replaced? Again, the answer is "no." GDP should not be replaced; it is no more than what it purports to be, i.e. a measure of the value of production. It would be best if there could be a more widespread understanding of its limitations, though this would be difficult to accomplish for any statistical measure. Also, more frequent updating or revision of the SNA would be ideal.
A third question is whether GDP should be complemented by a suite of other measures? And, if so, how could these other measures gain sufficient attention and traction to become credible and accepted? One answer would be to release an alternative or complementary measure along with the GDP release, at least once a year. The issuing GDP agency could be assigned the responsibility for the construction of the other measures, in order to give them credibility, or they might be calculated by another body, even an international one. If the GDP agency does not construct the alternative measure, it is possible that a list of a few alternative measures could be included in the body of the GDP release, without the agency necessarily implicitly indicating their approval of the alternative measures or how they are constructed.
National income accountants may not be the ideal specialists to comment on alternative measures. In some countries, particularly in those for which there is one national statistical agency—as opposed to the triumvirate that exists in the US (i.e. the Bureau of the Census, the Bureau of Economic Analysis, and the Bureau of Labor Statistics)—other measures are already constructed by the same agency, but GDP still garners the lion's share of attention, with the possible exception of labor market measures, as previously noted.
Simultaneous release of GDP with its alternative complementary measure(s) might increase the attention paid to the other measure(s). An international task force could be formed (e.g. by the UN Statistical Commission) to consider how to best increase the amount of attention paid to alternative measures. This would require the commitment of dependable funding from international organizations—which would of course be problematic during times of budgetary stress.
Should all countries focus on one alternative measure, such as a set of household-level income and consumption accounts? The attention given to Thomas Piketty's recent analysis of income distribution [11] suggests that this could be a credible case, particularly in view of the fact that income distribution, inequality, and poverty numbers do seem to attract attention.
The World Bank produces a range of poverty measures for over 200 countries [12]. International agencies certainly need to be responsible for the construction of such a set of household-level income and consumption accounts, as many developing countries often lack sufficient expertise, data, or funding to keep up even with the current version of the SNA. A new manual would be needed, much simpler and shorter than the SNA, that is regularly updated to keep up with the changing nature of the world.
In summary, there are three principal policy recommendations. First, to keep GDP as it is, as a measure of production, but to: (i) update SNA methodology more frequently; (ii) allow for a more simplified SNA version by countries with limited resources; and (iii) add a brief text to all GDP releases that emphasizes what is and is not included in GDP and what it represents, e.g. it is not a measure of well-being or welfare. Second, to construct an income and production measure that: (i) has a household base, allows for considerations of individual well-being, poverty, income inequality, as well as perhaps "time use" and "time poverty"; and (ii) is made available along with a GDP release in the release text or a simultaneous release at least once a year. And finally, to convene an international group that includes national income accountants to consider how to raise interest in and knowledge of alternative measures to GDP.
Acknowledgments
The author thanks two anonymous referees and the IZA World of Labor editors for many helpful suggestions on earlier drafts. The analysis and conclusions expressed in this article are those of the author and not necessarily those of the China Center for Human Capital and Labor Market Research of the Central University for Finance and Economics in Beijing China.
Competing interests
The IZA World of Labor project is committed to the IZA Guiding Principles of Research Integrity. The author declares to have observed these principles.
© Barbara M. Fraumeni