Elevator pitch
Foreign direct investment (FDI) has been argued to improve company performance and stimulate growth and employment. Transition economies of Central and Eastern Europe (CEE) faced a desperate need to join the global economy, to improve their competitiveness and to create jobs through FDI. So, did the FDI come, and did it deliver what was expected? FDI levels were high for CEE, and for some resource-rich transition countries (e.g. Russia and some of Central Asia), but primarily delivered significant benefits (e.g. employment) for the former. FDI arrived much later to other transition countries (e.g. the former Soviet republics and the Balkans) and had much less impact.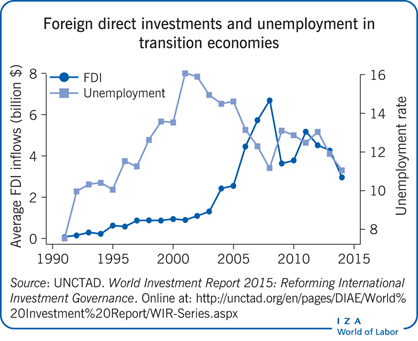 Key findings
Pros
FDI was a significant investment source in transition economies, though with marked variation across regions and time periods.
FDI arrived earlier in countries that joined the EU.
Transition economies experienced positive effects on growth and the labor market due to FDI inflows.
FDI inflows were associated with higher levels of GDP and lower unemployment for some periods.
EU member states exhibit distinct effects of FDI on firm restructuring, productivity, and employment.
Cons
FDI arrived later in Russia, the Central Asian region, the former Soviet Union, and the Balkans than in EU member countries.
FDI was driven largely by resource-seeking in Russia and some of the Central Asian republics, where the effects on employment were less pronounced.
Positive spillover effects from FDI were much less apparent in Russia, the former Soviet Union, and the Balkans, likely due to institutional challenges and insufficient human capital.
Author's main message
FDI inflows to the transition economies have been substantial, though variable across countries. These differences are most likely explained by EU membership and domestic policies, especially concerning institutions. Considerable evidence suggests that FDI benefited recipient countries in terms of growth, employment, productivity, and trade. However, these benefits are not automatic and many factors that deter FDI also hinder its spillovers. Transition governments should thus consider policies that simultaneously enhance FDI's scale and maximize its external benefits, particularly by improving institutional quality and human capital.
Motivation
Economic transition from a planned to a market system began in 1989. There were many reasons for the demise of the Soviet bloc, but stagnation in economic growth was clearly important. Especially for economies without natural resources, foreign direct investment (FDI) was seen as a mechanism for restructuring and growth, and was facilitated by widespread privatization [1].
Under the auspices of central planning, Central and Eastern European (CEE) economies operated largely in isolation from the global economy and FDI inflows, cutting them off from many technological developments. Transition involved the restructuring of trade patterns, as well as upgrading products and implementing new technologies. However, domestic savings were scarce and there were serious deficiencies in managerial experience and capabilities, as well as relevant labor skills. Inward FDI assumes special significance in this context; providing sorely needed capital, technology, and know-how [2], [3]. Foreign firms, structured for the global economy and with their long experience of internationalization, also lead to deeper integration into the global economic system. So, how have FDI flows to transition economies actually developed since 1989, and have they produced the expected effects, particularly with respect to the labor market?
Discussion of pros and cons
The economies of CEE have indeed received considerable inflows of FDI since 1989 [4]. However, the pattern has not been even across the whole region or time periods [5], [6], [7]. To understand the pattern, it is helpful to categorize transition economies, as defined by the European Bank for Reconstruction and Development (EBRD), into four groups according to their level of development, geography, and institutions:
EU members. Countries admitted to the European Union as of 2015. These are among the most economically developed economies and institutionally sophisticated as well as the most westward. This group contains all current EU members: Czech Republic, Slovakia, Hungary, Poland, Estonia, Latvia, Lithuania, Slovenia, Romania, Bulgaria, and Croatia.

Russia. The size of the Russian economy leads us to treat it as its own category.

Other former Soviet and Balkan economies. These are the new European countries that were previously part of the former Soviet Union (FSU) (Armenia, Azerbaijan, Belarus, Georgia, Moldova, and Ukraine) and the countries formed from the former Yugoslavia (Bosnia and Herzegovina, Macedonia, Kosovo, Montenegro, and Serbia) plus Albania. These countries, all new apart from Albania, have been struggling to assert national identity and address problems of institutional weakness and economic isolation. Aside from Azerbaijan, they are not rich in natural resources and mostly small in population.

Central Asian economies. Five of the six countries included in this group (Kazakhstan, Kyrgyzstan, Tajikistan, Turkmenistan, and Uzbekistan), were also spun out of the FSU; the sixth country is Mongolia. They are mostly also institutionally underdeveloped and geographically isolated, but in several cases, are rich in natural resources.
Limitations and gaps
There are some serious data limitations concerning FDI and its impact on transition countries' labor markets, especially for the early years. For example, data for some of the former Yugoslav states did not become available until after 2003, and the data for the immediate post-transition period are probably unreliable because collection systems were not fully operational. FDI data are also frequently revised and the information for recent years may yet change. There is also variation across countries in the quality of the data about employment.
Descriptive and regression analysis have been used in an attempt to address the issue of causality between FDI and labor market outcomes, but the methods used were very simple, and restricted by the size of the sample and the heterogeneity of countries within it. Attempts to address this included the analysis of countries by groups categorized by geography and institutional quality, but the sample sizes within each group were too small for regression analysis.
Summary and policy advice
Flows of FDI into transition economies were a significant source of investment capital, though with marked variations between different regions and time periods. FDI arrived earlier in EU member countries, but later in Russia, the Central Asian region, the FSU, and the Balkans. FDI inflows appear to have been associated with higher levels of GDP and lower levels of unemployment in aggregate, and for some specific time periods in most regions. The effects were most pronounced and occurred earlier in the EU members and were least so in the former Soviet Republics and Russia. FDI was influenced by natural resource considerations in Russia and some of the Central Asian republics, and the effects on employment were less pronounced.
The indirect effects of FDI on company restructuring, productivity, and employment were very distinct in the EU member countries; indeed, some studies suggest that much of the shift toward improved competitiveness and integration into the global economy derived from FDI. However, these positive spillover effects were less apparent in Russia, the FSU, and the Balkans. This was probably because institutions were less developed, the gap between the investing firm and domestic capabilities was larger, and the absorptive capacity of the host economies was smaller, making it more difficult to take advantage of the potential opened up by FDI.
These results have a number of important policy implications. FDI can clearly play a significant role in company restructuring and raising productivity, improving labor skills and managerial capabilities, and the diffusion of new products and technologies. This might lead countries to adopt policies incentivizing FDI. However, the benefits are not automatic; rather, they depend on the policies and structure of the host economy. For example, the differences observed between the EU members and the other transition economies highlight the benefits of EU membership. It seems likely that the institutional improvements required for EU membership played a major role in improving the EU member group's absorptive capacity, allowing them to benefit relatively more from FDI, as well as enhancing the amount of FDI they received.
Even in the absence of EU membership, host economies obtain more benefits from FDI if they are better able to absorb the new processes, systems, and methods being brought over by foreign firms. To a significant extent, this is a matter of human capital, and the central policy to consider is one of education. However, infrastructure is also important. Better transport systems, superior ports and airports and faster information technology highways facilitate the diffusion of new products and technologies. Infrastructure acts both to encourage more FDI and to ensure that the FDI that is received has a greater benefit to the economy as a whole.
Finally, institutional quality plays an enormous role in the impact of FDI on labor markets. It is well known that foreign investors are strongly deterred by corruption, weak rule of law, and the risks of expropriation [5]. At the same time, weak institutions hinder the diffusion of new ideas that drive the positive spillovers from FDI to domestic firms. Stronger and fairer institutions are therefore critical to obtaining the benefits of FDI for labor markets.
Acknowledgments
The author thanks an anonymous referee and the IZA World of Labor editors for many helpful suggestions on earlier drafts. The author also thanks Meng Tian.
Competing interests
The IZA World of Labor project is committed to the IZA Guiding Principles of Research Integrity. The author declares to have observed these principles.
© Saul Estrin