Elevator pitch
Recent research has tried to quantify how firms contribute to the immigrant–native earnings gap. Findings from several countries show that around 20% of the gap is due to firm policies that lead to a systematic underrepresentation of immigrants at higher-paying firms. Results also show that some of the closing of the gap over time is attributable to the reallocation of immigrants toward higher-paying employers. This pattern is especially pronounced for immigrants coming from disadvantaged countries, who face several barriers at initial entry, including language difficulties and lack of recognition of their educational credentials.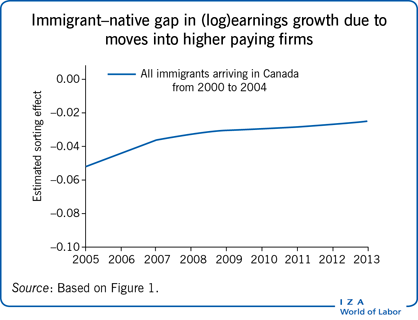 Key findings
Pros
The immigrant–native earnings gap is due in part to firm-specific factors.
Most firm-specific factors stem from immigrants sorting into low-pay firms rather than high-pay firms.
Immigrants with higher levels of education can assimilate more quickly through mobility from low- to high-pay employers.
Immigrants who remain in the host country longer have greater success finding jobs with high-pay employers.
Cons
Some immigrants are stuck in low-pay firms, particularly those with low levels of education, poor literacy, and poor language skills.
Even with high education levels, unfavorable sorting is also due to poorly recognized education credentials.
Poor recognition of education credentials of immigrants could be due to lower educational quality or unequal treatment of similarly productive workers.
There is a lack of research on the role of firms explaining the native–immigrants earnings gap due to the non-availability of suitable data.
Author's main message
Firms' hiring policies tend to magnify earnings differences between natives and immigrants. At initial arrival many immigrants—especially those from disadvantaged home countries—face difficulties in obtaining jobs at higher-paying firms. As they remain in the country longer some immigrants are able to climb the career ladder to high-pay firms, with most of the gains for highly educated immigrants from disadvantaged home countries. Policies that favor labor market mobility by removing search frictions, promoting language skills, or acquiring additional education in the home country could help assimilation.
Motivation
Average earnings of immigrants differ from those of natives due to productivity differences associated with such factors as language skills, literacy, and the quality of schooling. However, a growing body of literature suggests that firms' pay-setting policies tend to magnify differences between groups and widen overall inequality. In the presence of firm-specific pay premiums, the immigrant–native gap will depend on the relative fraction of immigrants hired at high-wage firms and on the size of pay premiums offered by firms to immigrants versus natives.
Recent literature finds that firm policies contribute to the immigrant–native earnings gap and seeks to identify the separate roles of firms' hiring and pay-setting policies. This literature finds that it is almost entirely due to differential sorting characterized by hiring or job mobility patterns that make it harder for immigrants to get entry-level jobs or transit to high-wage firms.
Policies that facilitate mobility and that reduce barriers to entry into those high-wage firms will thus promote easier assimilation for immigrants.
Discussion of pros and cons
Limitations and gaps
Research on this important topic is limited by the fact that quantifying the importance of firms, or where a person works, on the immigrant–native earnings gap or wage differential requires observing firms in which both immigrants and natives work at the same time. Thus, identification of such models is very difficult in countries with a low percentage of immigrants in the workforce or with highly segregated labor markets. This data requirement also makes it difficult to study this phenomenon in middle- to low-income countries with high degrees of immigration and a poorly developed statistical system.
Additionally, more work is needed in quantifying the relative contribution of language skills, recognition of education credentials, networks, discrimination, and search behavior to native–immigrant differences. In particular, poorly recognized education credentials could reflect unequal treatment of workers with equivalent skills or differences in educational quality.
Finally, it could be that transition into self-employment is one way for immigrants to assimilate in the host country. More studies are needed on the exact role self-employment plays in this setting: is it a stepping stone to high-wage employers, or is it a way out of low-pay employers or bad employment matches.
Summary and policy advice
Immigrants earn less than natives and a sizable share of the immigrant–native earnings gap is due to firm-specific pay policies. After decomposing this contribution into a pay-setting effect, by which immigrants receive a lesser share of the firm-specific surplus, and a sorting effect, by which immigrants are less represented in high-wage firms and over-represented in low-wage firms, it is clear that the predominant contributor is the sorting effect.
If pay equity policies are considered to be more useful when the relative pay-setting effect is predominant, but affirmative action policies are more so when the sorting effect dominates, the above result clearly favors affirmative action policies.
However, the sorting effect appears to be much stronger for some immigrant subgroups, with levels of education prior to migration and home country playing significant roles.
The role of sorting also puts the focus on policies promoting labor market mobility. In this setting, policies that promote language skills, better recognition of foreign education credentials, or acquiring additional education or training in the host country could help assimilation.
Acknowledgments
The author would like to thank an anonymous referee and the IZA World of Labor editors for many helpful suggestions on earlier drafts. The author would also like to thank David Card for many helpful suggestions on an earlier draft. Previous work of the author contains a larger number of background references for the material presented here and has been used intensively in all major parts of this article [4].
Competing interests
The IZA World of Labor project is committed to the IZA Code of Conduct. The author declares to have observed the principles outlined in the code.
© Benoit Dostie