Elevator pitch
Immigrants tend to live in clusters within host countries. Does clustering in ethnic enclaves explain the persistent differences in skill, employment rates, and earnings between immigrants and the native population? Empirical studies consistently find that residing in an enclave can increase earnings. While it is ambiguous whether employment probabilities are also affected or whether earnings benefits accrue to all immigrants, irrespective of their skill levels, it is clear that effects are driven by enclave "quality" (in terms of income, education, and employment) rather than enclave size.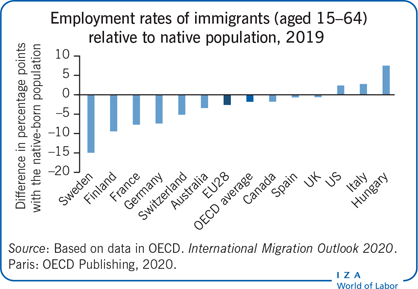 Key findings
Pros
Studies based on refugee dispersal policies indicate that living in enclaves is associated with higher earnings.
Higher earnings are driven principally by enclave quality (rather than enclave size): immigrants benefit financially from high-quality enclaves, as well as in terms of employment opportunities.
Enclave quality also benefits educational achievement of second-generation immigrants.
There is some evidence that low-skilled immigrants may benefit most from living in enclaves.
Cons
There is no conclusive evidence that the size of an enclave increases employment rates.
Enclaves may reduce the employment chances of highly-skilled immigrants.
Immigrants' labor market success can be reduced if the ethnic networks in enclaves are of low quality.
Evidence is mixed on the length of time it takes for enclave quality to impact immigrant earnings.
Reliable evidence is mainly based on policy experiments concerning asylum-seekers, while evidence on economic migrants is rare.
Author's main message
Theoretically, it is far from clear whether ethnic clustering—or enclaves—limits the prospects of labor market integration of immigrants, or instead helps integrate immigrants more successfully into a new country, due to better access to information and jobs. Empirical evidence, however, suggests that earnings may be higher for immigrants settling in ethnic enclaves, depending mainly on the quality of the co-ethnic network in an enclave. Thus, policies that encourage immigrants to settle in regions with relatively high employment rates and education levels among co-nationals may benefit their integration into the wider host-country labor market.
Motivation
The increase of immigrant populations in most countries has led to rising concerns about the causes and consequences of immigrant concentration. Policymakers are particularly interested in the question of how living in an ethnic enclave may affect immigrants' labor market integration. In the wider public discourse, immigrant enclaves are often associated with a voluntary socio-economic isolation of immigrant groups from mainstream society, and residential segregation is perceived as a hindrance to labor market integration. In fact, the fear of "ghettoization" is one of the main arguments for asylum-seeker dispersion policies implemented in many Western countries.
Despite these widely held beliefs, the true effects of ethnic enclaves on immigrants' labor market outcomes are far from obvious. Immigrants could as well profit from living in an enclave. Social networks in enclave neighborhoods can provide immigrants with inspiration to acquire education, valuable information about job opportunities, and shelter from discrimination, all of which could facilitate labor market success.
In view of increasing migration movements around the world, and in consideration of the fact that there are already policies in place that promote spatial dispersion of incoming refugees and asylum-seekers in most countries, it is important to address the question of whether living in an ethnic enclave influences immigrants' (asylum-seekers as well as economic migrants) labor market opportunities—and if so, whether that benefits or hinders their successful integration into the host-country labor market.
Discussion of pros and cons
Limitations and gaps
Convincing empirical evidence of enclave effects on immigrants' labor market integration is scarce. Existing reliable evidence (which carefully takes endogenous sorting into account) is based predominantly on particular policy experiments concerning refugees and asylum-seekers in selected countries. Yet, countries vary in their immigration policies and the composition of the immigrant populations they attract. Consequently, the results may not be generalizable to other groups of (labor) immigrants and other countries. Some evidence has begun to emerge, but more causal evidence is needed for a wider set of immigrant groups and countries that examines both the impact of enclave size and quality on economic integration.
While theoretical considerations suggest that living in an enclave might be beneficial for rapid labor market integration in the short term and detrimental for economic progression in the long term, empirical studies do not categorically confirm this hypothesis. Rather, there is some evidence for positive earning returns to enclave quality in the relatively long term, over a period of up to eight years after migration. One study even suggests that these positive effects increase over time. Other recent studies point toward positive effects of enclave quality on intergenerational mobility. It is important to know more about the time pattern of enclave effects, within and across immigrant generations.
Finally, future research should address the question of the complex, underlying mechanisms that link enclave size and/or quality to immigrants' labor market success. Evidence so far is consistent with the idea of information spillovers via local social interactions, with co-ethnics playing an important role. Hence, it is not unreasonable to suspect that word-of-mouth information from (especially successful and highly-educated) co-ethnics would be more efficient in helping newly arriving immigrants find a (better) job than formal information channels outside the enclave. Yet, studies that address the residential sorting issue provide only net estimates of the overall enclave effects, without testing particular mechanisms, such as information diffusion among local co-ethnic networks, or the role of enclave economies in providing jobs to newly arriving immigrants. More evidence is therefore required to reach a conclusive answer on the underlying mechanisms at play.
Summary and policy advice
Empirical evidence suggests that immigrants benefit from living in neighborhoods with a large number of co-ethnics if the ethnic network is of high quality, that is, if co-ethnics are well-educated, work in well-paid jobs, and if the employment rate in the ethnic community is high. Hence, labor market integration could improve if newly arriving economic migrants, refugees, and asylum-seekers would settle in neighborhoods with relatively high average education levels and relatively high employment rates among the co-ethnic population.
Possible policies might include a targeted spatial dispersion of incoming refugees and asylum-seekers across areas according to socio-economic characteristics, such as education levels and employment rates of the resident ethnic populations. With respect to labor migrants, policymakers might consider the feasibility of policies that encourage and incentivize especially the low-skilled immigrants to settle in regions with relatively high employment rates and education levels among co-nationals.
Overall, enclave quality (in terms of levels of income, standards of education, and rates of employment) is more important than enclave size for driving economic success. Policy should therefore focus less on avoiding ethnic "ghettoization" per se, but aim to discourage socio-economic residential segregation and instead implement housing policies that promote mixed residential areas in terms of high- and low-skilled workers.
Acknowledgments
The authors thank an anonymous referee and the IZA World of Labor editors for many helpful suggestions on earlier drafts. Version 2 of the article updates the figures, revises the evidence on the short- and long-term effects of enclaves, notes how enclave quality benefits the educational achievement of second-generation immigrants, and adds new "Key references" [3], [4], [13].
Competing interests
The IZA World of Labor project is committed to the IZA Code of Conduct. The authors declare to have observed the principles outlined in the code.
© Tanika Chakraborty and Simone Schüller