Elevator pitch
In addition to the heart-breaking human costs, violent civil rebellion is a cause of chronic economic under-development. Employment programs with former combatants and at-risk youth have improved their livelihoods, but not their support for non-violence and respect for law. Rebel groups provide security and social benefits that formal employment does not offer, possibly making switching out of rebellion into formal employment unappealing. However, a jobs program that addressed the psycho-social motivations to join rebel groups resulted in significant reductions in crime and violence. This is an important step forward in our understanding of how to lure people away from violent rebellion.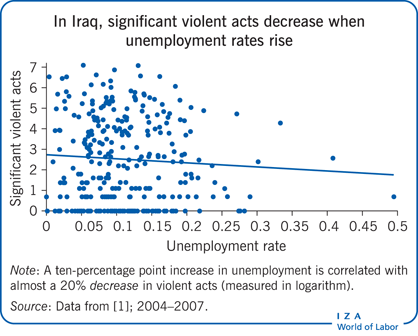 Key findings
Pros
The economic idea of "opportunity cost" suggests that rebels should be willing to switch out of rebellion as soon as sufficiently lucrative and formal employment opportunities become available.
Civil violence can increase following negative economic shocks, as the resulting unemployment releases a pool of labor for rebel groups.
Unemployment may create an aggrieved underclass susceptible to rebel recruitment.
People who have steady jobs may become more responsible, less violent, more respectful of authority, and invest more in their communities.
Cons
Rebel groups may offer personal security for people in fragile states that is not otherwise available through formal employment.
Participation in rebellion offers a number of social benefits, such as a sense of contributing to an important just cause, that are not offered through formal employment opportunities.
Studies have failed to provide a clear causal link between unemployment and civil war violence.
Improving ex-combatants' and at-risk youths' livelihoods does not make their political and social views less violent or more respectful of legal authority.
Author's main message
Aid agencies use jobs programs to try to lure people away from rebel activity. But there is no established empirical link between employment and rebel activity at the macro level, or support for non-violence and legitimate authority at the micro level. Evidence indicates that social motivations (e.g. a perceived "just cause") are important reasons for participating in rebel organizations, and that the behaviour of "at-risk" youths can be significantly changed with psychological and social therapies that break the bad habits and indoctrination that influence decisions to join rebel groups. Civil violence is not only, or predominantly, an economic problem, but also a psychological, social, and political one that should be approached holistically, rather than addressed simply by creating jobs programs.
Motivation
As well as the tragic human costs involved, civil war also destroys scarce capital resources, lures vulnerable individuals into destructive rather than productive pursuits, and disrupts the political and social stability necessary for economic development [2]. Approximately two billion people currently live in conflicted and fragile states—i.e. low-income countries (LICs) that are characterized by weak state capacity and/or are conflict-afflicted. Estimates suggest that by 2030 all of the remaining countries currently classified as LICs will be conflicted and fragile [3]. Many aid programs in these states are motivated by the theory that increasing formal employment opportunities will lure the perpetrators of civil violence away from rebel groups [1]. However, the evidence for this is scant. Social incentives, people's fear for their personal safety, and the nature of labor markets in LICs, can help explain this weak link, and call into question the efficacy of jobs programs alone in reducing rebellion and lawlessness in these countries. In contrast, programs that address the psycho-social reasons for participating in these groups, such as the need to contribute to an important cause greater than oneself, and for being vulnerable to the indoctrination of these movements, have shown promise in field trials and have resulted in large and sustained reductions in crime and violence.
Discussion of pros and cons
Limitations and gaps
One study so far points to the importance of pro-social motivations for participating in insurgencies, which have implications for jobs programs being seen as peace-building tools [13]. However, more studies across different types of rebel groups and countries are necessary in order to be more certain of this claim.
The mounting field-trial evidence casts doubt on the efficacy of employment programs in reducing violence, unless those programs are accompanied by serious psycho-social programming. The field trial referred to in this contribution is perhaps the only study of such a program that has been conducted in a fragile state [2]. More work is therefore needed to reinforce this study's conclusions.
In addition, all of the field trials discussed here were undertaken in states where war had ended (i.e. "post-conflict" states) [2], [3], [8], [10]. People may join rebel organizations for security, which is something that is not typically provided through formal employment. So the effects of such programs in areas of ongoing conflict are unknown.
One study established a negative correlation between unemployment and violence in the countries it studied, but the causal mechanisms were unclear [1]; questions remain as to whether employment makes counterinsurgency more difficult, whether counterinsurgency strategies reduce both violence and employment, and whether programs that increase jobs also increase violence.
Summary and policy advice
All of the programs discussed substantially improved their beneficiaries' livelihoods, but none of the programs affected the beneficiaries' attitudes toward violence, state legitimacy, or the rule of law [2], [3], [8], [10]. The programs are not failing to bolster employment but they are failing to create better citizens, which is something they must do if the objective is to foster peace. The one exception to this is a program that seriously tried to address the psycho-social dimension of rebellion and lawlessness with cognitive behavioral therapy [2].
Policymakers should recognize that civil unrest is not only, or primarily an economic problem. It is also a psychological, social, and political problem. Policymakers must also keep in mind that people may turn to illegitimate organizations for protection when the state is unwilling or unable to provide it. Thus policies must be designed in such a way as to address issues of security as well as these other economic and social issues.
Acknowledgments
The author thanks an anonymous referee and the IZA World of Labor editors for many helpful suggestions on earlier drafts. The author also thanks Jacob Shapiro for sharing the data from [1]. Financial support from the Folke Bernadotte Academy, Sweden is gratefully acknowledged.
Competing interests
The IZA World of Labor project is committed to the IZA Guiding Principles of Research Integrity. The author declares to have observed these principles.
© Michael J. Gilligan