Elevator pitch
Low fertility rates are a cause of social concern in many developed countries, with growing youth unemployment often being considered a primary cause. However, economic theory is not conclusive about whether deterioration in youth employment prospects actually discourages family formation or for how long the effect might persist. In addition, recessions can affect the divorce rate. Therefore, understanding the relationship between labor market conditions and family formation can provide important insights into the type of policies that would be most effective in promoting fertility.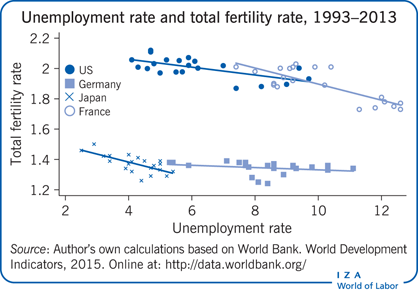 Key findings
Pros
Recessions have an effect on family formation, but it is important to distinguish the short-term effects on contemporaneous marriage and fertility rates, and the long-term effects for cohorts exposed to a recession in youth.
Fertility tends to be pro-cyclical in many developed countries, at least in the short term, thus decreasing during economic downturns.
Younger women's fertility and the number of first births are more responsive to labor market conditions than the fertility of older women and the number of second, or higher-order, births.
Better labor market conditions for young men increase marriages and number of children in the long term.
Cons
It is theoretically ambiguous how business cycle conditions affect family formation, because the effects from less income during a recession versus less opportunity costs from raising children can move in different directions.
The sensitivity of the fertility rate to the prevailing business cycle conditions differ across countries and demographic groups.
There is no consensus on the effects of recessions on divorce rates.
The long-term effect of a recession experienced by young women is inconclusive, and depends on family and labor market policies.
Author's main message
Although fertility and marriage rates tend to move in the same direction as the prevailing economic trends, their sensitivity to business cycles differ across countries and demographic groups. Fertility can even increase in recessions if the positive effect of the foregone (lower) wages for women is greater than the negative effective of having less household income. Government intervention can affect the extent to which labor market conditions matter. Family-friendly policies, such as improving childcare provision and family subsidies, can weaken the impact of labor market conditions and have positive effects on family formation.
Motivation
Since the Great Recession in the late 2000s, many developed countries have experienced a fall in fertility rates and increases in unemployment and non-regular employment among young adults. In view of the concurrence of these events, increased youth unemployment has often been blamed for the declining fertility and marriage rates. Economic theory, however, is not clear on whether young couples are deterred from forming a family when they face lower prospects of employment.
A further issue is whether the observed decline in the fertility rate actually leads to a decline in the total number of children born by the affected cohorts. A permanent decline in fertility of a particular cohort has quite different implications for demographic trends and public welfare than a mere delay in the timing of fertility.
Furthermore, understanding how business cycles, that is, the prevailing economic conditions, affect marriage formation and marital stability can provide important insights into how to design more effective policies that promote family formation and sustainability.
Discussion of pros and cons
Limitations and gaps
The existing studies have yet to provide conclusive evidence on the long-term effect of a recession at youth on family formation. The difference across studies can be partly attributable to the differences in population covered, but some of the differences may be caused by the quality of data and differences in methodology. Apart from a few studies that use administrative data from birth records, survey data usually contain only a limited number of women per cohort. This limited availability of data makes the sample size smaller and the estimates imprecise.
Another important issue is the methodology used to account for trends. Since both the fertility rate and unemployment rates change gradually, it is very important to be able to distinguish these changes from any longer-term trend that may also be taking place. For example, although the time-series data of the total fertility rate of Japan shown in Figure 1 looks strongly pro-cyclical, once long-term time trends of declining fertility and increasing unemployment are taken into account, the correlation becomes much weaker.
Summary and policy advice
Fertility falls in recessions in many developed countries, although the prediction by economic theory is ambiguous because the income effect and the substitution effect move in the opposite directions. Marriage is also pro-cyclical. However, the sensitivity of fertility rates to the prevailing business-cycle conditions differ substantially across countries and demographic groups, and there is no clear pattern, other than that younger women are more responsive to labor market conditions. Fertility can even be counter-cyclical for the group for whom the substitution effect exceeds the income effect. Evidence on the long-term consequences of a recession at youth is even more mixed.
Although improving youth employment prospects may not be a panacea for the low fertility trend, it is important that policymakers understand the two competing effects of labor market conditions on family formation. Namely, the negative effect on income from unemployment, and thus the "affordability" of children and marriage, and the positive effects due to substituting time spent working in the labor market by time spent on household tasks, such as childcare. Depending on the relative strength of these effects, the relationship between demographic trends and labor market conditions can change.
Government intervention can also affect the extent to which labor market conditions matter. For example, providing a subsidy to families with young children can weaken the effect of a fall in household income. Additionally, family-friendly labor market policies, such as improving childcare provision, make it easier for couples to have a child and continue working, thus weakening the substitution effect as well as mitigating income constraints.
Acknowledgments
The author thanks two anonymous referees and the IZA World of Labor editors for many helpful suggestions on earlier drafts. Financial support from Japan Society for the Promotion of Science (grant number 15K17072) is gratefully acknowledged.
Competing interests
The IZA World of Labor project is committed to the IZA Guiding Principles of Research Integrity. The author declares to have observed these principles.
© Ayako Kondo