Elevator pitch
Public sector jobs are created because governments opt to provide goods and services produced directly by public employees. Governments, however, may also choose to regulate the size of the public sector in order to stabilize targeted national employment levels. However, economic research suggests that these effects are uncertain and critically depend on how public wages are determined. Rigid public sector wages lead to perverse effects on private employment, while flexible public wages lead to a stabilizing effect. Public employment also has important productivity and redistributive effects.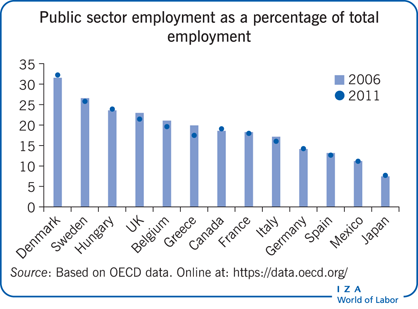 Key findings
Pros
Expanding public sector employment can be an effective means of reducing unemployment in the short term, providing a stabilizing effect during recessions or in relatively disadvantaged regions.
Public sector employment can create demand in other sectors of the economy (e.g. private services).
Public sector employment supports equitable policies, such as encouraging employment of marginalized and/or disadvantaged groups.
Cons
Reducing short-term unemployment through expanding public sector employment can only occur when wages in the public sector are flexible according to productivity, rather than fixed.
The expansion of public sector jobs leads to "crowding out" of private sector employment; when wages are relatively unresponsive to productivity differences, this can even increase unemployment.
High public sector employment may lower overall productivity in an economy that is reallocating resources from the private to the public sector, or from higher to lower productive sectors.
Author's main message
Flexible public sector wages that adjust to local productivity, or that are highly pro-cyclical, are crucial for public employment policy to generate positive effects on total employment. Geographically homogeneous or time-rigid (a-cyclical) wages instead exacerbate unemployment. Policymakers should thus promote flexible, pro-cyclical public sector wages. However, given the institutional structure of wage setting, it may be difficult to ensure flexible public sector wages, in which case policymakers should be aware that a policy that increases public sector jobs can generate higher total unemployment.
Motivation
The share of public sector employment relative to total employment varies considerably across OECD countries (Figure 1), ranging from 8% in Korea and Japan, to 35% in Denmark. Governments also differ with respect to the amount of goods and services (e.g. in education or health care) they provide publicly to their citizens, and on how they provide those goods and services, with some governments providing them directly (through creating public sector jobs) or indirectly (by procuring the goods or services from the private sector market and redistributing them).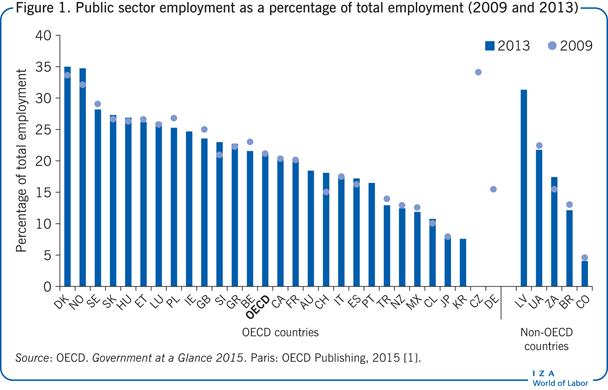 Most of the evidence shows that, when a government produces more public jobs it attracts workers that would otherwise have worked in the private sector, thus effectively "crowding out" the private sector. But is this always the case under any conditions, and to what extent?
Increasing public sector employment could feasibly crowd out more than 100% of private sector jobs (i.e. the creation of 100 new public sector jobs could result in the loss of more than 100 jobs in the private sector), thus generating unemployment. Alternatively, it could crowd out less than 100%, in which case it would have a positive impact on overall employment, and so could be used as a stabilization lever. Empirical and theoretical evidence shows that those effects depend on how wages in the public sector are set.
Discussion of pros and cons
Limitations and gaps
Although it is clear that there are strong relationships between public and private sector employment, further research is required for a better understanding of the extent to which public sector employment directly affects the private sector.
First, while it is clear that the relationship between the public and private sector is not one- but two-way, theoretical models do not currently take this into account. Consequently, the feedback of the private sector to the public sector, which is implicit to the correlations that are apparent in the data, is not incorporated into the analysis. Models that include this feedback would provide more accurate predictions and, in turn, would allow for more appropriate policy responses.
Second, while there has been some research to disentangle the effects of public sector employment on private sector employment, both empirical and theoretical research on this is still quite scarce. More and better knowledge, for more countries, is required. Research also needs to take into consideration the effects of changing the size or wages of public sector employment over longer periods of time—this would shed more light on the efficiency and productivity effects of those policies. To this extent, it would be interesting to access and utilize data on different sectors (such as services and manufacturing) within the public sector itself.
A further aspect that has not been explored in the literature so far is if, and how, the public sector affects the institutional structure of wage bargaining in the private sector—unionization in particular.
Also less studied are the possibly positive effects of public sector employment on the employment gender gap, the gender wage gap, and more generally on female labor relationships and benefits. Public employees, as seen earlier, are less likely to be discriminated against. This can be reflected in the wage paid, but also through a range of other benefits that workers are entitled to, either by law or through employment contracts. One such set of benefits is parental leave packages paid to new parents. While these packages are often directed to both men and women, women are, in most countries, those who benefit the most from them. This may be one of the reasons why the public sector employs disproportionately more women than the private sector. A high level of public sector employment then can also imply higher female labor participation, together with a series of other potentially positive outcomes, such as, for example, higher fertility, as a result of better employee benefits.
Finally, this contribution has presented evidence on the relationships between public and private employment and unemployment for OECD countries. Theoretical models can help interpret those relationships and derive predictions for public policies. However, the public sector is also a very important component in non-OECD countries, including developing and transition economies. Unfortunately, data availability represents a considerable constraint in analyzing the effect of public employment in these countries. With more and better data on developing and transition economies it will be necessary and useful to verify whether the same empirical relationships appear as in OECD countries.
Summary and policy advice
Governments around the world differ significantly in terms of the type and number of goods and services they choose to provide to their citizens. They also differ in terms of how they choose to provide them—it could be via direct public sector provision or through private sector procurement processes, and they could be paid for in full, or in part, through taxes. The choice of how to produce and deliver these goods and services implies different levels of public employment, even if the overall public expenditure for goods and services is similar. This difference has important implications for the functioning of the private sector and for the overall performance of a country.
Economic research has shown that public sector employment can have important and long-lasting effects on private sector employment and overall unemployment. In particular, the public sector competes with the private sector for workers, and this competition can increase the tension in the wage bargaining process and, ultimately, the wages of workers in the private sector. This tension generates a crowding-out effect that brings workers from the private into the public sector. However, the size of this effect, and the eventual effect on unemployment, crucially depends on the wage setting rules within the public sector.
So far, the available research suggests that when public wages are relatively high and unresponsive to productivity, higher public employment negatively affects private employment and increases unemployment. This leads to a destabilizing effect of the size of public employment on unemployment across business cycles. However, when public wages are responsive to productivity and adjust similarly to private wages, then the size of public employment acts as an automatic stabilizer, that is, it reduces the fluctuations of unemployment over the business cycle.
It is also clear that the role of taxes is not neutral. When the focus is shifted to the regional effects of public sector employment, it can be seen that a uniform distribution of tax collection may generate implicit subsidies from regions with lower shares of public employment over total employment, to regions with higher public employment shares. However, these effects are countered by an increase in labor demand, which in turn may lead to an increase in private sector employment, at least in some sectors of the economy (e.g. services). When, instead, taxes are more locally concentrated and public wages are flexible enough, the stabilizing role of public employment is increased by a local equilibrium effect that lowers wages and increases private sector employment. This is empirically relevant, at least for the US economy.
Given these findings, policies that increase public sector employment should be accompanied by wage setting policies that allow wages to be as flexible as possible relative to productivity, both in time and across regions or cities. While there are benefits to having a relatively large public employment sector, the size of the public sector can be detrimental to the private sector of the economy. This, however, is true only when private sector wages are relatively higher than public sector wages (or the benefits that come from public sector employment are more advantageous), and relatively inflexible.
Another important caveat of public sector employment is how well the economy is performing. Public sector employment can generate lower productivity by diverting resources from more to less productive sectors of the private sector economy, or from the private sector to the public sector economy, which is generally less productive. Therefore, when governments choose between providing goods and services directly (by creating public employment) or indirectly (by relying on private sector procurement), the potential effects should be carefully evaluated and considered in terms of the wider economic implications.
Acknowledgments
The author thanks two anonymous referees and the IZA World of Labor editors for many helpful suggestions on earlier drafts. Previous work of the author contains a larger number of background references for the material presented here and has been used intensively in all major parts of this article [12].
Competing interests
The IZA World of Labor project is committed to the IZA Guiding Principles of Research Integrity. The author declares to have observed these principles.
© Vincenzo Caponi