Elevator pitch
Knowing whether corruption leads to higher emigration rates—and among which groups—is important because most labor emigration is from developing to developed countries. If corruption leads highly-skilled and highly-educated workers to leave developing countries, it can result in a shortage of skilled labor and slower economic growth. In turn, this leads to higher unemployment, lowering the returns to human capital and encouraging further emigration. Corruption also shifts public spending from health and education to sectors with less transparency in spending, disadvantaging lower-skilled workers and encouraging them to emigrate.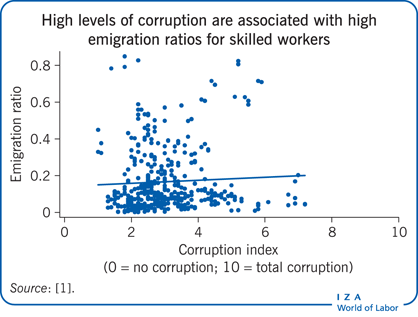 Key findings
Pros
Since corruption lowers the returns to human capital, reducing corruption prevents brain drain by retaining an educated labor force, which can boost economic growth and welfare.
Control of corruption allows good governance to emerge, boosting the welfare of people across all education levels and encouraging them to stay in the country.
There is evidence that the exact relationship between corruption and emigration might vary for workers with different levels of skills and education.
Measures to reduce corruption should be accompanied by measures to reduce inequality.
Cons
When corruption increases, there are larger outflows and smaller inflows of highly-educated workers, resulting in a net brain drain, which reduces welfare in the home country and slows economic growth.
Emigration flows of people with low and medium skills and education rise at initial levels of corruption and then decline as corruption reaches a certain threshold.
Corruption reduces the stock of human capital and the returns to education by slowing growth, generating unemployment and underemployment, increasing inequality, and reducing welfare.
Author's main message
Corruption increases emigration among workers at all education levels by eroding living conditions. But different levels of corruption have different effects on workers of different skill levels. At low levels of corruption, medium- and low-skilled workers leave, but once corruption reaches a certain threshold, this emigration slows. Among highly-skilled and highly-educated workers, however, emigration rises with corruption. The emigration of highly-educated workers, in particular, reduces a country's growth prospects and can lead to a vicious cycle. Thus, reducing the level of corruption should be a major goal of governments.
Motivation
Where corruption is rampant, jobs are granted not because of merit but because of political connections. This cronyism can lead to higher levels of unemployment and lower returns to human capital (for example, if vacancies are not filled and people with the right qualifications are not hired because they lack the relevant contacts). This in turn slows economic growth and acts as a push factor for emigration, especially for the skilled labor force [2]. This brain drain can trigger a vicious cycle for a country as the emigration of highly-educated individuals further slows economic growth and slower growth encourages more emigration.
Corruption also alters the size and composition of public expenditures, shifting them away from vital sectors such as health and education toward sectors that are cloaked in greater secrecy, with greater opportunities for corruption, such as defense [3]. This shift is a particular disadvantage for workers with lower educational attainment, who benefit most from these public services, creating a stronger incentive to emigrate.
While there are many other factors that also drive emigration, such as government spending on education and the quality of institutions, this paper focuses mainly on corruption and push factors. There are also push factors for migration at the individual level; these are also not discussed here due to space limitations.
Discussion of pros and cons
Limitations and gaps
Studies that look at the relationship between corruption and emigration decisions of workers with different skill and education levels have several limitations. One concerns the robustness of the findings, especially the finding that corruption is a major driving force of emigration. It is not clear that findings are robust, for example, with respect to the time period investigated and the number of countries in the sample.
A second limitation concerns the generalizability of the findings that corruption is a driving force of emigration and that there is a nonlinear relationship between the two. It seems likely that these findings apply largely to the specific countries and time periods examined and cannot be generalized to other contexts.
A third limitation is related to causality. Is emigration causal to corruption, or does corruption cause emigration, or does causality run in both directions? Most studies do not answer these questions.
Summary and policy advice
This paper examines the relationship between corruption and emigration. When studies do not distinguish among workers by education and skill level, they find a nonlinear relationship in which emigration declines as corruption rises from low levels but then rises once corruption has reached a certain threshold level, exhibiting an inverted U-shaped pattern. The most recent empirical studies find a reversal of this nonlinear relationship between corruption and emigration for low- and medium-skilled workers: their emigration rate rises at initial levels of corruption and then declines after corruption has reached a certain threshold, exhibiting an inverted U-shaped pattern.
When emigrants with medium and low levels of educational attainment are split by income distribution, evidence of a decline in emigration for both groups emerges due to an increase in income inequality under corrupt regimes. It seems likely that the increased inequality generated by corruption leads to more stringent liquidity constraints facing low- and medium-skilled migrants, thus reducing their ability to emigrate.
For highly-skilled and highly-educated workers, however, recent studies find a linear relationship between corruption and emigration: as corruption increases, so does the emigration rate for these workers.
Because corruption has many undesirable consequences, governments should work to reduce it. But how can that be done?
One example would be to follow Switzerland, where corruption is extremely low, in large part because of its strong institutions of direct democracy and fiscal federalism. Both of these institutions provide participatory budgeting and allow citizens a much greater say in how municipal and cantonal budgets are developed, which in turn leads to greater transparency and lower corruption.

A second policy conclusion is that measures to reduce corruption should be accompanied by redistribution measures to reduce inequality. Host country policies that favor high-skilled migration (e.g. by increasing tax rates) may harm less-skilled workers in the country and thus worsen inequality.

A third policy conclusion is that reducing corruption is important for preventing brain drain by keeping highly-skilled and highly-educated workers at home, where they can contribute to economic growth, and encouraging highly-skilled workers from other countries to emigrate to the country.

A fourth policy conclusion is that more funds should be allocated to education, to boost the skill levels of the low- and medium-skilled workers, improving the human capital stock of the country. Lower corruption combined with better education will lead to better labor market outcomes, with jobs determined on the basis of merit rather than personal and political connections. As a consequence, this will accelerate economic growth, improving the well-being of everybody and further reducing incentives to emigrate.
Acknowledgments
The author thanks three anonymous referees and the IZA World of Labor editors for many helpful suggestions on earlier drafts. The author also thanks Arusha Cooray and Katharina Linsbauer for many helpful comments.
Competing interests
The IZA World of Labor project is committed to the IZA Guiding Principles of Research Integrity. The author declares to have observed these principles.
© Friedrich Schneider