Elevator pitch
Higher labor costs (higher wage rates and employee benefits) make workers better off, but they can reduce companies' profits, the number of jobs, and the hours each person works. The minimum wage, overtime pay, payroll taxes, and hiring subsidies are just a few of the policies that affect labor costs. Policies that increase labor costs can substantially affect both employment and hours, in individual companies as well as in the overall economy.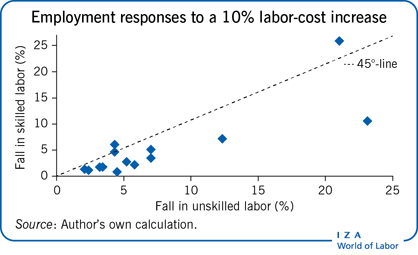 Key findings
Pros
Cutting labor costs induces companies to employ more workers.
Increasing the minimum wage that employers must pay their workers prevents employers from exploiting workers who have few alternatives.
Increasing the minimum wage that employers must pay their workers increases earnings among low-wage workers who retain their jobs.
Increasing the penalty that employers pay for overtime work prevents employers from imposing long hours on individual employees.
Increasing the penalty that employers pay for overtime work may encourage new job creation that can reduce unemployment.
Cons
Any cut in the supply of labor to a market will raise wages—and raise employers' costs.
Increasing the minimum wage that employers must pay reduces total hours worked—total jobs times hours per job—but with small impacts if minimum wage levels are low compared to average wages.
Increasing the minimum wage that employers must pay their workers has the biggest negative effect on the unskilled and minorities as well as young and older workers.
Increasing the penalty that employers pay for overtime work reduces total hours worked.
Increasing the penalty that employers pay for overtime work reduces GDP.
Author's main message
Higher labor costs reduce employment and/or the hours worked by individual employees. Laws that raise labor costs can either increase total employment or increase hours per worker, but they cannot do both. They lower the total amount of work performed in the market—the total number of person-hours (hours per worker multiplied by the number working). This loss must be traded off against the benefits that higher costs might provide to specific groups of workers.
Motivation
Every employer is concerned about labor costs—that is, higher wage rates and employee benefits. An attractive package is essential to induce people to apply for jobs and to work hard, but it will also subtract from the employer's revenue and thus reduce profits. In any economy, policymakers confront a trade-off between imposing higher wage costs—for example, by introducing or raising a minimum wage—that benefit workers but reduce profits. Knowing how employers react to higher labor costs is essential for understanding how jobs are created and for predicting the economic impacts of labor legislation.
Discussion of pros and cons
The central question here is whether an employer's reaction to higher labor costs differs from a consumer's reaction to increased shirt prices? In general they should not be different: in both cases the focus is on how somebody's demand for something reacts to an increase in its price. With shirts, it is expected that higher prices will lead customers to buy fewer shirts and to wear the shirts that they do buy for longer. With workers, higher costs will lead employers to use fewer employees and to "use" them more productively. In a few labor markets where one employer dominates or is the sole employer, the employer might respond differently; but such markets are rare, increasingly so as labor forces grow and transportation improves.
The only important question is by how much employment falls when labor costs increase. It is not a question of whether it will fall, but rather one of how big the reduction will be. It is a more important question in the case of workers than of shirts because about 60% of all income in a modern economy is generated by employment.
Limitations and gaps
The question posed in the title of this article is one of the broadest in the "World of Labor." The reaction of the demand for workers and hours to changes in labor costs underlies both an employer's private considerations and a wide variety of questions of public policy in every economy. Given its breadth, one cannot expect to find specific answers to specific questions. Research can, and has, however, answered such general questions as:
How much does employment fall on average when labor costs rise by some amount?

How does the answer to this question change with differing worker characteristics, such as skill levels?

How do the number of workers employed and hours per worker change as various types of labor costs change?
Other, specific questions cannot be answered, such as:
How would the number of workers in Bulgaria change if the Bulgarian government imposed a 10% payroll tax on the employment of all workers?

How would the number of workers in Slovakia change if the Slovakian government imposed a 10% payroll tax on the employment of skilled workers?

How many fewer hours per week would Vietnamese employers use their workers for if they were required to pay a 100% overtime rate on hours per worker beyond 40?
These particular examples are of narrow interest, but questions like them apply in each country and for each type of worker. The evidence presented here suggests general guidelines that allow policymakers a general view about the direction, and in some cases the sizes, of the impacts of proposed increases in labor costs on outcomes such as employment and hours. What it does not do is allow answering specific questions. To arrive at detailed answers to policy and other questions in specific (national, worker-type) instances, targeted research is required that addresses the particular example.
Summary and policy advice
Higher labor costs unaccompanied by technology changes that increase productivity reduce employers' willingness to hire workers and reduce the total amount of work done in any economy. This fact, which is well established by the evidence, means that any attempt to make workers better off by raising their wages or giving them wage premia for longer hours of work will reduce the total amount of labor that employers will use. With less labor, less will be produced. How much employment will drop on average for a given increase in labor costs, and how the magnitudes of these declines will differ across groups of workers with different characteristics are known. So too is the fact that changes in labor costs that raise the cost of an extra hour of work while leaving unchanged the cost of an extra worker will induce employers to substitute workers for hours.
Policymakers need to be aware that negative consequences are possible when increasing minimum wages or imposing other measures that increase labor costs. Some people will benefit, but each increase will reduce the number of jobs and/or the total amount of work available in the economy.
Acknowledgments
The author thanks two anonymous referees and the IZA World of Labor editors for many helpful suggestions on earlier drafts. Version 2 of the article updates "Figure 1," adds new information on adjustments to economic shocks, minimum wages in Hungary, and hiring credits, and includes new "Key references" [3], [5], [6], [8], [9], [10], [11], [13].
Competing interests
The IZA World of Labor project is committed to the IZA Code of Conduct. The author declares to have observed the principles outlined in the code.
© Daniel S. Hamermesh