Elevator pitch
Because theoretical arguments differ on the economic impact of collective bargaining agreements in developing countries, empirical studies are needed to provide greater clarity. Recent empirical studies for some Latin American countries have examined whether industry- or firm-level collective bargaining is more advantageous for productivity growth. Although differences in labor market institutions and in coverage of collective bargaining agreements limit the generalizability of the findings, studies suggest that work rules may raise productivity when negotiated at the firm level but may sometimes lower productivity when negotiated at the industry level.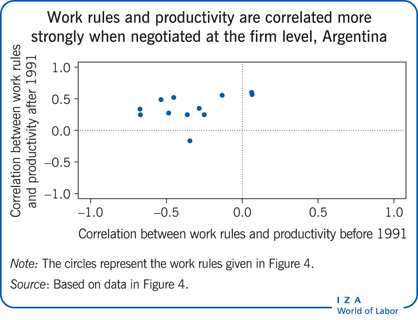 Key findings
Pros
Latin American countries that have reformed their labor institutions offer a unique opportunity to understand how changes in collective bargaining affect economic output.
The coverage and level of negotiations of collective bargaining agreements are important determinants of the association between negotiated work practices and labor productivity.
Firm-level negotiations, in general, promote productivity increases in developing countries.
In some developing countries, collective bargaining has remained fairly stable over time, with some tendency toward decentralization.
Cons
Labor market institutions, economic conditions, and collective bargaining coverage and negotiation levels vary across developing countries, making generalization difficult.
Industry-level bargaining may lower productivity by restricting managerial flexibility in response to market changes.
Weak representation of employers in collective bargaining may affect the coverage and outcome of collective bargaining.
Empirical evidence is more extensive on the effect of collective bargaining on wages than on productivity.
Author's main message
Developing countries have a long tradition of determining wages and working arrangements through industry-wide collective bargaining agreements. While the evidence on the effect of union contracts on wages is abundant, the cross-country evidence associated with the effect of work practices on productivity is limited. Several empirical studies suggest that economies benefit from productivity increases from work rules negotiated at firm level. However, collective bargaining agreements and economic conditions vary widely across developing countries restricting support for any single generalization.
Motivation
Economic theory differs on the economic impact of collective bargaining. One standard argument is that unions can increase productivity in the workplace by collaborating with management in the search for better practices [1]. Another argument counters that unions can impose inefficient work rules, such us restrictions on laying off workers when technology changes, which reduce productivity and even affect workers who are not represented by unions. While the theoretical arguments come down on both sides of the issue, the empirical evidence for developing countries on what practices are most frequently bargained collectively, who is covered by collective bargaining agreements, and what effect work rules have on labor productivity is just beginning to emerge.
This paper looks at both sides of the collective bargaining issue in developing countries. It focuses on the empirical evidence on trends, levels of negotiation, and coverage of agreements. While differences between Latin American countries and developing countries in Asia and Africa are discussed, the main focus is on the lessons of the weakening of industry-wide collective bargaining in Argentina in the early 1990s in favor of firm-level bargaining. The paper concentrates on analyses of the most important working practices included in labor contracts. Understanding the effects of these practices is crucial for designing government policies and regulations.
Discussion of pros and cons
Limitations and gaps
Empirical studies have limitations in several dimensions. First, collecting accurate statistics on the coverage rates of collective bargaining agreements is difficult. Some countries report the number of employees affected by the terms of collective bargaining agreements in their first year, because the contracts are in effect until they are renegotiated or terminated, which could be several years later. Sometimes, working conditions are stipulated by several contracts simultaneously, creating measurement problems associated with data collection, or high-level bargaining units are misinformed about the number of employees affected by the agreement.
In addition, there are problems of comparability across countries because of the wide difference in collective bargaining institutions in each country. Moreover, the types of analyses that have been conducted cannot rule out the possibility that the results showing increases in productivity are associated with other variables that are not fully captured in the analysis. The literature is mostly silent on the specific channels through which union practices affect both total factor productivity—a variable which accounts for effects in total output not caused by traditionally measured inputs of labor and capital—and labor productivity. These limitations are all due to the lack of suitable data.
An also relevant, yet understudied topic in developing countries is the employers' side of collective bargaining. Employer organizations typically include national federations of employers, specialized organizations representing employers in a particular segment of an industry, and local associations of employers representing local interests. It is often argued that many of these organizations in developing countries only weakly represent employers and their interests. While the number of employer associations has been declining in developed countries (for example, by 33% in the UK from 1979 to 1994), little is known about trends in developing countries. If representation of employers is weak or otherwise inadequate, that would affect the coverage and outcome of collective bargaining.
Summary and policy advice
There are large differences in the institutions and outcomes of collective bargaining across developing countries. In some countries, unions have not been active bargaining agents because of disruptions to the democratic process. In other countries, wages have received more attention than work practices in negotiations and ultimately in collective bargaining agreements because of the economic disturbances caused by bouts of moderate and high inflation. As is the case in developed countries, collective bargaining does not follow a single model across all developing countries. That can make analysis more difficult because the variations are likely to be associated with the way local labor market institutions are shaped by local economic conditions. One way around some of the problems is to focus on developing countries where collective bargaining institutions have changed greatly within a short period of time.
Because collective bargaining and economic conditions vary widely across developing countries, generalizations about appropriate policy prescriptions are difficult to make. However, some lessons may be drawn from the evidence for Argentina, a country with high coverage rates where policy reforms in the early 1990s weakened industry-wide bargaining. Argentina's experience suggests that policies to promote decentralization of collective bargaining negotiations between firms and unions can advance labor productivity. In contrast, work practices bargained at higher national or industry-wide levels that include binding norms for agreements negotiated at lower levels appear to restrict economic efficiency.
Acknowledgments
The author would like to thank two anonymous referees and the IZA World of Labor editors for many helpful suggestions on earlier drafts. The author is also thankful to Robert Hartley for comments.
Competing interests
The IZA World of Labor project is committed to the IZA Guiding Principles of Research Integrity. The author declares to have observed these principles.
© Carlos Lamarche