Elevator pitch
In the popular immigration narrative, migrants leave one country and establish themselves permanently in another, creating a "brain drain" in the sending country. In reality, migration is typically temporary: Workers migrate, find employment, and then return home or move on, often multiple times. Sending countries benefit from remittances while workers are abroad and from enhanced human capital when they return, while receiving countries fill labor shortages. Policies impeding circular migration can be costly to both sending and receiving countries.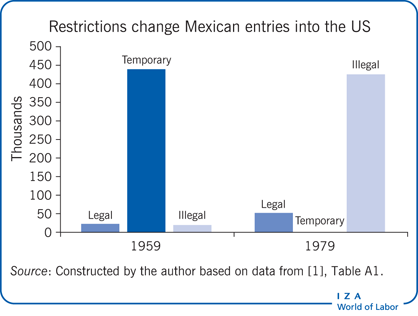 Key findings
Pros
Circular migrants fill labor shortages in host countries.
Migrants do not stay in host countries if they cannot find work.
Remittances sent home by migrants contribute crucially to the economic development of the sending countries.
Circular migration reduces the brain drain and encourages the transfer of skills and know-how ("brain circulation").
Circular migrants benefit from mobility.
Cons
Restricting circular migration increases the likelihood of illegal immigration and overstaying of visas in receiving countries.
Restrictions may result in more non-economic migrants, including family members and people on welfare.
Outmigration can lead to labor market shortages in sending countries.
Circular migrants may remain stuck in low levels of employment and may be exposed to abuse, exploitation, and discrimination.
Author's main message
International labor migration is typically circular, involving non-permanent moves back and forth between home and foreign places of work. Policies that restrict worker mobility often backfire, with workers resorting to illegal means of entering the country, bringing their family with them, and no longer returning home. Restricting mobility may therefore induce losses of welfare. Free labor mobility is more likely to generate benefits for all sides. Supportive policy instruments include dual citizenship, permanent residence permits, and open migration agreements between countries.
Motivation
In popular opinion, migration is about foreigners being attracted by Western countries' generous welfare systems and wanting to move permanently to the receiving country. In reality, a large share of migrants move for work-related reasons—and do so on a temporary basis. The movement of labor migrants is therefore often circular: They move back and forth between their homeland and foreign places of work. This circularity suggests the potential of a win-win-win situation for migrants and the sending and receiving countries.
When policymakers misinterpret the real motivations underlying workers' migration decisions, the results can be costly not just for individual migrants but for society as well. Exploitation, discrimination, and other undesirable conditions can turn the great freedom of labor mobility into a modern form of slavery.
An example of the effects of poorly reasoned immigration policies is the broad-based effort to restrict the circular flow of workers between Mexico and the US in the 1960s and 1970s. Those policies have transformed legal, temporary migration into permanent, unauthorized or illegal migration [1].
Discussion of pros and cons
Limitations and gaps
Circular migration is not a new phenomenon. But because it is difficult to measure, its implications have long been overlooked. Empirical studies on circular migration are rare because suitable data are scarce. National statistical offices generally do not standardize their data, and there is no systematic tracking of migrants' movements worldwide through an appropriate matching of the national data. In addition, it is almost impossible to observe migration decisions over a lifetime, as would be desirable for studying circular migration. To better understand the global dimensions of circular migration, panel data are needed that can provide information on workers across time and space.
There is also little experience with functioning circular migration policy regimes and little knowledge about how circular migrants interact with diaspora populations and how they affect transfers of knowledge, capital, and goods and services between receiving and sending countries.
Summary and policy advice
Circular migration has received increasing attention recently in the context of labor mobility policies. Circular labor migration is often associated with a range of economic and social benefits for migrants and for both receiving and sending countries. It is practiced most commonly by young, low-skilled men without dependents for whom the only other option is frequently disadvantageous job offers in their home country. Circular migration offers considerable potential for skilled migrants as well.
Policies that restrict immigration, increase border protection, or force migrants to return home have often failed to curtail immigration and have even backfired. Consequences have included rising illegal migration, reduced return migration, increased family migration, and a lower attachment of migrants to the labor market in the host country. Policies that make it easy for migrants to move freely back and forth between home and host countries—with workers basing their migration decisions on labor market conditions at home and abroad—are the best way to avoid the adverse labor market outcomes and social effects associated with restrictive immigration policies. Establishing a well-defined right for migrants to move freely between home and host countries, by enabling circular migration, is essential to a successful immigration policy. Supportive instruments include dual citizenship, permanent residence permits, and liberal immigration agreements between countries.
Acknowledgments
The author thanks anonymous referees, the IZA World of Labor editors, as well as Amelie F. Constant, Olga Nottmeyer, and Ulf Rinne for many helpful suggestions on earlier drafts. A handbook article on circular migration contains a larger number of background references for the material presented here and has been used intensively in all major parts of this essay as a background paper [6].
Competing interests
The IZA World of Labor project is committed to the IZA Guiding Principles of Research Integrity. The author declares to have observed these principles.
© Klaus F. Zimmermann