Elevator pitch
Reaching the policy goal of improving student achieve­ment by adding resources to the school system has often proven elusive. By contrast, ample evidence indicates that central exit exams constitute an important feature of a school system's institutional framework, which can hold students, teachers, schools, and administrators accountable for student outcomes. While critics point to issues such as teaching test-only skills, which may leave students ill-prepared for the real world, the evidence does not bear this out. Overall, central exams are related to better student achievement, favorable labor market outcomes, and higher economic growth.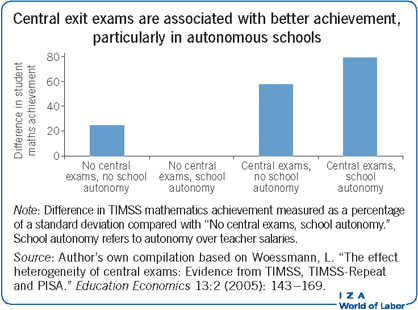 Key findings
Pros
Central exams are associated with substantially higher student achievement across national and regional school systems.
Central exams are a prerequisite for decentralized systems with autonomous schools to achieve high student achievement.
Central exams are related to higher earnings, lower unemployment, and higher information value of grades in the labor market.
Improved skills stimulated by central exams are related to higher long-term economic growth of countries.
Cons
Central exams raise tested curriculum-based skills, but not necessarily other skill dimensions.
Emphasis on higher academic performance in a subject may come at the expense of enjoyment of it.
Mere minimum competency exams or course graduation requirements are not enough to deliver the effects of curriculum-based central exit exam systems.
Many details of how to best implement central exams and which elements are crucial remain poorly understood.
Author's main message
Central exams act as an accountability device that reveals the overall outcome of the efforts of students and schools. Central exams can increase external rewards for learning, enhance monitoring of teachers and schools, and decrease peer pressure against learning. They improve the learning outcomes of students and their subsequent labor market performance and raise the understanding of grades—their information value—in the labor market. As such, implementing central exams at the end of secondary school may prove much more effective at improving student outcomes than many other resource-intensive educational initiatives.
Motivation
Educational achievement is a major determinant of individual success in the labor market and for overall economic growth. However, it has proven difficult to devise policy initiatives that succeed in improving students' educational achievement in school systems. In particular, the evidence on the effects of adding resources to a school system by increasing spending or reducing class sizes is generally disappointing. By contrast, there is growing evidence that the institutional structures of school systems that provide incentives for stakeholders to focus on improving student outcomes are highly relevant in shaping student achievement [1]. One important aspect of the institutional framework is whether—and if so, how—the performance of students is examined in the school system. In particular, a broad array of evidence suggests that central exams may be an effective means to focus attention on student outcomes.
Discussion of pros and cons
Limitations and gaps
As central exams are, by definition, a feature of an entire school system, the variation on which any analysis can be based is limited. While the cross-national and cross-regional analyses provide a rather consistent pattern of results, the impacts of system features are intrinsically hard to identify econometrically. In addition, exam systems are not randomly assigned to individuals, schools, or countries, meaning that effects have to be identified from observational data. Difference-in-differences models confirm cross-sectional results, but precise identification of causal effects remains a challenge.
More needs to be understood about the most important ingredients of effective central exam systems. Evidence suggests that curriculum-based central exit exam systems are substantially more effective than mere minimum competency exams and course graduation requirements. However, researchers' understanding of the importance of exams being based on the curriculum as opposed to testing aptitude could benefit from additional analysis.
Due to the limited degrees of freedom available in system-level analyses, they can mostly reveal broad patterns. This means that many details of specific implementation issues remain open. As such, very little is known about which exact details of a central exam system are most important to ensure beneficial effects. For example, countries differ in the breadth of subjects covered, in the mix of central and teacher-based assessments in determining the school-leaving grade, in the stakes associated with exam outcomes, and in the extent to which central exams are combined with centralized testing already in earlier grades. The extent to which these differences matter for student outcomes is an important direction for future research.
Summary and policy advice
Evidence from regional variation within countries as well as cross-country evidence from international student achievement tests show that students perform better on achievement tests when there are central exams in the school system. While critics claim that central exams may focus teaching and learning efforts on the material tested in the exam at the expense of other subjects and skills, recent evidence suggests that central exams are also associated with better labor market outcomes. In addition, grades on central exams have higher information value on the labor market than grades on local exams. Furthermore, central exams interact positively with school autonomy.
Central exams can thus constitute an important policy instrument to ascertain high achievement in school systems, not least against the background of the proven ineffectiveness of many other policy initiatives. At the same time, policymakers should ensure that exam formats are creative and flexible enough not to be driven by test-taking skills. Also, the content of the exams should be broad enough to cover the range of skills expected from students when entering the labor market. Mixing central exam components with teacher-based grading in the final school-leaving grade may balance external validity with teacher assessments based on longer-term observation. Based on the available evidence, central exams appear to be a highly effective means of raising students' educational achievement throughout the system.
Acknowledgments
The author thanks the IZA World of Labor editors for many helpful suggestions on an earlier draft. Previous work of the author contains a larger number of background references for the material presented here and has been used intensively in all major parts of this article [1].
Competing interests
The IZA World of Labor project is committed to the IZA Guiding Principles of Research Integrity. The author declares to have observed these principles.
© Ludger Woessmann