Elevator pitch
Do migration policies affect whether immigrants contribute more to public finances than they receive as transfer payments? Yes. But simply accumulating the annual fiscal transfers to and fiscal contributions by migrants is not sufficient to identify the policy impact and the potential need for reform. What is also required is measuring the present value of taxes contributed and transfers received by individuals over their lifespans. Results underscore the need for, and the economic benefits of, active migration and integration strategies.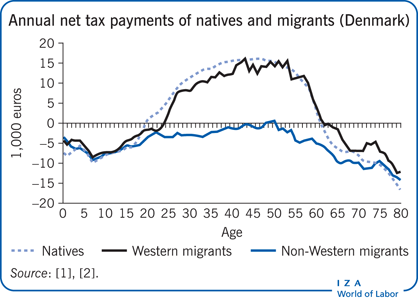 Key findings
Pros
Knowledge about the net fiscal effects of migration is important for policymakers to cope with the economic needs for selective labor migration.
The balance of the net payments and receipts of migrants reveals whether migration and integration policies produce net fiscal benefits or costs.
Intensified research on the generational balances of migration may help support reforms in migration policy.
To increase the net fiscal effects of migration and integration, policy decisions should focus on a clear-sighted labor migration strategy that allows for an active selection process and facilitates migrants' economic success and social integration.
Cons
The results of computing the net fiscal effects and generational accounts for migrants should not be overestimated, especially in country comparisons. Methods are complex, and comparable data are limited.
Revealing net negative effects may be misinterpreted and increase pressure to reform migration policies, since the different outcomes of alternative strategies take time.
Author's main message
Immigrant selection through migration policies generates either a surplus or a deficit in social security systems and public budgets. Economic selection criteria and early labor market integration increase the likelihood of substantially positive net fiscal effects. Less active migration policies and barriers to immigrant labor market participation enlarge the risk of weak or even negative fiscal effects. Policy reforms should consider the results of generational accounting for natives and immigrants.
Motivation
The socio-economic and fiscal consequences of immigration and the immediate effects of different migration policies are underappreciated by many policymakers, especially in many European countries that lack a clear and transparent economic approach to immigration. It seems obvious that facilitating labor market access for migrants will reduce dependency on social transfers and more generally improve the use of human capital. But knowledge about the net fiscal effects of immigration and their interdependence with welfare incentives appears to be limited; yet any assessment of the efficiency or reform needs of migration policies would be incomplete without this knowledge.
For instance, if low-skilled migrants, attracted by a certain migration policy, are given a rational choice to opt out of the labor market owing to high wage-replacement benefits for low-income workers, it should not be surprising if this migrant segment of the workforce declines, or remains small. Proscribing work (for, say, refugees) distorts the statistics and is inefficient from an economic perspective. Unstable occupations of migrants (the first to be hit in cyclical downturns) reduce their eligibility for unemployment benefits and the pension system. Highly qualified immigrants, if not employed according to their qualification but declassed as a result of lacking formal recognition, may fall permanently below their potential tax payments and social security contributions. And since migrants at the date of entry show on average a significantly lower age structure than the average native population, higher benefits claims for, say, family allowances and education in the first years of their stay have to be balanced with the substantial fiscal advantages of their favorable age patterns over their lifespans.
By calculating the annual net tax payments (as the balance of taxes and welfare receipts) and the generational accounts of migrants and natives over their lifespans, the fiscal redistribution between the two population groups becomes obvious—and may facilitate policy decisions on migration and labor market integration.
This paper uses earlier research on the socio-economic balance of migration in Germany and Denmark to shed light on the interactions of migration, labor, and social policies, and immigrant fiscal contributions. A cross-country comparative approach illustrates the pros and cons of different migration policies [1], [2]. Even in two welfare states with a similar cultural and economic background, migration policy decisions can result in substantially different fiscal outcomes.
Discussion of pros and cons
Limitations and gaps
Measuring the net fiscal effects of migration is an ambitious field of research, and far from being fully explored. A dynamic lifespan approach should be systematically expanded and used in cross-country comparisons to gain more information about the long-term fiscal effects of migration policies and their potential contribution to fiscal sustainability. Generational accounting can do more to serve policymakers. And migration policies should give more attention to the net fiscal effects of migration and social and labor market integration rather than focusing solely on popular, short-term objectives.
Balancing the costs and benefits of immigration within the receiving countries focuses on the legitimate objective to learn more about the options for stimulating positive socio-economic results. An evaluation of the fiscal effects of worldwide migration needs to take into account the positive and negative effects of emigration for the sending countries as well.
Summary and policy advice
Calculating the net fiscal effects of immigration not just for a fiscal year but over individuals' lifespans accentuates the assets and deficits in migration and integration policies and their long-term potential. The less that national policies concentrate on a labor migrant selection process according to economic criteria, the higher the risk of generating economic losses or only a reduced surplus.
A country comparison of net tax payments and generational accounts for migrants and natives reveals even more clearly that the right mix of migrants will give the best chance to maximize positive and sustainable net fiscal effects to the benefit of society. Similar socio-economic frameworks—as in the Western welfare states of Denmark and Germany showcased here—may still result in substantially different economic outcomes of migration. Traditional immigration countries with a long experience in selecting migrants are nonetheless confronted with the need to evaluate and adapt their policies. They may also learn from the results of net fiscal balancing.
Acknowledgments
This article is substantially based on Chapter 6 in [1]. [2] is an English version of that chapter, which offers an extended comparative analysis of the socio-economic integration of immigrants in Germany and Denmark. The author thanks Holger Bonin, who provided the original calculations, an anonymous referee, and the IZA World of Labor editors for helpful suggestions on earlier drafts.
Competing interests
The IZA World of Labor project is committed to the IZA Guiding Principles of Research Integrity. The author declares to have observed these principles.
© Holger Hinte