Elevator pitch
Millions of people enter (or remain in) countries without permission as they flee violence, war, or economic hardship. Regularization policies that offer residence and work rights have multiple and multi-layered effects on the economy and society, but they always directly affect the labor market opportunities of those who are regularized. Large numbers of undocumented people in many countries, a new political willingness to fight for human and civil rights, and dramatically increasing refugee flows mean continued pressure to enact regularization policies.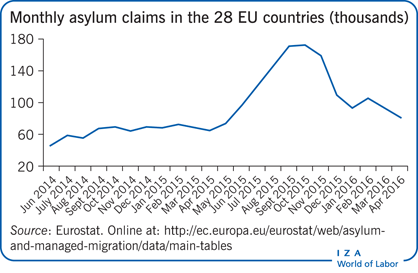 Key findings
Pros
More job and occupational mobility allow regularized workers to search for jobs without fear of deportation.
Regularization leads to higher wages through better jobs and because wage exploitation is harder to hide.
Workers may become more productive after regularization because they can work in an occupation for which they are trained, more freely invest in human capital, or receive job training without fear of deportation.
Massive refugee flows indicate an ongoing demand for regularization; denied asylum claims may lead to large populations of undocumented residents.
Regularization can reduce labor exploitation among undocumented workers.
Cons
The impact of regularization on employment is unclear; some researchers find rising employment for men and falling employment for women and some find the reverse.
Regularization tied to employment contracts inhibits wage increases that would normally be associated with greater job and occupational mobility.
Little is known about regularization's impact in European countries because of a lack of adequate data and studies.
Native workers often oppose regularization because they fear increased competition for jobs.
Author's main message
Regularization can improve the economic welfare of workers, especially if they can freely move through the labor market. A policy that does not require employment contracts with a specific employer or where an employer applies on behalf of the undocumented worker is more likely to increase job and occupational mobility, which leads to higher wages for regularized workers. As such, policymakers should consider a policy option with few employment restrictions. When employment conditions are required, the positive wage impacts of regularization are likely to be muted, as some pathways to the benefits are closed.
Motivation
People migrate across national borders for many reasons. Some leave their home countries in search of freedom or new job opportunities, some to escape poverty and a lack of jobs, and some are forcibly displaced—fleeing war, violence, and ethnic conflict. Whether from clandestine border crossing, visa overstaying, denied asylum applications, or for other reasons, migrants may live in a new country without the sanction of its government, thus becoming undocumented residents. Rapidly rising numbers of refugees from the Middle East and Central America have escalated migration flows, with the United Nations High Commissioner for Refugees (UNHCR) estimating that there were more than 60 million forcibly displaced persons worldwide in mid-2015 [1].
Undocumented immigrants live and work in the shadows to avoid deportation. Without working papers or the equivalent, they often work in informal or underground jobs. Family, social, or organized migration networks typically help them find jobs where other undocumented residents work, leading to job sites where the undocumented make up the majority of workers. Sometimes, migration networks emerge as human trafficking organizations and workers experience exploitation. Employers may take advantage of undocumented workers' lack of legal status by paying them less and making them work harder, since their ability to search for better jobs is impeded by their status. Undocumented residents, particularly women, are vulnerable to labor exploitation and sexual abuse because of their fear of deportation.
Legislators around the world frequently prefer deportation to regularization policies due to economic, social, or political reasons. Native workers frequently question the validity of regularizing workers, who may subsequently compete with them for jobs, and thus pressure legislators to resist regularization. Communities often question undocumented residents' ability to adequately integrate into the local society, and may raise concerns about costs to local institutions such as school districts. Some argue that regularization will beget more migration because it changes incentives to migrate. If it increases migration, then new regularization policies may be needed—thus changing incentives to migrate in the future. This incentive spiral is seen as unfair to those who are waiting (and are eligible) to enter a country legally.
Nonetheless, countries still enact regularization policies that legitimate undocumented residents. The US, most of Europe, Malaysia, and other countries have enacted dozens of such policies over the last 40 years, regularizing millions of residents in the process. Importantly, the forces that create the need for regularization policies are growing stronger in many countries. Large numbers of undocumented residents, a new political willingness on the part of the undocumented to fight for future rights, and the current surge in refugee flows all suggest that there will be ongoing pressure for new regularization policies. The Illustration documents the recent extraordinary rise of asylum applications in European countries. Denied asylum applications often lead to undocumented residence and large numbers of undocumented residents create demand for new policies.
Discussion of pros and cons
Whatever the goals of regularization policies, they will always have both direct and indirect effects on the labor market. Informed policymakers must anticipate the ways in which these initiatives alter work opportunities for the newly legalized, other immigrant workers, native workers, and non-working residents of any status. Whether those changes are positive or negative depends on the characteristics of workers and non-workers in each group, institutional features of the labor market, a country's labor policies, and the overarching economic context. They also depend critically on the kind of policy that is enacted. Some, like the 1986 Immigration Reform and Control Act (IRCA) in the US, are wide sweeping, while others, like Spain's 2005 regularization, are targeted specifically at workers. The following discussion focuses exclusively on the labor market consequences of regularization for regularized workers themselves, addressing the employment, wage, and human capital investment consequences specifically. Aside from these work-related aspects, policymakers will also have to consider potential indirect consequences (such as those on health care or school systems) of any proposed regularization policies, which are not discussed here.
Limitations and gaps
There are obvious limitations to the existing knowledge on the impact of regularization in European countries due to a lack of empirical work on the subject. Additionally, much less is known about the consequences of regularization for women than for men. What is known implies gender specific effects of regularization such as those discussed above [2], [5]. Further, the existing research on women generates contradictory results; for instance, it is unclear whether women's employment increases or decreases. While the benefits of regularization seem to be positively related to skills for men, they may be negatively related for women. Further investigation into the consequences of regularization for women is therefore critical.
There are significant methodological challenges facing any investigation into the consequences of regularization. Data that adequately document such effects are virtually non-existent. Conducting studies with sufficient randomization, information on labor outcomes before and after regularization, and a good control group all require huge resources and encounter privacy concerns. Researchers have made creative use of natural experiments, alternative data sets, and predicting legal status to estimate the effects of legal status, but identification issues often make estimates less than adequate. One data set satisfies part of this requirement: the IRCA mandated several reports on its impact and government agencies provided the resources that led to the creation of the Legalized Population Survey (LPS). LPS is an important source of evidence on the impact of regularization because it is one of the few data sets that contain information on residents both before and after their regularization. Policymakers should consider adding similar reporting requirements to any proposed regularization legislation to help evaluate its impact.
There are some studies on the employment impact of regularization policies in Europe, but the wage impact of the many European policies is simply not known. This gap in our knowledge, along with the different conditions and requirements to apply for regularization, makes it difficult to predict the impact of future regularization policies. It is certain that workers will not gain the wage benefits of job or occupational mobility if regularization is tied to an employment contract. A policy that does not require employment is more likely to lead to wage gains, but empirical studies of this are mostly drawn from a single policy: the US experience with the IRCA. Wages may not change in the same way as a result of policies in European countries.
Summary and policy advice
Policymakers who are considering future policies will need to be clear about their policy's goals. Because regularization policies vary in their conditions and requirements, so too will the resulting outcomes. If the policy's goal is simply legal residence then the requirements to apply may matter less than if there are also labor market goals for regularized or other workers. Workers will not gain the wage benefits of job or occupational mobility if a future employment contract is required for regularization, though an employment requirement that is solely present at the time of application may lead to significant employment increases among the undocumented population prior to application. A policy that does not require employment is more likely to lead to wage gains if workers can move freely through the labor market. Findings from the US that utilize the most comprehensive data available show that wage gains principally arise because of job and occupational mobility; as such, policies that are not tied to employment may bring about the most positive impacts for regularized populations.
Regularization policies can be beneficial for governments, people, communities, and economies, but the specific conditions of the policy drive actual outcomes. In particular, legislators must balance the needs and demands of all residents and workers, not just those who are regularized, when they consider the effects of potential policies. Overall, little is known about the empirical impact of these policies on communities and economies, though more is known about the effect of regularization on those who are regularized. Evidence suggests that regularization policies can have a significantly positive impact on undocumented workers, although the size—and the presence of an occasional negative impact—is context specific. Importantly, evidence suggests that the undocumented are most helped by regularization policies when there are few restrictions on post-regularization mobility and work behavior.
Acknowledgments
The author thanks an anonymous referee and the IZA World of Labor editors for many helpful suggestions on earlier drafts. Previous work of the author contains a larger number of background references for the material presented here [2], [3], [8].
Competing interests
The IZA World of Labor project is committed to the IZA Guiding Principles of Research Integrity. The author declares to have observed these principles.
© Sherrie A. Kossoudji