Elevator pitch
Aside from employment protection laws, which have been converging, other labor market institutions in new and old EU member states, such as wage bargaining coordination and labor union density, still differ considerably. These labor market institutions also differ among the new EU member states, with the Baltic countries being much more liberal than the others. Research that pools data on old and new EU member states shows that wage coordination mechanisms can improve a country's macroeconomic performance. Stronger wage coordination and higher union density reduce the response of inflation to the business cycle.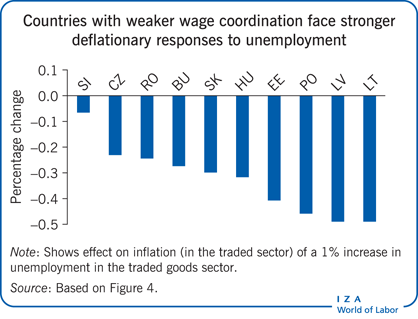 Key findings
Pros
Labor markets are generally perceived to be more flexible in the new EU member states than in the old.
More centralized wage bargaining coordination and higher union density are often associated with lower unemployment.
Wage coordination may result in less sensitivity of inflation to domestic output, thus stabilizing inflation when unemployment is very low.
The benefits of wage coordination may be realized when the lead sectors in wage negotiations are subject to competition through active engagement in international trade.
Cons
Labor markets in the new EU member states offer much less protection to displaced workers than those in old EU member states.
More centralized wage coordination is associated with higher inflation, especially in the traded sector.
Wage coordination may reduce the inflation-dampening effects of higher unemployment during economic downturns.
When the non-traded sectors (which include many service sectors and the public sector) are the de facto leaders in wage negotiations, a country's competitiveness may suffer.
Author's main message
Both formal and informal wage coordination mechanisms can contribute to macroeconomic stability. The traded goods sector rather than the public sector or non-traded services sectors should take the lead in wage coordination so that negotiated wages do not exceed productivity gains. However, in both old and new EU member states, the public sector or the non-traded services sectors are sometimes the de facto leaders—potentially compromising a country's external competitiveness. Policymakers should encourage across-the-board wage settlements that follow productivity gains in traded sectors.
Motivation
Labor market institutions in the new EU member states (those that have transitioned from centrally planned to market economies) differ from those in older member states for two main reasons. First, the institutional mechanisms set up during the socialist era to protect labor did not survive the transition to capitalism; most transition economies thus entered the 1990s with few vestiges of labor protection. Second, because the economic systems of these new EU member states were relatively under-developed, these countries could not afford to establish costly labor market institutions such as unemployment benefits and active labor market policies (like training and employment search support). As a result, these institutions are often undersized in the new EU member states. The same conditions did not affect some other labor market institutions, such as hiring and firing restrictions and other employment protection regulatory instruments that affect wage bargaining and labor unions. This paper looks at some of the differences in labor market institutions between (and within) new and old EU member states and the impact they have on each country's macroeconomic outcomes. It focuses in particular on wage coordination mechanisms and labor union density (the proportion of workers who are union members).
Discussion of pros and cons
Limitations and gaps
While there have been considerable improvements in measuring labor market institutions in both old and new EU member states, some constraints remain. First, enforcement of formal labor market institutions, especially employment protection laws, may differ across countries and over time. It would be useful to have measures that take actual enforcement into account. Second, measures of wage bargaining coordination must reflect informal institutions and practices as well as formal ones. While both types of institutions evolve over time, it is particularly difficult to account for informal practices, which may also depend on the extent to which unions share macroeconomic objectives. Third, labor union power is not necessarily a reflection of labor union density. Union power is also affected by the coverage of collective bargaining agreements. For some countries, such as France and Spain, density and coverage differ considerably, which raises the question of how to balance them to obtain a more comprehensive measure. Fourth, it would be useful to understand how the effectiveness of labor market institutions is influenced by broader institutional characteristics in each country, as suggested by the literature on varieties of capitalism. Fifth, new and old EU member states should be examined together in research studies. Continuing to split them into separate research and policy agendas diminishes our understanding of the interaction of labor market institutions and macroeconomic outcomes.
Summary and policy advice
Studies that pool the new EU member states together with older member states have shown that stronger wage coordination and higher union density are associated with lower unemployment and higher inflation, especially in the traded sector. Such studies have also shown that these labor market institutions reduce the response of inflation to deviations of the unemployment rate from its trend rate ("flattening" the Phillips curve) almost equally in the traded and non-traded sectors, while amplifying the real exchange rate pass-through (the extent to which a real exchange rate appreciation has a dampening effect on inflation).
Recent research thus documents some desirable effects of wage coordination, including the setting of wages at levels compatible with preserving external competitiveness in the traded sector (most manufacturing sectors). If this is indeed the case, then more coordination should have favorable employment implications, which has also been documented in practice. However, it is important that wage settlements follow productivity gains in the traded sectors and that cross-sectoral wage spillovers move from traded to non-traded sectors rather than the other way around. This pattern is especially important within a monetary union such as the eurozone.
Policymakers should thus encourage the establishment of this pattern of wage settlements, by favoring opportunities for labor market participants to share information and to coordinate their objectives and negotiation goals.
Acknowledgments
The author thanks an anonymous referee and the IZA World of Labor editors for helpful comments and suggestions on earlier drafts. He also thanks Gaetano D'Adamo and Riccardo Rinaldi for comments and Rinaldi for assistance with data collection and analysis. Previous work of the author with D'Adamo contains a larger number of background references for the material presented here and has been used intensively in parts of this article [13].
Competing interests
The IZA World of Labor project is committed to the IZA Guiding Principles of Research Integrity. The author declares to have observed these principles.
© Riccardo Rovelli