Elevator pitch
Economic growth is essential, though not sufficient, for poverty reduction in developing countries. Research based on many different approaches and including both cross-country and intra-country studies shows that international trade can contribute to economic growth, and thus can help many poor people escape poverty. However, the domestic environment has to be conducive to realizing the poverty-reduction benefits of increased trade. Complementary domestic policies and institutions needed include regulations that foster labor mobility, adequate financial development, and good public infrastructure.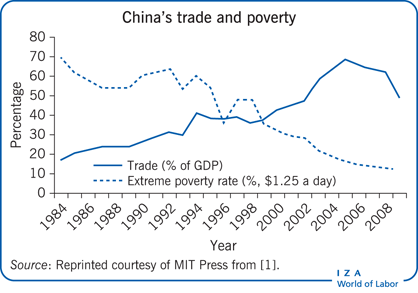 Key findings
Pros
Poverty rates fell dramatically in China and India as trade increased.
Some evidence of trade's effect on poverty comes from recent cross-country analysis that includes a very large set of developing countries.
Most intra-country studies also find that trade reduces poverty.
Trade increases incomes, and economic growth reduces poverty.
"Appropriate" policies complementary to trade reforms include: product diversification, suitable agricultural policies, and policies promoting financial development, protecting property rights, and developing vital infrastructure.
Cons
There is no confirmation of causality in the China and India case studies on trade and poverty reduction.
Cross-country regression results linking trade and poverty reduction lose their significance when time effects are taken into account.
Analyses at the district level in India lead to results that are inconsistent with the recent findings of a positive relationship between trade and poverty reduction at the cross-national level.
Few studies on the trade-poverty relationship have looked at the interactions with appropriate complementary domestic policies and institutions.
Author's main message
Both cross-country regression studies and single-country studies support the claim that liberalizing trade will reduce poverty. Both China and India, the greatest examples of the positive effects of trade on poverty, experienced huge reductions in poverty following extensive trade reforms. However, not all studies find significant positive gains from trade reforms. What seems to matter for the impact of trade on poverty is having the right kind of domestic institutions and policies. Greater road density, sensible labor regulations, and greater financial development enhance this impact.
Motivation
Trade has long been asserted to be an engine of growth. More recent is the dual claim that not only does trade enhance growth but that growth in turn reduces poverty [2]. The implication of these arguments is that growth will increase during the transition period to the new steady state following a trade reform. However, these theoretical propositions often depend on the analytical assumptions made and may fail under alternative assumptions.
Policymakers have long recognized the need for economic growth in order to reduce poverty, an argument that rests on simple arithmetic [2]. Many poor countries have had such low per capita incomes that a perfectly equal income distribution would put everyone below the poverty line.
Several country studies in the 1960s and 1970s offered strong evidence against import substitution policies (promoting industrialization by encouraging domestic production to replace imports) in favor of outward-oriented trade policies. Since this evidence predates major trade reforms and the use of sophisticated econometric methods, it is important to examine the more recent evidence.
Discussion of pros and cons
Limitations and gaps
While the remarkable experiences of poverty-reduction in China and India strongly indicate a poverty-reducing impact of trade, there is no confirmation of causation. Cross-country regression results are also not completely clear-cut. While these analyses find a significant poverty-reducing effect of trade, statistical significance disappears when both country and year fixed effects are added to the models.
Some cross-country macroeconomic studies apply a two-step indirect approach to analyze the relationship between trade and poverty (from trade to growth to poverty reduction). They rely, as a first step, on the empirical validations of the positive effects of trade on growth, which have been criticized for problems with how they measure trade openness and protection, their econometric techniques, and the difficulty in establishing causality. Defenders of the approach argue that measures of trade openness that include other types of reforms capture the value of the entire package of trade and accompanying reforms.
The protection measure used in some of the intra-country studies is an employment-weighted average of industrial tariffs. Though trade policy is set at the national level, variations in employment shares across states, regions, or districts within a country will lead to corresponding variation in this protection measure. This measure is appropriate where factors of production are completely immobile across these units but is less appropriate when there is some degree of mobility across them. For example, there might not be much mobility of workers between states in India, but in some instances there might be a reasonable degree of mobility between districts within a state, making cross-state analysis more meaningful relative to cross-district analysis. Some of this criticism may apply to assumptions in the empirical general equilibrium welfare analyses discussed in this paper. How well the assumptions of perfect intersectoral mobility in Argentina and no mobility in India capture the reality in each of these countries studied would be worth examining.
Summary and policy advice
The literature on trade and poverty reduction raises the issue of the importance of "appropriate" policies in order for trade reforms to yield the greatest benefits [2]. Examples include diversifying away from products whose world prices might fall steeply (while specializing based on true comparative advantage), introducing suitable agricultural policies, promoting financial development, protecting property rights, and developing vital infrastructure [2].
For example, there is evidence that higher road density, more flexible labor markets, and greater financial development enhance the beneficial impact of trade reforms on poverty [1], [3]. Trade liberalization has been less effective in reducing poverty in economically lagging Indian states. Their distance from the nearest port, coupled with the lack of proper road connectivity, leads to relatively imperfect price transmission from tariff reductions [1], [3]. Thus, building more ports and roads becomes important for boosting the poverty-reducing effects of trade reforms.
The costs of moving between jobs in different firms or sectors or regions prevent the efficient reallocation of resources in response to trade reforms [13]. Thus, it is important to devise labor market policies that will minimize such labor adjustment costs. Policies could include carefully designed trade adjustment assistance programs (which, along with providing unemployment benefits, could also provide training in new skills that would be valuable in the growing sectors of the economy), as well as wage insurance and subsidies.
Acknowledgments
The author thanks two anonymous referees and the IZA World of Labor editors for many helpful suggestions on earlier drafts. Previous work of the author (together with Jewelwayne Cain, Pravin Krishna, Rana Hasan, and Beyza Ural Marchand) contains a larger number of background references for the material presented here and has been used intensively in some parts of this paper ([1], [4], [7]; Cain, J. S., R. Hasan, and D. Mitra. "Trade liberalization and poverty reduction: New evidence from Indian states." In: Bhagwati, J., and A. Panagariya (eds). India's Reforms: How They Produced Inclusive Growth. New York: Oxford University Press, 2012; pp. 91–185).
Competing interests
The IZA World of Labor project is committed to the IZA Guiding Principles of Research Integrity. The author declares to have observed these principles.
© Devashish Mitra