Elevator pitch
Following a decline in employment and participation rates during the 1980s and 1990s, Israel managed to reverse these trends during the last 15 years. This was accompanied by a substantial decrease in unemployment. New labor force participants are mostly from the low end of the education distribution, and many are relatively old. They entered the labor force in response to cuts in welfare payments and increases in the mandatory retirement age. Net household income for all population groups has increased due to growth in labor income; however, inequality between households has increased.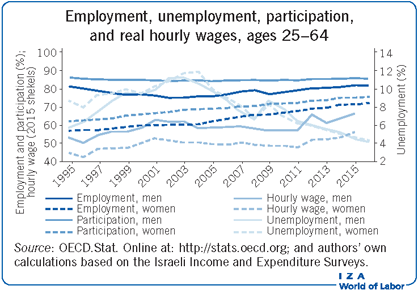 Key findings
Pros
There have been significant increases in both men and women's employment and participation rates, and unemployment has decreased to its natural level of around 4%.
Real earnings of the average and median worker have risen.
Net real household income increased for all percentiles and all population groups.
Employment gaps between Arabs and Jews have narrowed.
Employment gaps between ultra-Orthodox and non-Orthodox Jews have narrowed.
Cons
Male participation is still lower than in the OECD average.
Wide gaps in earnings persist between the various population groups.
There is high and growing income inequality between households.
The employment rate for Arabs is still below that of the Jewish population.
The employment rate of ultra-Orthodox Jews is still below that of the non-Orthodox population.
Author's main message
Overall, the Israeli labor market is doing remarkably well. Since 2002, the employment rate has increased by more than ten percentage points, unemployment has fallen to its natural level of 4%, and real hourly wages have increased by eight percentage points. There are, however, serious challenges facing two large minority groups, Arabs and ultra-Orthodox Jews, who lag behind in both employment and earnings. Policymakers can address these challenges by maintaining the current successful policy of promoting employment with a special focus on these two groups, as well as by encouraging investments in their human capital through higher education and training.
Motivation
Following a period of exceptionally rapid increase, the current employment rate in Israel is higher than the US and the OECD averages. This rise can be attributed primarily to a series of successful policy measures that increased the incentives to work, lowered welfare payments and income tax, and increased the mandatory retirement age. Despite the welfare cuts, the increase in employment was accompanied not only by higher wages but also by higher household gross and net incomes. However, these positive outcomes are not equally enjoyed by the entire population. Although individuals who are low-skilled, older, and from large families experienced the fastest growth in employment, significant gaps still exist, with especially low employment among Arab women and ultra-Orthodox Jewish men. Additionally, while labor income inequality went down, net income inequality rose, with Arab and ultra-Orthodox households still having much lower incomes.
Discussion of pros and cons
Limitations and gaps
While this article focuses on employment and earnings, which are the main and most important labor market outcomes, there are other characteristics that may be of interest: hours of work and the share of part-time and full-time workers; the distribution of workers across occupations and economic sectors; and the dynamic transitions in and out of participation and employment. These can be examined both over time and across groups, but are beyond the scope of this article. The study of transitions requires longitudinal data, which have only been available in Israel since 2012.
Summary and policy advice
Overall, the Israeli labor market is performing remarkably well, with high employment rates, very low unemployment rates, and increasing hourly wages. However, the Arab population (20% of Israel's total population) and the ultra-Orthodox Jewish population (10% of Israel's total population) still lag far behind the majority group (non-Orthodox Jews) in terms of employment and earnings. Moreover, according to the Israeli Central Bureau of Statistics, by 2059, the proportion of Arabs in Israel will increase to 23% and the proportion of ultra-Orthodox Jews will increase to 27%, so that together they will account for 50% of the total population. Therefore, an important challenge facing Israeli policymakers is to further increase the low employment rates among those two groups. The good news is that the policy measures described above have had a huge positive impact on employment among these two minority groups. Therefore, the most sensible policy advice when it comes to employment is to maintain the current policy agenda.
In contrast to the increase in employment, hourly wages of Arabs and ultra-Orthodox Jews have not increased, and thus remain much lower than those of non-Orthodox Jews, whose wages did increase during this period. There is an urgent need to encourage investment in the human capital of the minority populations, which can be accomplished by establishing additional institutions of higher education and designated training centers in areas where these groups are concentrated.
Another challenge to address is growing inequality. Past policy measures, together with demographic changes in Israel's population, have reduced labor income inequality; however, the level of net income inequality is high and has trended upward. This constitutes a threat to the stability of society and should be a top priority for policymakers.
Acknowledgments
The authors thank the IZA World of Labor editors for many helpful suggestions on earlier drafts. Previous work of the authors contains a larger number of background references for the material presented here and has been used intensively in all major parts of this article [2], [10].
Competing interests
The IZA World of Labor project is committed to the IZA Guiding Principles of Research Integrity. The author declares to have observed these principles.
© Tali Larom and Osnat Lifshitz