Elevator pitch
The Indian economy entered an ongoing process of trade liberalization, domestic deregulation, and privatization of public sector units in 1991. Since then, per capita output has increased significantly, while the overall unemployment rate has remained low. However, labor force participation rates have fallen sharply, especially for women. In addition, youth unemployment remains stubbornly high, an overwhelming proportion of the labor force continues to work in the informal sector, and there is little evidence of a sustained rise in wages for either unskilled rural or factory workers.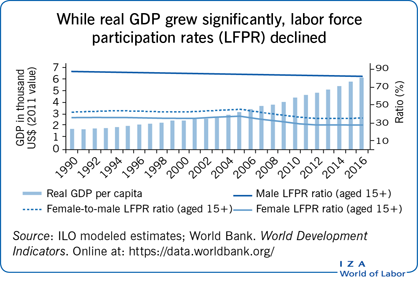 Key findings
Pros
At present, real GDP per capita and real GDP per person employed are both about 3.5 times their respective 1991 levels.
The overall unemployment rate has remained essentially below 5% since 1991.
Average labor productivity in organized manufacturing is now almost three times higher than in 1990.
After a period of stagnation, unskilled rural wages increased by around 35% in the period 2007–2013; wages also rose in the organized manufacturing sector, though to a much lesser extent.
Cons
For young workers (aged 15–24), unemployment has remained steady at around 10%.
Since 2005, the labor force participation rate has fallen sharply for both women and younger men; the female participation rate fell relative to the male rate by around ten percentage points.
Labor productivity in agriculture and related sectors has fallen to about 30% of the economy-wide average, even as almost half the labor force remains in these sectors.
Over 90% of the labor force continues to be in the informal sector, with no job security or protective labor legislation.
Author's main message
The Indian economy has performed well in terms of GDP growth and increases in output per worker over the last 25 years. There has been significant structural change during this time, with the importance of agriculture relative to total output falling sharply. While the aggregate unemployment rate has remained low, this is associated with a large fall in labor participation among women and young men. Employment continues to be overwhelmingly informal in nature, without security, income stability or the benefit of protective legislation. Major reforms are needed in a host of areas before India's most pressing labor-related issues can be addressed.
Motivation
Knowing the facts about a labor market is crucial for understanding labor market policy. Equally important is knowing which areas of a country's labor market are doing well and which ones poorly. India, having the largest labor market in the non-centrally planned world, is an especially important example.
Discussion of pros and cons
Limitations and gaps
The biggest hurdle in carrying out rigorous empirical analysis of India's labor market is the absence of reliable earnings data. As already noted, over 90% of India's workforce is employed in the informal sector, and less than 20% is engaged in regular wage or salaried occupations. About half of India's GDP is generated in the informal sector. Informal sector enterprises do not report earnings or wage data and, at a conservative estimate, over 80% of all workers do not even have written contracts. Fewer than 4% of all Indians report their incomes for income tax assessment, and under-reporting is universally acknowledged to be extensive. Furthermore, until recently, income tax data were not made publicly available by the government for analysis. Consequently, estimates of income distribution as well as employment have to be derived almost entirely from large-scale sample surveys. These surveys are, however, episodic, and have traditionally focused on self-reported consumption expenditure rather than income. Those which do incorporate income estimates are bedeviled by the problems of self-reporting compounded by the informal and fluctuating nature of occupations as well as large-scale use of family labor in agriculture and household industries in rural areas.
Employment estimates suffer from analogous difficulties. Furthermore, the issue of under-employment and disguised unemployment is likely to be important, but impossible to capture satisfactorily in surveys when work is predominantly either of the self-employed or casual labor kind. These data limitations make detailed analyses of employment and earnings trends outside the formal sector in India difficult beyond a broad impressionistic level. While long overdue, the country still does not have a longitudinal survey of occupations, income, or internal migration for example.
Summary and policy advice
Increasing the impact of output growth on employment outside agriculture, bringing a larger proportion of the population within the ambit of income tax, and formalizing the informal sector remain India's greatest policy challenges. Without the first, substantial labor transfers from the overcrowded agricultural sector cannot be realized. Without the second, the income tax mechanism cannot be used to reduce inequalities generated by the labor market in any substantive sense. Without the third, even a modest system of worker protection and a universal social safety net would both remain almost impossible propositions. Expanding the coverage of the current National Rural Employment Guarantee Scheme and maintaining it over the next 15–20 years could play an important role in attaining the first objective. Stepping up the growth rate of the manufacturing sector is also essential, since manufacturing in India exhibits the highest employment elasticity of output growth among sectors, in particular for unskilled workers. The second requires plugging major loopholes in tax laws, especially eliminating the tax-free status of agricultural income, and a major improvement in tax compliance. A substantial improvement in the ability of the legal system to deliver cheap, quick, and binding arbitration is also essential in this context. The third requires the elimination of the many policy-induced distortions that favor smaller operations and negate both technological and financial economies of scale. Also relevant in this context is the highly fragmented nature of India's land market, the often fuzzy nature of property rights, and the interminable nature of land litigation, all of which work against the easy acquisition of land, which is necessary for large-scale operations. These factors also make it inordinately difficult to build the public infrastructure necessary to support large-scale operations. Without sustained and proactive government intervention in the land market (a political hot potato in India), enterprises will continue to face major obstacles to scale expansion. The fragmented and highly dispersed nature of work sites will, in turn, continue to deter unionization of the casual and contract labor force and the expansion of at least some labor protection legislation to cover these segments.
Acknowledgments
The authors thank an anonymous referee and the IZA World of Labor editors for many helpful suggestions on an earlier draft.
Competing interests
The IZA World of Labor project is committed to the IZA Guiding Principles of Research Integrity. The authors declare to have observed these principles.
© Indraneel Dasgupta and Saibal Kar