Elevator pitch
From 2000 to 2019, Canada's economy and labor market performed well. Important in this success was a strong resource boom from the late 1990s to 2014. After the boom the economy and labor market adjusted relatively smoothly, with labor and other resources exiting resource-rich regions and moving elsewhere. Strong growth in major export markets (Asia and the US) aided the adjustment. The Covid-19 downturn resulted in an unprecedented decline in employment, and a steep rise in unemployment and non-participation. Despite the severity of the Covid-19 shock, by December 2021 most key measures of labor market activity had returned to pre-pandemic levels.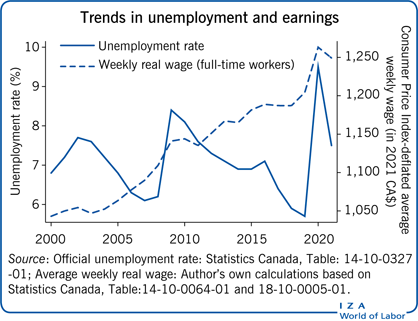 Key findings
Pros
Economic downturns during 2000–2019 were much less pronounced than during the 1980s and 1990s.
With the exception of the Covid-19 downturn, recent recessions in Canada have been much milder than in the US and much of Europe.
After rising markedly during the 1980s and 1990s, income inequality has been relatively stable since 2000 and declined a bit after 2008.
The male–female earnings gap has continued to decline, as have the earnings gaps between union and non-union workers and permanent and temporary/casual workers.
Cons
The end of the resource boom in 2014 required substantial labor reallocation due to job losses and unemployment in resource rich regions.
Real wage gains from 2000 to 2016 were modest in size—but nonetheless greater than during the preceding 20 years.
Real earnings gains were very unevenly shared in the 1980s, 1990s, and early 2000s, with especially large gains at the top of the wage distribution.
The labor market became polarized in terms of "good" (high-skill and high-paid) and "bad" jobs between 1970 and 2000, but has since stabilized.
Author's main message
The labor market performance has been good (but not excellent) since 2000, and Canada avoided the worst effects of the 2008 financial crisis. Since 2000, real earnings have grown at a modest pace and income inequality has remained relatively stable. Despite these positive outcomes, the share of earnings received by the top 1% and 10% substantially exceeds levels experienced earlier in the post-war period. The resource boom and the accompanying high value of the Canadian dollar brought about substantial reallocation of labor and other resources into resource-rich regions, which reversed post-boom. Covid-19 resulted in an unprecedented decline in employment and huge increases in unemployment and non-participation. Despite this, by December 2021 most labor market measures had returned to pre-pandemic levels. Looking ahead, a central challenge will be achieving "inclusive growth."
Motivation
Knowing the facts about a labor market is crucial for understanding labor market policy and for having a relevant background for discussing labor markets worldwide. Equally important is knowing which aspects of a country's labor market are performing well and which ones are doing poorly. This article provides these facts and background for Canada, a small open economy that relies heavily on international trade and which has a large resource sector.
Discussion of pros and cons
Limitations and gaps
The most significant development in Canada's labor market is the dramatic rise in incomes at the top of the distribution. The vast majority of this income is payment for labor services, not other sources such as investment income [12]. However, traditional household surveys do not capture these earnings well because of top-coding in survey data as well as non-response to earnings questions. The best source of information is income tax data—the source used in the income share series shown in Figure 5. However, such data are only available with a time lag. Also, they are not made available in a manner that permits calculation of inequality measures such as 90/10 and 90/50 earnings differentials. Most importantly, many professionals receive earnings through personal private corporations, and only the amount taken out of the corporation each year is reported for tax purposes. Thus, the income shares in Figure 5 probably understate the rise in top incomes.
Summary and policy advice
Canada's economy and labor market performed well during the 2000–2021 period, at least compared to the previous two decades. The absence of major recessions such as those experienced in the 1980s and 1990s played an important role in this performance. A related factor was the 15-year resource boom that ended in 2014. A major concern at that time was that trends that were ameliorated by the boom—rising inequality and low real wage growth for most workers—would re-emerge. However, as noted previously, the re-allocation of labor out of resource-intensive regions went relatively smoothly. Although income inequality remains much higher than in the 1970s, it has stopped increasing and by several measures has fallen by a modest amount since 2008. At the bottom end, substantial increases in real minimum wages since the early 2000s appear to have contributed to the levelling off (and even small declines) in growing inequality. Since the financial crisis in 2008–2009 the shares of income received by top earners have declined somewhat but remain at historically high levels.
The most promising policy changes for reducing inequality are those affecting the pre-tax and transfer income distribution [7]. Nonetheless, Canada's tax and transfer system can also contribute. Although tax rate adjustments are possible, it would be preferable to work toward eliminating unnecessary tax preferences used disproportionately by high earners.
Acknowledgments
The author thanks an anonymous referee and the IZA World of Labor editors for many helpful suggestions on earlier drafts. The author further thanks Mallory Felix and Shritanjay Bhatia for excellent research assistance, Nicole Fortin, David Green, and Thomas Lemieux for helpful comments and the SSHRC for financial support. Version 2 of the article updates the text and figures to 2021, including the effects of Covid-19 on the labor market.
Competing interests
The IZA World of Labor project is committed to the IZA Code of Conduct. The author declares to have observed the principles outlined in the code.
© W. Craig Riddell