Elevator pitch
As migration flows to developed countries have increased in recent decades, so have the number of countries from which migrants arrive. Thus, it is increasingly important to consider what role differences in culture and language play in migration decisions. Recent work shows that culture and language may explain migration patterns to developed countries even better than traditional economic variables, such as income per capita and unemployment rates in destination and origin countries. Differences in culture and language may create barriers that prevent the full realization of the potential economic gains from international mobility.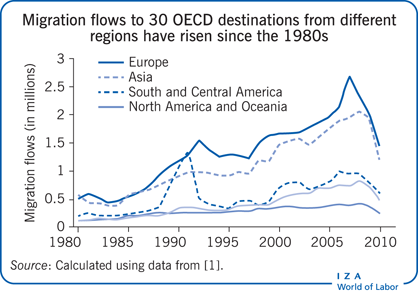 Key findings
Pros
Self-selection to more culturally similar destination countries boosts returns to human capital and improves integration.
Large communities of people with the same language and culture in destination countries encourage moves and decrease migration costs.
Acquiring skills in the language of the destination country is a human capital investment, even for temporary migrants.
Knowing the most widely spoken languages (in particular, English) provides an additional advantage to migrants.
Historical ties (especially when colonial languages are also an official language in the origin country) lower migration costs.
Cons
If migrants respond to linguistic and cultural barriers in some countries by migrating to countries with closer cultural ties to their country of origin, they may miss out on larger economic gains elsewhere.
Restrictive migration and naturalization policies that include a premium for knowledge of local languages increase selection.
Linguistic and cultural enclaves may reduce the return to skills.
Cultural enclaves may marginalize migrants by reducing socio-economic assimilation.
It is difficult to measure fluency in second languages and understand their role in migration decisions.
Author's main message
Differences in language and customs between countries imply costs that potential migrants likely consider in deciding whether to migrate and where to go. Fluency in the language of the destination country—and ease of learning it—can facilitate the transfer of migrants' skills to the new labor market, contributing to the global interchange of skills and stimulating economic growth. Policies promoting instruction in foreign languages can foster the international mobility of workers, with potentially large individual and social returns through increased worker productivity and quicker socio-economic integration of new arrivals.
Motivation
After the mid-1980s, migration flows to developed countries started to increase and to become more diverse. Increases have been especially notable from Asian countries, followed by Latin American and African countries. Analyses of such immigration patterns have been made possible by new data sets on migration, such as the one employed in the Illustration with inflows and stocks of foreigners in 30 OECD destination countries from 223 origin countries over 1980–2010 [1], [2]. With the rising diversity of countries of migration origin, it is likely that linguistic and cultural barriers play an increasing role in explaining international migration flows, even after taking into account differences in economic conditions between origin and destination countries. If the linguistic and cultural differences are large, migrants may react by selecting destinations with closer ties with their own culture, even if potential economic gains are greater elsewhere, thus reducing the economic gains from migration.
Discussion of pros and cons
Limitations and gaps
Analysis of the cultural determinants of migration flows has taken off recently thanks to new, larger data sets on migration flows and stocks. Until recently, most studies were confined to migration between OECD countries and to a limited timespan. New data sets that encompass a large panel of origin and destination countries or contain information on the educational attainment of migrants from many origin countries provide a more heterogeneous set of country pairs to test the relevance of culture for migration decisions [1], [7]. Still, most analyses rely on aggregate migration flow and stock data, which do not permit easy measurement of potential migrants' average knowledge of destination country languages. This makes it difficult to completely control for selection by origin country. Further, there is no easy way to distinguish individual groups from each other in terms of cultural distance. For example, it might be that migrants from some origin countries are mostly people of certain racial or ethnic minority groups (perhaps with a language different from the country's main language) or people abandoning their cultural backgrounds in search of something new.
A growing literature on the educational, labor market, and other social outcomes of migrants, is beginning to employ measures of cultural-linguistic distance at the micro level. This new strand of research should provide a better understanding of the actual costs of large cultural barriers facing potential migrants.
Finding appropriate measures of cultural differences and interpreting them is also challenging. All research on linguistic distance reviewed here assumes some form of symmetry in the ability to move from one language to another, whereas in reality it might be easier, for example, for a Portuguese speaker to learn Spanish than for a Greek speaker. Similarly, other indices of cultural distance may not properly capture the full adaptation costs.
Finally, the current research is likely to underestimate some of the gains and spillovers from close cultural ties and language knowledge related to consumption, social and civic activities, and other human capital investment activities.
Summary and policy advice
Research on the cultural and linguistic barriers to migration helps to understand the determinants of the direction of migration flows across countries and highlights the importance of moving costs as obstacles to greater international flows. The findings reviewed here imply that linguistic and cultural borders are significant and that they may impede full realization of the economic gains from migration by keeping immigration rates low despite high earnings and employment differentials between origin and destination countries.
Considering the large role that linguistic and cultural factors seem to play in migration decisions, efforts to facilitate labor mobility should include strategies for reducing cultural distances between countries. Policies to encourage foreign language instruction are an obvious choice [11]. Israel, for example, offers new migrants subsidies and access to training programs to encourage learning Hebrew. Such policies can have large returns at both the individual and the societal level by increasing the productivity of workers and facilitating other forms of socio-economic integration of new arrivals. Policies promoting instruction in foreign languages in both immigrant-sending and -receiving countries can foster the recruitment and mobility of international workers, which recent studies link to an increase in cultural exchanges and firms' competitive advantage. International workers with better knowledge of the language of the destination country or of a widely spoken language facilitate the global interchange of skills and stimulate economic performance.
Further, better language skills are also linked to better social outcomes for first- and second-generation migrants. Educational attainment and ultimate labor market outcomes of the second generation hinge, in part, on their parents' ability to understand the local institutions and navigate the system.
Acknowledgments
The author thanks an anonymous referee and the IZA World of Labor editors for many helpful suggestions on earlier drafts. Previous work of the author contains a larger number of background references for the material presented here and has been used intensively in all major parts of this article [1].
Competing interests
The IZA World of Labor project is committed to the IZA Guiding Principles of Research Integrity. The author declares to have observed these principles.
© Alícia Adserà