Elevator pitch
Employers are steadily increasing their reliance on technology when recruiting. On the one hand, this technology enables the wide dissemination of information and the management of large quantities of data at a relatively low cost. On the other hand, it introduces new costs and risks. The ease with which information can be shared, for example, can lead to its unauthorized use and obsolescence. Recruiting technologies are also susceptible to misuse and to biases built into their underlying algorithms. Better understanding of these trade-offs can inform government policies aiming to reduce search frictions in the labor market.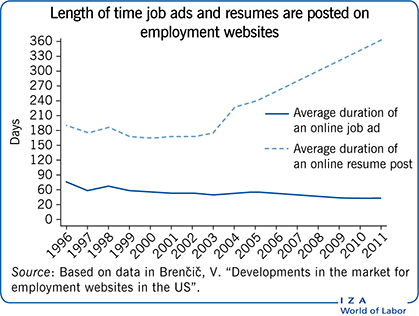 Key findings
Pros
Online job boards have improved the ease with which information about available job opportunities can be shared and updated.
Online platforms for contract labor enable employers to hire from a larger and more diverse pool of applicants.
Better information about job searchers has tilted employers' hiring in favor of disadvantaged job searchers and increased the number and quality of matches, especially for technical jobs.
Better information about employers has increased the quality of matches as evidenced by lower turnover.
Cons
The ease of information sharing on websites that host job boards and resume banks can lead to stale information about jobs and resumes.
Employers can use social networking sites to get information about workers without the workers' knowledge.
The use of technology might not improve hiring and can lead to shorter tenure of new hires.
Exclusive reliance on technology to analyze data can result in inefficient hiring because of biases and manipulation.
Author's main message
With its declining costs and widespread adoption, information and communications technology (ICT) will continue to affect all aspects of recruiting. ICT shapes how required job skills are determined, affects how information about available jobs is disseminated, and helps with the evaluation of potential new hires. Evidence suggests that employers looking for workers with technical skills, non-cognitive skills, and less experience benefit the most from using ICT when recruiting. This suggests that public policy could improve outcomes across a wider group of employers and job searchers, by offering training and incentives that enhance users' ICT skills.
Motivation
Prior to the widespread adoption of information and communication technology (ICT), employers with job vacancies advertised their jobs in newspapers, placed help-wanted signs on their premises, contacted employment agencies, and encouraged employees to spread the word about job openings. Because employers were rarely surveyed about these activities, employer recruiting was not well documented. As a result, researchers have limited understanding about the recruiting process for this period. For the most part, existing research documents the types and number of recruiting channels employers used and the amount of time employers put into analyzing information they received through their various recruiting efforts. Very little data exist on what information employers used and how the available information affected hiring decisions.
Advancements in ICT have led to the introduction of tools that help to store, share, access, and analyze large amounts of data. The widespread adoption of the internet, for example, introduced new tools for information sharing. Craigslist, Monster, LinkedIn, and Careerbuilder are some examples of websites that offer platforms for posting job ads and resumes online. Another group of websites for contract labor offers platforms for actual delivery of jobs that can be conducted and monitored online. Websites like Upwork (formerly oDesk), Amazon's mTurk, and eLance allow employers to hire from a pool of workers from every part of the world. These websites often provide unprecedented levels of detail about prospective workers (e.g. past performance measures, evaluations from past employers, past wages) and job openings. Other websites, like Glassdoor, have emerged to provide a depository of reviews of employers and their workplaces at a level of detail that was not previously available to those without ties to the employers. In a similar way, social networking sites have become a depository of information that employers can access to gain information about their job applicants. Advancements in ICT have also allowed for the introduction of tools such as artificial intelligence (AI), which help with the analysis of information.
Because these new tools leave behind a trail of information that can be stored and analyzed, the wide adoption of ICT is offering new insights into recruiting processes. The black box of recruiting is beginning to be unpacked. However, a growing body of research also offers insights into the costs and risks of using ICT in recruitment. Some of these arise due to a lack of skills needed to use ICT effectively, improper use and low quality of information, and the potential for misuse of tools that help with the analysis of information. This article reviews evidence on the benefits and risks of increasing reliance on ICTs as they substitute and complement traditional recruitment practices.
Discussion of pros and cons
Limitations and gaps
The key factor that limits researchers' understanding of the interaction between ICT and recruiting is the sheer complexity of the interaction. In addition, much of the existing evidence is based on recruiting efforts of employers in North America and tends to be restricted to specific segments of the labor market (i.e. a market for hourly work, jobs that require technical skills, and entry-level jobs). Access to data that are not tied to a particular country, industry, occupation, or skill level would allow a better understanding of the overall nature and variety of drawbacks and benefits of employers' reliance on ICT when recruiting. Furthermore, researchers need to better understand the factors that contribute to or hinder employers' adoption of ICT tools. Particularly important seems to be how differences in their adoption contribute to inequities by widening the gap in labor market experiences between those with access to new tools and those without.
Summary and policy advice
Employers are increasingly relying on the internet and other ICT-backed tools to support many of the processes involved in their recruiting practices. These processes include dissemination of information about available job openings, search for information about potential hires, the analysis of job applications, and the initiation of contacts with potential new hires. Such activities can now be done with greater ease, much faster, and at a lower cost than prior to the adoption of ICT.
That said, new costs unique to the use of ICTs have also become apparent. One such cost is related to the large amount of available irrelevant information, which is due to irregular updating. Another cost arises as information gets accessed without the knowledge of those to whom it pertains thereby raising privacy concerns. The use of ICT as embodied by AI-backed recommendation systems can also result in costs due to suboptimal decisions arising from biases inherent in the underlying algorithms and data. Finally, the potential misuse of ICTs by users who lack the appropriate skills can also be costly and introduces new risks.
New policies need to take these costs and benefits into account. The greatest potential lies in policies that seek to enrich recruiters with skills to help them adopt and use ICT effectively. This could be done through subsidies geared toward on-the-job training or by ensuring that such skills are taught in schools. A separate issue that requires regulatory oversight concerns the need for data retention. AI-based recommendations systems require large amounts of data. Some of these data are digital footprints left by job searchers' and employers' activities online. Longer retention of such data could violate users' rights as protected by privacy laws. It may also be problematic if the data's usefulness decays over time as it becomes obsolete. Regulators could require that the details of underlying algorithms and the data be publicly available for review to minimize biases that can be present in AI-backed recruiting [12].
Acknowledgments
The author thanks two anonymous referees and the IZA World of Labor editors for many helpful suggestions on an earlier draft.
Competing interests
The IZA World of Labor project is committed to the IZA Code of Conduct. The author declares to have observed the principles outlined in the code.
© Vera Brenčič