Elevator pitch
Migration policies need to consider how immigration affects investment behavior and productivity, and how these effects vary with the type of migration. College-educated immigrants may do more to stimulate foreign direct investment and research and development than low-skilled immigrants, and productivity effects would be expected to be highest for immigrants in scientific and engineering fields. By raising the demand for housing, immigration also spurs residential investment. However, residential investment is unlikely to expand enough to prevent housing costs from rising, which has important distributional implications.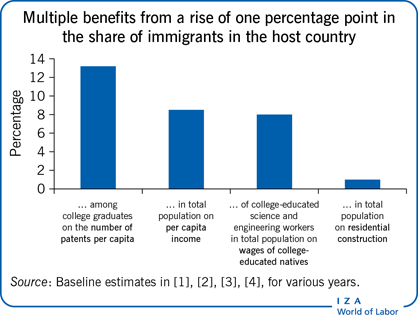 Key findings
Pros
High-skilled immigration attracts foreign direct investment.
Immigrants can help multinational firms find investment opportunities abroad.
Increasing the share of high-skilled immigrants has sizable income effects that can be attributed to productivity gains.
Foreign-born scientists and engineers particularly contribute to innovation and productivity growth.
Cons
Immigration is less likely to promote productivity growth when immigrants are low-skilled.
Residential investment triggered by higher immigration is insufficient to prevent housing costs from rising.
Temporary migrants put most of their savings into remittances, which do not boost investment in the host country.
Attracting high-skilled immigrants may lead to net brain drain for developing countries even though migration possibilities can spur educational investments.
Author's main message
Immigration by high-skilled workers attracts foreign direct investment, helps firms find investment opportunities abroad, and raises per capita income by boosting productivity. However, despite triggering residential investment in the host country, immigration also raises housing costs, with undesirable distributional effects. Brain drain potentially also harms home countries. Policymakers should thus consider selective immigration policies that attract high-skilled workers, accompanied by redistributive measures that benefit low-income households in the host country and by compensating measures for the home countries that lose part of their high-skilled workforce.
Motivation
Modern economic growth theory suggests that the interaction of technological progress and capital accumulation is the ultimate source of long-term economic growth. Whether immigration flows cause changes in labor productivity through investments in capital and research and development (R&D) is an important issue for policymakers. Examining how immigration affects capital formation and productivity requires a dynamic perspective that includes the effects on the accumulation of residential and non-residential physical assets, intangible assets (knowledge capital), and human capital (skill formation). For instance, technological improvements could arise as a result of the immigration of high-skilled workers with science and engineering (S&E) skills. Moreover, immigrants may help foreign firms find investment opportunities in the host country and foster foreign direct investment (FDI).
It is important to distinguish potentially differential impacts of temporary and permanent immigration and diversity of migrants according to skill. The income distribution effects through the impact on housing costs also need to be considered. If immigration raises housing costs because the demand for housing expands faster than supply, welfare decreases, particularly for poorer households because of their higher expenditure share for housing. Social responsibility also requires consideration of the (brain drain) effects of immigration policies on home countries.
Discussion of pros and cons
The interaction between international migration and investment has been studied much less than, for example, the labor market effects of immigration on native-born populations and foreign-born workers already living in host countries. (Immigrants are typically defined as foreign-born individuals aged 25 or older.) Although the typically estimated shorter-term effects of immigration on employment and wages are small, migration may lead to larger increases in wage income in the longer term by enhancing FDI in both the home and the host countries as well as by boosting productivity in the host country.
Limitations and gaps
Though consistent, the evidence that immigration is positively related to capital investment, productivity, and innovation is still rather limited and largely confined to the US. More evidence at the regional level within other countries is also needed on the effects of immigration on FDI and residential construction.
No empirical studies have been conducted so far on the two-way interaction between immigration and residential investment. Intuitively, while immigration triggers housing demand and residential investment, inadequate residential investment because of zoning restrictions can lead to high housing costs that discourage immigration. The wage gains of immigrants in the host country compared with the home country could be nullified by rising housing costs in the host country, thereby further discouraging immigration. It would thus be interesting to know more about the interaction of immigration and zoning regulations for residential construction.
The evidence strongly suggests that high-skilled immigrants stimulate capital investment and raise productivity in the host country, but much less is known about the potential effects of migration, particularly of low-skilled migrants, on capital formation in home countries. A potential avenue for such impacts is through remittances, which could support entrepreneurship among migrants' family members who remain behind in the home country.
Summary and policy advice
Empirical evidence suggests that immigration of educated workers attracts FDI, helps firms find investment opportunities abroad, and raises per capita income by enhancing labor productivity. Particularly the immigration of scientists and engineers stimulates innovation in the host country through patenting. The migration of low-skilled workers seems to have less impact on capital formation in host countries. The evidence supports the design of selective immigration policies to attract high-skilled workers, particularly those with STEM skills. Greater birthplace diversity in a population through immigration is also found to foster economic prosperity, particularly if immigrants are well-educated.
However, there is the issue of potential brain drain in developing countries that lose part of their skilled workforce in response to skill-selective immigration policies in host countries. Such emigration may conflict with development goals and may lead to a net skill loss in home countries, despite potentially positive effects on educational investment associated with migration prospects. Admitting more students from developing countries on student visas in developed countries is one way to compensate for brain drain.
From a development policy perspective, the main benefit of emigration for the home country comes from remittances. Because remittances tend to be higher from temporary migrants than from permanent migrants, providing opportunities for temporary work in developed countries may be conducive to economic development in home countries. However, temporary migrants have less incentive to learn the host country language, which is an obstacle for improving their earnings prospects over time.
Despite the many potentially positive effects of immigration, policymakers have to be aware that high levels of immigration can provoke a backlash against liberal immigration policies in host countries, especially if housing costs rise as a consequence. Not everyone in the host country may benefit from immigration despite welfare gains in the aggregate. Possible measures to redress the imbalance include transfers to low-income households (who typically rent rather than own housing property and have comparatively high housing expenditure shares), possibly financed by increases in taxation of housing property, financial wealth, and bequests. In other words, undesirable distributional effects associated with higher housing prices could be addressed by the tax-transfer system instead of limiting immigration and forgoing welfare gains from immigration.
Acknowledgments
The author thanks Aderonke Osikominu, anonymous referees, and the IZA World of Labor editors for many helpful suggestions on earlier drafts. Previous work of the author (together with various co-authors) contains a larger number of background references for the material presented here and has been used intensively in major parts of this article [6], [12], and Felbermayr, G., V. Grossmann, and W. Kohler. "Migration, international trade and capital formation: Cause or effect?" In: Chiswick, B. R., and P. W. Miller (eds). The Handbook on the Economics of International Migration, Vol. 1B. Amsterdam: Elsevier, 2015. Version 2 of the article includes further evidence of the effects of immigration on knowledge capital formation, includes a section on the skill formation of migrants, and adds new "Key references" [8], [14].
Competing interests
The IZA World of Labor project is committed to the IZA Code of Conduct. The author declares to have observed the principles outlined in the code.
© Volker Grossmann