Elevator pitch
Compulsory schooling laws are a common policy tool to achieve greater participation in education, particularly from marginalized groups. Raising the compulsory schooling requirement forces students to remain in school which, on balance, is good for them in terms of labor market outcomes such as earnings. But the usefulness of this approach rests with how the laws affect the distribution of years of schooling, and the wider benefits of the increase in schooling. There is also evidence that such a policy has an intergenerational impact, which can help address persistence in poverty across generations.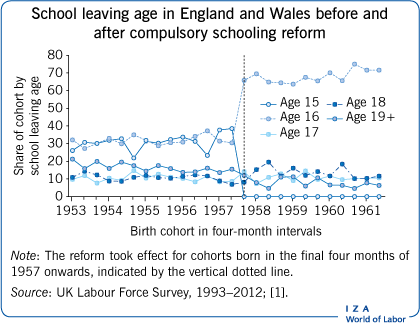 Key findings
Pros
Opportunity costs of remaining in school may decrease due to compulsory schooling reforms.
Changes in compulsory schooling provide an important tool to estimate the economic return to schooling.
Children of parents who had more schooling due to compulsory schooling reforms may themselves experience benefits.
Indirect benefits from compulsory schooling reforms include lower crime rates and improved mental health outcomes.
Cons
While politically convenient, compulsory schooling reforms are expensive.
Most evidence suggests that the education impact from compulsory schooling is primarily on the most "marginal" students.
Estimated returns are highest when compulsory schooling reforms encompass an important qualification level, which makes results hard to generalize.
There is less evidence of wider impacts from compulsory schooling on physical health or mortality rates.
Author's main message
The intended impact of a change in compulsory schooling is, by and large, to increase the level of education of those most likely to leave school early; if this is a large cohort and there is strong compliance, it will also raise average schooling levels in the population. The economic return—in terms of earnings—to this schooling can be sizable, which may also have intergenerational returns for the children of those affected by the reforms. Other social benefits, such as crime reduction, improvements in financial literacy, and improvements in mental cognition in older age may also be quite substantial. Less evident are lasting impacts on other private outcomes, such as health.
Motivation
Compulsory schooling law changes are paternalistic in nature. In effect, they are based on a presumption that schooling choices (which students and parents make) are worse than they would optimally be for some children. Policymakers see such changes as one way to address persistent economic and social issues, such as improving the educational attainment of those students most "at risk" of dropping out. The policy also remains topical: For instance, the UK is phasing in a variation of compulsory schooling, referred to as a "participation age," which requires students to remain in education or training until the age of 18.
Any assessment of the policy value of a change in compulsory schooling requirements crucially depends on whether such change delivers on its underlying policy driver: increasing the minimum education level in the population. Alternatively, the change may just have an impact on an important but distinct group: those most likely to leave school early. The primary issue is whether or not the impact of the reform is enough to generate sizable labor market returns for those impacted by it. It is also important to consider whether or not other benefits (private or social) associated with increased educational attainment are generated, such as increased financial literacy, better health outcomes, or reduced probability of being involved in crime. In general, however, analysis of the impact of compulsory schooling has not accounted for the often quite substantive questions of schooling quality that may arise, such as contemporaneous revisions in curriculum standards which change what is actually taught to students, or the impact of student cohorts being retained in existing schools without commensurate changes in the number of teachers or in the buildings/facilities on school campuses.
Discussion of pros and cons
Limitations and gaps
In many of the health focused studies, the data do not give clear evidence on the transmission mechanism for these effects. The examination of an aged-population cohort is limiting of itself (although ongoing work which links data sets like ELSA to administrative records will open up new opportunities for analysis). The SHARE data is very rich in controls but, unfortunately, the sample sizes are too limiting to allow for the impact of additional schooling to be estimated for different sub-populations. Ultimately, it is not clear whether the schooling reform increased earnings, which, in turn, provided a better social environment through "cognitively" rich activity (such as being able to afford membership of social/sporting clubs), or whether the cohort impacted by the reform had more cognitively demanding occupations by virtue of their enhanced schooling, which helped offset later-life cognitive decline.
With respect to the evidence on intergenerational returns, compulsory schooling reforms increase education at the left (low schooling) tail of the distribution, but it is also likely that a policy change that increased enrollment in higher education would have a larger intergenerational impact through, inter alia, increased parental earnings. Furthermore, in this literature there may be issues related to the underlying social and educational structures. The US studies tend to show larger impacts from a change in parental schooling on child outcomes compared to, say, Nordic studies. One interpretation is that the difference is related to the higher average return to education in the US (so the larger impact on the child comes through a sizable parental income effect). In Norway and Sweden, the greater availability of high-quality publicly funded education (which dampens the additional impact of parental investment) lowers the intergenerational returns.
Summary and policy advice
Raising the compulsory schooling level is a policy option that has been utilized by many countries. By and large, the evidence shows that this raises the education of those most likely to leave early, but with some potential for positive impact further up the educational distribution. It also has strong potential for intergenerational effects as well as other outcomes such as health and crime. The impact of that increased education on individuals' earnings is mixed, but is largest when changes in compulsory schooling impact a large cohort and/or lower the likelihood of dropping out without a qualification.
It is, however, not a costless policy. The UK reforms from the 1970s, for example, required a large (and ultimately somewhat haphazardly managed) provision of additional teaching capacity, including physical space, which was often provided in temporary buildings that remained in use long after the reforms were introduced. Raising the compulsory schooling level places strain on the school system, and, moreover, may have some impact on the quality of education (e.g. due to larger class sizes or because potentially less motivated students retained in compulsory school incur negative externalities for the wider school population). Data from the New South Wales state government in Australia place the costs of the 2010 changes in compulsory schooling (from age 15 to 17) at about an additional A$100 million per annum, with the salaries of additional teaching staff making up 60% of that figure. This represents a permanent 1% increase in their total annual expenditure on education. The relatively low cost in this case reflects that the actual average schooling level had largely exceeded the compulsory level in New South Wales, so the cohort affected by the reform is not likely to be very large. By contrast, the costs of the reforms that took place in the UK in the 1970s—where the size of the affected population was more substantial—are likely to have been much larger. More recent reforms aimed at reducing the number that are not in education, training, or employment, such as the UK's efforts to extend schooling of some form (including apprenticeships) to age 18, will generate quite substantial costs for the formal school sector as well as the further education and training sectors.
The basic issue for policymakers facing these costs is whether compulsory schooling reform is an efficient policy choice. If individuals are unaware of the benefits of more education, the case for public policy intervention is stronger. The private returns to the individual in terms of higher earnings and lower probability of exiting school without qualifications has an impact on public finances through lower welfare dependency and higher income taxes, and this is likely to be reinforced over generations. Moreover, the potential for other benefits to substantively outweigh the reforms' direct costs is likely to be larger. As noted by [13], the social benefits from crime reduction that would follow from a 1% reduction in the percentage of individuals with no educational qualifications would reduce the number of property crime offences by as much as 45,000—generating social benefits in excess of £60 million against their estimated costs of £20 million to achieve the 1% reduction.
A focus on increasing participation through raising the minimum schooling level could indeed be a more efficient policy direction, with less of the deadweight effects of subsidy-based strategies. Increased compulsory schooling would also benefit future generations through intergenerational transmission of the benefits of higher levels of schooling among parents to their children. It also fits with a more behavioral approach to addressing educational choice. The evidence suggests that some cohorts are making poor choices in terms of their futures and choosing more immediate gain over the more valuable long-term returns to education. This is a challenge, in that it requires a more targeted approach than policymakers tend to prefer, and a move away from a dependency on welfare and other financial subsidies to encourage better schooling choices.
Acknowledgments
The author thanks an anonymous referee and the IZA World of Labor editors for many helpful suggestions on earlier drafts. Previous work of the author contains a larger number of background references for the material presented here and has been used intensively in all major parts of this article, including [1] and [3]. Financial support from the Australian Research Council (ARC) Centre of Excellence for Children and Families over the Lifecourse is gratefully acknowledged.
Competing interests
The IZA World of Labor project is committed to the IZA Guiding Principles of Research Integrity. The author declares to have observed these principles.
© Colm Harmon