Elevator pitch
Temporary work agencies use training as a recruitment and retention argument when qualified labor is scarce. However, short job assignments present a major obstacle for employers and employees to increase investment in training. As temporary agency workers are mainly low-qualified and often previously unemployed, paid work in combination with training should lead to more sustainable employment. Adjustments in labor market institutions could make the provision of training more attractive for both staffing agencies and temporary agency workers.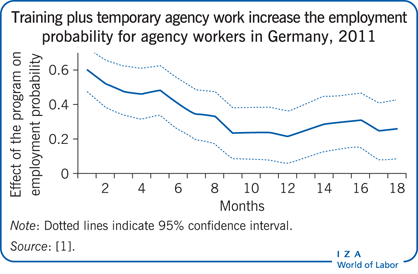 Key findings
Pros
Scarcity of qualified workers and continuous pressure on updating skills drive demand for training.
Training serves as a self-selection and screening device as well as a recruitment and retention argument for staffing agencies.
Training allows agency workers to acquire competencies needed by user companies.
Temporary agency work allows workers to combine paid work with complementary off-the-job training.
Training for previously unemployed and low-qualified agency workers has positive external effects.
Cons
Return on investment in human capital cannot be captured by staffing agencies due to short job assignments.
Agency workers may quit after receiving training in favor of better paid jobs in a user company.
Training programs carry high administrative costs due to the large number of players involved.
Agency workers may be reluctant to invest in training due to short job assignments and insecurity regarding future labor market outcomes.
There is no guarantee that agency workers will receive higher pay after training, and agency training is no substitute for vocational or college education.
Author's main message
A scarcity of qualified workers with specific competencies drives demand for worker training. Staffing agencies contribute by allowing the previously unemployed to combine paid work with training. This training is predominantly offered in the form of short-term measures and e-learning to enable job assignments for low-qualified agency workers. The provision of training is associated with positive external effects. Therefore, governments should update labor market institutions in order to internalize these external effects. This will incentivize employers and employees to invest more in training.
Motivation
Temporary agency work is characterized by a triangular relationship between agency workers, staffing agencies, and user companies. It consists, on the one hand, of an employment contract between temporary staffing agencies and temporary agency workers, and, on the other hand, an employee placement contract between temporary staffing agencies and user companies. Both contracts are preconditions for job assignments at user companies. In essence: Agency workers work for a user company but are employed by a staffing agency [2].
This business model has spread worldwide over the last decades. However, institutional arrangements differ enormously between countries. In some countries, such as Germany, staffing agencies act as employers for agency workers. According to German law, such agencies have to pay for sickness, vacation, and idle time. Conversely, in most other countries, staffing agencies are simply job placement agencies. According to French law, for example, they are only required to pay their agency workers in case of job assignments.
Although staffing employment has grown over the past decade, it has remained at very low levels in terms of overall employment share (the "penetration rate"). Figure 1 provides an overview of temporary agency work penetration rates between 2000 and 2013. In key markets, such as the US, Japan, and Europe, a maximum of four out of 100 employees are classified as agency workers.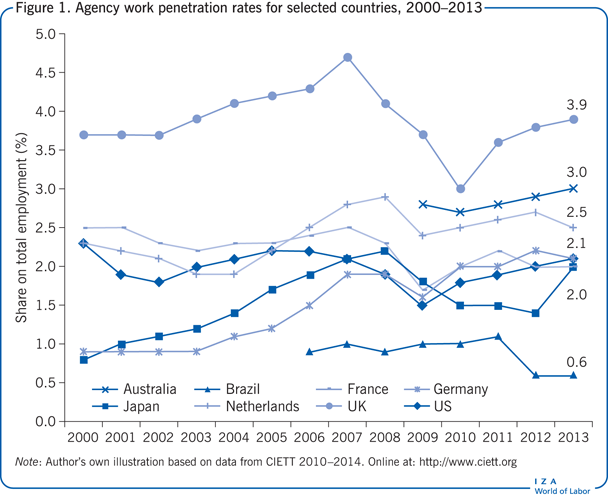 Agency workers are mainly young, male, low-educated, and often previously unemployed. They are predominantly employed in the industrial sector. As such, their job profiles change over time due to automation so that hard and soft skills have to be continuously developed. Agency work allows for on-the-job informal learning. Furthermore, training could also improve workers' employability and increase their retention probability.
Discussion of pros and cons
This article explores the role of staffing agencies in the provision of training to low-skilled and unemployed workers. Relevant questions deal with the sufficiency of current training offered, the amount of investment being done by workers in their own human capital, and whether agency training actually benefits temporary workers. Furthermore, the role of governments with respect to agency training and issues regarding the provision of training during times of qualified labor scarcity are addressed.
Limitations and gaps
Empirical literature on the effects of training in connection with temporary agency work is still rare. Currently, selected surveys provided by federations and anecdotal evidence based on best-practice examples comprise the bulk of available data. However, some high-quality studies that take the fundamental evaluation problem into account highlight the positive causal effects of training provided by staffing agencies [1], [8].
Future research should include cost–benefit analyses. Even if training measures are effective, it might be that they are not cost-efficient. From a fiscal point of view, it is important to know if deadweight or displacement effects play a role. Furthermore, research periods are often too short. Additional knowledge about the long-term effects of training would be useful. Learning more about the sustainability of employment and higher pay as a result of training would also be of great interest. Closer collaborations between staffing agencies, user companies, and research institutions would help to collect more data, to develop more elaborate research agendas, and to apply more sophisticated research methods.
One further obvious gap is the lack of reliable sector-specific information on the extent of training. Comparisons among sectors are hard to find on a country-level basis, and are impossible across multiple countries. This is partly due to the triangular relationship at play, where training is often provided as a joint product by staffing agencies and user companies, sometimes even done together with other stakeholders such as the public employment services or external training institutions.
Summary and policy advice
In a world with a scarcity of qualified labor, temporary agency work can provide more than just on-the-job training for previously unemployed and low-qualified workers. On the one hand, job assignments are generally short in duration and overall costs for providing training are high, meaning that staffing agencies may not be able to capture the return on their investment in human capital. If user companies do not reward these efforts with higher fees, and if agency workers fail to express their appreciation through higher retention rates, then training will not be profitable for staffing agencies. On the other hand, training is associated with positive external effects, such as staffing agencies' risk of lost return on human capital investment, and some evaluation studies find positive causal effects of agency work combined with training on the employment probability of agency workers. This result indicates that workers benefit from training programs, even if the staffing agency loses out.
New institutional arrangements could encourage staffing agencies to play a more important role in training. For example, if governments correct market failures that are linked to training's positive external effects, then the modification of labor market institutions might facilitate more frequent training provision. Publicly co-financed training schemes such as the German training vouchers or "conditional on training" employer subsidies could also help foster increased training. In addition, more effective contractual arrangements could be designed to bind trained agency workers to the firm that provides this training, reducing the financial risk of providing training for staffing agencies. Convenient labor law modifications could make binding agreements more reliable without undermining workers' rights. In sum, there are numerous ways in which staffing agencies could provide additional, effective training for low-skilled and previously unemployed workers.
Acknowledgments
The author thanks two anonymous referees and the IZA World of Labor editors for many helpful suggestions on earlier drafts.
Competing interests
The IZA World of Labor project is committed to the IZA Guiding Principles of Research Integrity. The author declares to have observed these principles.
© Alexander Spermann