Elevator pitch
Employment tribunals or labor courts are responsible for enforcing employment protection legislation and adjudicating rights-based disputes between employers and employees. Claim numbers are high and, in Great Britain, have been rising, affecting both administrative costs and economic competitiveness. Reforms have attempted to reduce the number of claims and to improve the speed and efficiency of dealing with them. Balancing employee protection against cost-effectiveness remains difficult, however. Gathering evidence on tribunals, including on claim instigation, resolution, decision making, and post-tribunal outcomes can inform policy efforts.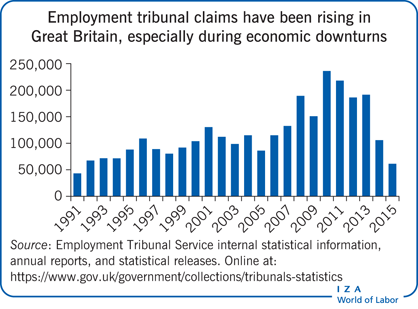 Key findings
Pros
Employment tribunals and other labor courts are important institutions for enforcing workers' legal rights and protections.
The incidence of claims—notably for unfair dismissal—rises during economic downturns and varies with other factors, including the extent of unionization.
Settling cases before hearings are held depends on parties' expectations about what the adjudicated decision will be and on conciliation interventions.
Tribunal judgments reflect social and economic factors as well as legal and procedural compliance.
Cons
High numbers of claims place pressure on the tribunal system and can result in significant costs to both sides in the case and to the state.
Because tribunals are charged with enforcing employment protection legislation, they have been criticized for having a negative impact on labor markets.
For a small number of claimants, most notably those whose cases are dismissed without a hearing, there appear to be adverse labor market consequences from seeking redress through tribunals.
Author's main message
Employment tribunals and labor courts have a central role in enforcing employment protection laws and safeguarding other worker rights. What is currently understood about claim instigation, conciliation, and adjudication suggests possible alternatives to the deregulatory dynamic that has emerged in several countries. Improving the quality of information and support available to parties in disputes and working with small firms, which may lack awareness of legal requirements and engage in more informal employment relations, offer promise for improving the labor dispute settlement process without compromising worker rights.
Motivation
Protection of statutory employment rights—such as those related to employee dismissal on the basis of capability/conduct, redundancy, or discrimination—require independent adjudication of disputes between employer and employee about alleged violations. In Great Britain (i.e. the UK excluding Northern Ireland, which has a separate system), this adjudication is the role of employment tribunals. Other advanced economies have similar labor courts. Legal and institutional arrangements vary.
In contrast with most European countries, where caseloads have been stable or falling, in Great Britain volumes have risen sixfold since the early 1980s [1]. Although numbers and rates of claims are as high or higher elsewhere, the upward trend in Great Britain has made this an active policy area for successive governments [1]. Recent reforms have also reflected a concern—shared with policymakers elsewhere—about the adverse impact on business and job creation arising from enforcement of employees' rights, most notably around dismissal, especially with the high unemployment rate after the 2008 financial crisis.
Because the British debate is especially polarized, this article focuses on employment tribunals there, drawing on wider international evidence where available.
Discussion of pros and cons
Recent policy reform in Great Britain
With employment tribunals having responsibility for enforcing aspects of employment protection legislation, recent policy reforms have concentrated largely on that role. Critics cite the risk that costly litigation reduces business flexibility and deters hiring, inhibiting economic growth and recovery. This remains a controversial topic, although it is worth noting that most of the empirical analysis to date—both in Great Britain and elsewhere—has focused on the extension of rights (through legislation) rather than on their enforcement and the institutions responsible for enforcement.
British claim volumes have grown during two main periods: in the 1990s, with the expansion of the range of legislated employee rights; and in the mid-2000s, with the increase in (primarily) equal pay claims involving multiple claimants. Structural differences across countries, such as in the mechanisms for bringing claims and in the propensity to litigate, make it difficult to compare rates. But as Figure 1 shows, claim incidence in Great Britain still appears relatively low.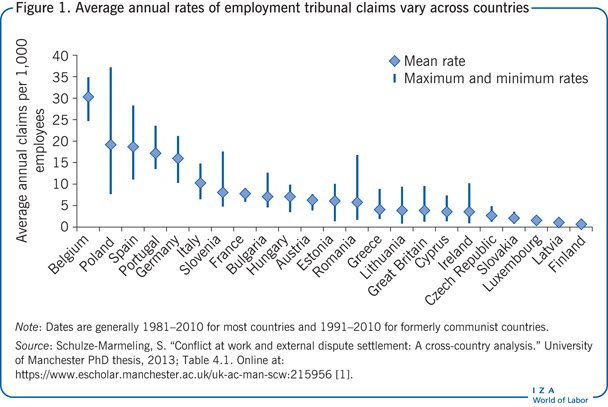 Changes since 2012 in Great Britain include introducing fees for bringing and hearing claims (July 2013), reinstating the previous (longer) qualifying period of two years for eligibility to bring unfair dismissal claims (April 2012), and shortening the consultation period for mass layoffs (April 2013). A new employee status was established (September 2013), known as "employee shareholder," that allows employees to forgo certain employment rights, including claims of unfair dismissal, in return for a minimum shareholding in the firm. And since April 2014, potential claimants are required to notify the Advisory, Conciliation, and Arbitration Service (Acas) of intention to file and to consider "early conciliation" before doing so.
Imposing a fee of up to £1,200 for bringing and hearing claims—much higher than in most other countries—is the most noticeable change. Administrative data reveal that the impact on claim numbers has been considerable, with claims falling by about two-thirds (Figure 2). An initial sharp rise in the number of claims immediately before the fees were introduced but after they had been announced was followed by a steep reduction. Although fees were reduced or waived for people on low incomes or benefits, the reforms have been criticized by some as limiting access to justice.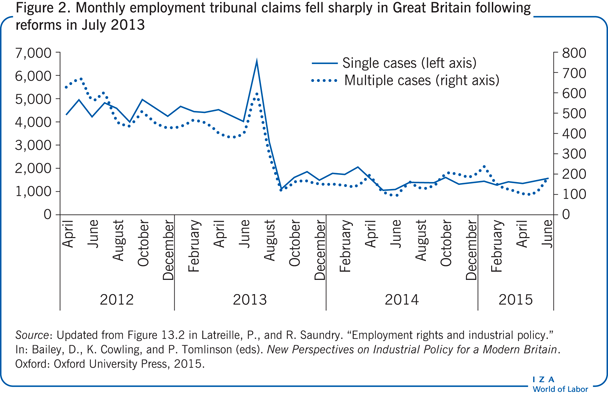 Great Britain is not alone in trying to reform its employment rights adjudication system, however. Australia, New Zealand, and some other OECD countries are also revamping state-sponsored arbitration of employment dismissal disputes, with a similar emphasis on measures to strengthen job creation and business efficiency [2]. The challenge for policymakers is to balance appropriate employee protections with efficiency gains through adjustments to the enforcement apparatus.
A framework for the evidence
The discussion of the evidence that follows is structured around the life-cycle of employment tribunal claims—instigation, conciliation, and determination. A small amount of evidence also exists for post-claim experiences.
Limitations and gaps
While this article describes the best evidence to date, there are important caveats. The available data largely preclude accounting for the bias that arises when, at various stages of disputes, samples of observed cases are subject to strategic selection. This is an important shortcoming even though studies that consider the issue find treating stages of dispute settlement independently does not greatly distort the results. Better dispute-tracking records are needed, as is more evidence on the behaviors that drive responses to problems at work, specifically those that infringe employment rights and may therefore result in tribunal claims. Ideally, these issues could be explored using longitudinal matched data on the parties, organizations, and internal dispute resolution processes.
Several other gaps in studies limit the ability of the findings to inform policy. Few studies have involved control groups to assess what would have happened in the absence of the intervention (the counterfactual), let alone used random assignment to intervention and control groups, which is needed for defining causal relationships. Multiple reforms enacted in close succession (in Great Britain at least) have also made disentangling the impact of individual measures challenging. Likewise, the periodic nature of surveys and their timing may limit how well they capture the impact of specific policy interventions.
Finally, it is worth noting that while several studies draw on models developed in other contexts—most notably the economics of civil litigation—this remains an under-theorized area.
Summary and policy advice
Understanding employment conflict and its resolution in employment tribunals and other labor courts is important in balancing employment protections with economic efficiency. Advances in understanding can potentially be made by learning more about claim instigation, conciliation, and adjudicator decisions. Having this information could reduce the number of claims brought before labor tribunals. Two approaches seem particularly promising.
First, although the factors driving claim instigation remain at best only partly understood, the evidence suggests that strengthening the representation functions of unions may moderate the number of claims. In addition, small firms account for a disproportionate number of claims, so supporting them in complying with labor laws and procedures and in seeking early resolution should be a priority—for example, training owner-managers in dispute resolution skills and in understanding how tribunals interpret and apply notions of formal process and fairness [6].
Second, potential litigants' expectations about likely tribunal outcomes are key to the resolution of claims before they reach the tribunal. A policy recommendation that follows from this finding is to ensure that parties to a dispute have access to good information and advice. The Australian approach—providing extensive online, telephone, and other resources to assist increasingly self-represented litigants—is interesting. This goal might also be advanced by providing insights into judges' decisions and outcomes, for example, through early neutral judicial evaluation to help in managing expectations. Practitioner groups have also suggested dealing with simpler, "technical" cases (such as unpaid wages) on paper without hearings, and dealing with more complex cases through a more inquisitorial (rather than adversarial) approach, as has recently been done in Ireland.
Acknowledgments
The author thanks two anonymous referees and the IZA World of Labor editors for many helpful suggestions on earlier drafts.
Competing interests
The IZA World of Labor project is committed to the IZA Guiding Principles of Research Integrity. The author declares to have observed these principles.
© Paul Latreille