Elevator pitch
Countries are not perfectly integrated market areas. Even if institutional differences are much smaller within than between countries, there are persistent local cultural differences. These differences act as barriers that reduce economic exchange: bilateral migration, trade, and knowledge diffusion flows are smaller, and individuals discriminate against unfamiliar dialects. They also act as natural limits to the degree of integration of a labor market, and they cannot (and perhaps should not) be easily affected by policy. Local dialects, shaped over centuries, provide a unique opportunity to measure these barriers.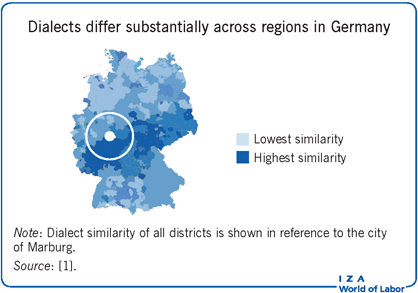 Key findings
Pros
Speech patterns have been shaped over centuries.
Dialects provide a rich portrayal of local cultural diversity and history.
Dialect similarity fosters migration, trade, and knowledge flows, and people prefer to reside in and interact with people from linguistically familiar environments.
Dialects, as measured by linguistic microdata, provide a unique opportunity to measure the effects of cultural differences on internal migration and economic outcomes.
Linguistic differences slowly erode, but not the underlying cultural barriers; these remain visible in dialect differences, which are no longer actual communication barriers.
Cons
Cultural barriers (measured via differences in dialect) reduce economic exchange across regions.
Cultural barriers limit the possibility for perfectly integrated national labor markets.
It is not clear if policymakers should aim for a reduction of cultural barriers, nor is it clear that they have any instruments to do so.
Dialect data are scarce and high-quality data are available only for a few countries.
Author's main message
Recent research based on linguistic microdata shows the significance of historical dialect (i.e. cultural) differences for contemporary economic outcomes. These differences clearly have an impact on the integration of national labor markets, though this does not mean that they reduce overall welfare. As dialect and cultural patterns have been shaped over centuries, they are difficult to reverse. Moreover, there is nothing definitive in the existing literature to suggest that policymakers should strive to erase these regional differences, which seem to offer significant, if hard to measure, value to many individuals.
Motivation
It has long been argued that economic phenomena are affected by culture. This concept is not easily tested, however, and difficult to measure. What does culture include? Moreover, proxies for cultural ties are often available only at a high level of aggregation, typically for different countries. Research has found that those high-level cultural borders hinder economic exchange. They may, however, coincide with other differences and their effects on economic outcomes. For example, institutions and regulatory regimes also differ between countries, and the data on cultural ties may partly pick up the effects of these other barriers. A recent area of research has therefore developed an intra-national approach to study the economic effects of cultural barriers. Institutional barriers are much lower across regions of the same country than between countries. A regional approach may, thus, prove useful to uncover the actual and undistorted effects of culture on economic exchange. This research relies on linguistic microdata and argues that local dialects provide a unique opportunity to comprehensively measure deep and persistent cultural ties at a high geographical level.
Discussion of pros and cons
A new branch of literature started in 2012 with a study that investigated the effect of historical dialect differences on contemporary internal migration flows in Germany [2]. Various other studies have exploited the same linguistic data, which come from an encompassing language survey conducted by a German linguist between 1879 and 1888, to study different economic outcomes. Given the ongoing developments in this field, it is worthwhile reviewing these data and summarizing the different studies which use them. In addition, comparable dialect data have recently become available for other countries (such as Japan and China), and it is thus interesting to survey this literature as well.
Limitations and gaps
Recent research has used linguistic microdata to measure the impact of cultural differences in an intra-national context. While promising and innovative, there are obviously some limitations to this approach. First, due to the unique data from the Wenker survey, most of the evidence is still exclusive to the German case. While evidence for other countries is slowly becoming available, researchers need more case studies and comparable empirical evidence for a greater number of countries before definitive conclusions can be drawn.
Furthermore, a more conceptual issue is the use of historical versus contemporary language data. One would like to identify the causal effect of current cultural/dialect differences on current economic decisions. However, the current geography of dialects is largely dispersed by linguistic diffusion and migration. Using historical dialect data is, therefore, advantageous, but requires further evidence on the degree of persistence over time. Some progress has been made in this respect [2]. However, more work is needed to further strengthen the identification of the causal effect of culture on contemporary economic decisions.
Finally, while language is one of the strongest markers of culture, researchers still need to learn more about how language differences are correlated with other types of cultural (or even genetic) differences across different sub-populations of a country.
Summary and policy advice
Dialect differences, as a measure for cultural differences, seem to matter for a variety of economic decisions. In particular, dialect similarity fosters migration, trade, and knowledge flows, and people genuinely prefer to reside in, and to interact with people from, linguistically familiar environments. This means, vice versa, that dialect and cultural borders limit the degree of integration of a national labor or goods market. In a sense, they act as "sand in the wheel" of an optimally functioning labor market, and cross-regional economic exchange would be larger if cultural borders were absent.
Should policymakers aim at nullifying dialect and cultural differences across regions, assuming this is even possible? The answer is a definitive no. Notwithstanding the absence of any clear policy mechanism to eliminate such differences, none of the existing studies provide a compelling welfare analysis to suggest that a country as a whole would be better off without dialect differences. By contrast, cultural and linguistic diversity seem to hold some intrinsic value. When looking at existing policy initiatives, their aim instead seems to be the preservation of dialect use and the conservation of regional cultural peculiarities, as opposed to their abolishment. There is nothing in the research agenda described in this article that would lead to the conclusion that this policy goal should be changed.
Acknowledgments
The author thanks an anonymous referee and the IZA World of Labor editors for many helpful suggestions on earlier drafts. Special thanks is given to Klaus F. Zimmermann for encouragement. Financial support by the German National Science Foundation (grant number DFG-SU-413/2–1) is gratefully acknowledged. Previous work of the author (together with Oliver Falck, Stephan Heblich, and Alfred Lameli) contains a larger number of background references for the material presented here and has been used intensively in all major parts of this article [2].
Competing interests
The IZA World of Labor project is committed to the IZA Guiding Principles of Research Integrity. The author declares to have observed these principles.
© Jens Suedekum