Elevator pitch
A non-trivial portion of traffic fatalities involve alcohol or illicit drugs. But does the use of alcohol and illegal substances—which is linked to depression, suicide, and criminal activity—also reduce academic performance? Recent studies suggest that drinking alcohol has a negative, if modest, effect on grades, and although students who use illegal substances are more likely to drop out of school than those who do not, this may reflect the influence of other, difficult-to- measure factors at the individual level, such as personality.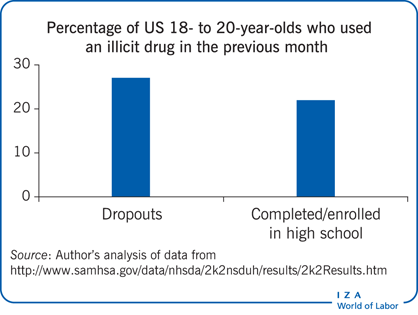 Key findings
Pros
Alcohol consumption has only a modest effect on academic performance as measured by grades.
Even binge drinking appears to have, at most, 
a modest impact on academic performance.
Alcohol use does not appreciably reduce the probability of attending, or graduating from, university.
Cons
There is evidence, albeit weak, that drinking reduces the probability of graduating from high school.
Illicit drug use by students is generally unresponsive to policy intervention.
Because illicit drug use is unresponsive to policy, very little is known about its relationship to educational outcomes.
Author's main message
The effect of alcohol use on educational attainment appears to be either small or non-existent. Although alcohol use may have a negative impact on academic performance, this effect also appears to be modest. Illicit drug use is associated with poor educational outcomes, but no causal relationship has been demonstrated. Illicit drug use is unresponsive to policy, so credible natural experiments are rare. Without them, the effects of substance use cannot be distinguished from those of personal characteristics. Given these results, it is difficult to make a strong case for policy intervention.
Motivation
There is a variety of reasons why substance use might affect such educational outcomes as grades and the probability of graduation. For instance, substance use could divert time and energy away from studying. It is also possible that substance use is causally related to educational outcomes through its effects on cognitive functioning, attention span, short-term memory, or even self-esteem.
Of the many empirical studies on this topic, only a few provide credible estimates of the causal effects of substance use. Illicit drug use by students appears to be largely unresponsive to policy, making convincing natural experiments exceedingly rare. In contrast, the minimum legal drinking age appears to generate substantial changes in alcohol consumption, providing researchers with a method of obtaining credible estimates.
Discussion of pros and cons
Numerous studies have documented a negative association between substance use and educational outcomes. This association is alarming because society benefits when its members are informed and educated. But is it causal, or can it be ascribed to difficult-to-measure factors at the individual level, such as personality, family background, and how much an individual discounts future outcomes?
The cleanest, surest method of establishing causality would be to conduct a randomized controlled experiment. For instance, imagine randomly assigning students to treatment and control groups, ensuring that neither group has a disproportionate share of impulsive risk-takers. The treatment group would agree to use marijuana (or some other substance) as directed, while the control group would have no choice but to abstain. After some period of time, the effects of marijuana use on educational attainment (for example, graduation from high school) and academic performance (for example, test scores or grades) could be ascertained by simply comparing the two groups.
Because the experiment described above might raise eyebrows, researchers have increasingly turned to the next best thing: natural experiments. A natural experiment exploits an isolated change in conditions or incentives facing a subpopulation (often due to implementation of a government policy), but leaves an otherwise comparable subpopulation essentially untouched. If such a change is sufficiently abrupt—and sufficiently large—then it can be used in making causal inferences.
Only a handful of studies have attempted to use a clearly defined natural experiment to estimate the effect of substance use on student outcomes such as grades and the probability of graduating from high school. Some researchers have attempted to produce what they describe as causal estimates by exploiting cross-sectional policy variation or making sure that the substance use took place prior to the particular outcome under study. However, without a clearly defined natural experiment, it can be challenging to distinguish the effects of substance use from those of personality or family background.
Limitations and gaps
With only a few exceptions, the studies discussed above used data from the US. Although there is little evidence that alcohol consumption reduces educational attainment among US students, African, Asian, Australian, and European students could have different preferences or could face different challenges and incentives. As more data from outside the US become available (and studies based on these data that exploit natural experiments are published) we will be in a better position to assess whether alcohol consumption has a larger effect on educational attainment in other parts of the world.
Only a handful of studies have examined the effects of alcohol consumption using a clearly defined natural experiment. The results suggest that the effects of alcohol consumption on academic performance and educational attainment are modest or non-existent. However, it is possible that future studies will provide evidence of stronger effects.
Finally, because teenagers and young adults are not particularly responsive to changes in drug policies, it is difficult to assess whether the negative association between illicit drug use and educational attainment is causal or spurious. There is some evidence that it is spurious, but until a clearly defined natural experiment can be analyzed, doubts will (and should) remain.
Summary and policy advice
Society benefits when its members are informed and educated. Therefore, if it could be demonstrated that substance use reduces academic performance or discourages college attendance, a case could be made for policy intervention. In fact, prominent voices have recommended higher taxes on alcohol based, in part, on the premise that alcohol consumption lowers educational attainment.
This argument is logical. However, empirical evidence for its premise is, thus far, lacking. Until more evidence can be brought to bear, attempts to restrict youth access to alcohol and other substances should be based on other concerns.
Acknowledgments
The author thanks two anonymous referees and the IZA World of Labor editors for many helpful suggestions on earlier drafts.
Competing interests
The IZA World of Labor project is committed to the IZA Guiding Principles of Research Integrity. The author declares to have observed these principles.
© Daniel I. Rees